Madhya Pradesh has delivered cumulative agricultural growth of 92% in the 2010-15 period, says T N Ninan.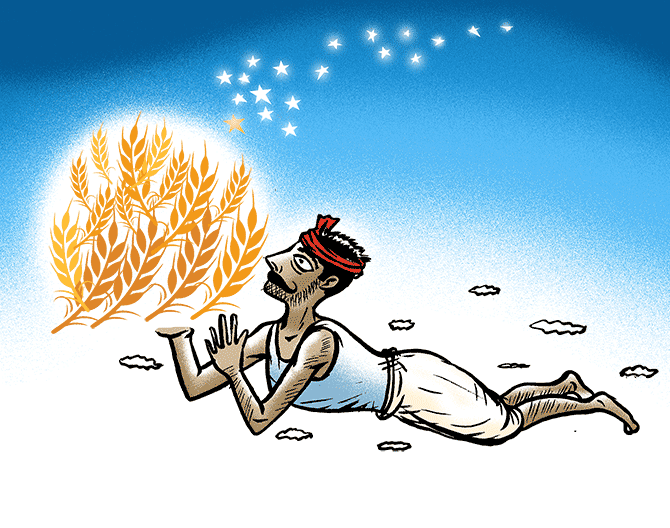 Few economies in the world have managed to grow at double-digit growth rates for any sustained period of time.
When a state's agriculture sector (usually the slowest segment in an economy) achieves double-digit growth, it boggles the mind.
That is what Madhya Pradesh has done, with an average agricultural growth rate of 13.9 per cent over the five-year period 2010-15 -- delivering a cumulative growth of 92 per cent over the period.
Among all the current statistics on the economy, the truly jaw-dropping one is MP's agricultural growth rate.
The state's record stands out against the backdrop of an all-India growth rate for agriculture of less than 4 per cent.
Indeed, MP itself managed an agricultural growth rate of no more than 5 per cent in the previous five-year period, 2005-10.
While a few other states too have done very well on the farm front in recent years, most notably Jharkhand and Gujarat, their numbers, however impressive, pale in comparison with MP's recent record.
The reasons for this unique success are well known, and summarised in the catchphrase bijli, sadak, paani.
Among other contributory factors, there has been a massive spread of irrigation, a sharp increase in power supply for agriculture, and better access to markets because of improved rural road connectivity.
Yield levels have soared. The state's crop acreage has increased, and more farmers are now able to do a third crop in the year.
MP has become second only to Punjab in its contribution to the central wheat pool.
Unusually, though, MP has not been able to replicate its success in agriculture in the rest of the economy -- not in industry, and not in services.
According to data collated by PRS, the growth rates here have been falling: Sharply in the case of manufacturing, from 9.5 per cent in 2005-10 to 2.9 per cent in 2010-15, and more gradually in services, from 7.6 per cent to 6.3
per cent.
Consequently, agriculture's share in the state's gross domestic product has been increasing sharply, and is now more than twice the national share of agriculture in GDP.
This is most unusual as well as counter-intuitive because rapid growth of farm output should ordinarily lead to growth in transport and trade, finance and electricity use, not to speak of an increase in personal consumption.
And in manufacturing too: Punjab's Green Revolution was accompanied by the industrialisation of the state because of the production of agricultural implements, tractors, bicycles, textiles and garments.
\Because MP's growth in agriculture has not been matched by other sectors, the state's overall economic growth rate improved only marginally at first, and lagged the national average. Then it began to match the national growth rate; in the most recent years, MP has become the fastest-growing among the major states.
Two questions arise.
The first is whether MP's blazing agricultural track record is sustainable.
In 2010, the state had the advantage of a low base in terms of both output and productivity (yield per hectare). But even now, despite the improvements of recent years, its numbers are below the all-India averages for crop yield, fertiliser use and other yardsticks; the granary states of Punjab and Haryana are of course well above the national average.
So while MP has 10.4 per cent of the country's gross cropped area, it accounts for only 8.6 per cent of the value addition in agriculture.
That should mean the state still has headroom for growth but probably at a slower rate because it cannot expand its irrigation capacity and crop acreage as rapidly as in the past.
The second question is about agriculture in the eastern part of India, and its unrealised potential for growth -- especially because of unexploited irrigation potential, poor rural road connectivity and dreadful power supply.
It is true that some of these states have been registering handsome hikes in farm output in recent years. But more is possible.
Much of India's extreme poverty is concentrated in India's depressed east; agricultural transformation there has the potential to dramatically alter the country's poverty picture.