A large number of public sector bank employees, as a matter of routine, do not "take" promotions so that they are not transferred out of their hometowns.
The eastern region is famous for this, but it is a common practice everywhere, says Shyamal Majumdar.
Illustration: Uttam Ghosh/Rediff.com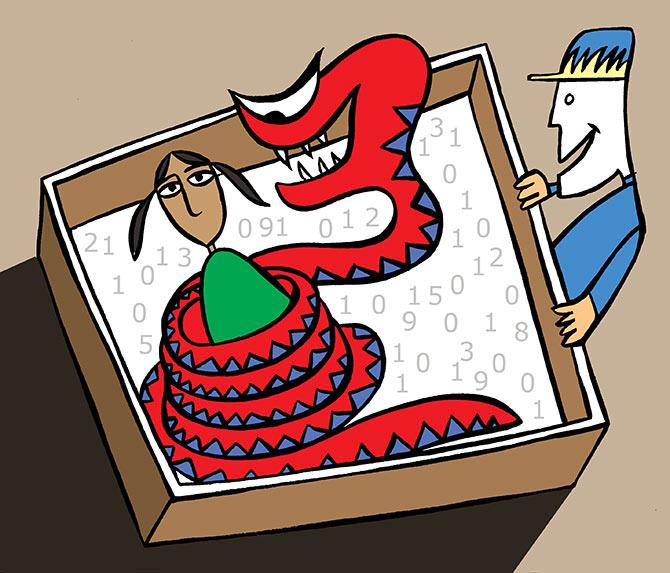 Everyone seems to be wondering how Gokulnath Shetty, who was considered a "forex specialist" by his employers, retired as just a deputy manager, which is quite low down the overall hierarchy.
The ostensible reason for the slow growth in his career path is that Shetty "took" only one promotion in his 36-year-long career at Punjab National Bank.
Many are also surprised that one of the main accused in the Rs 11400-crore PNB fraud case managed to stay in the Fort, Mumbai, branch for seven years in the same position doing the same job.
It has also come to light that Shetty was due to be posted out at least twice during his seven-year stint at the Brady House branch, but someone in the system managed to stop or failed to initiate his transfer.
There is, however, nothing surprising or unusual in the way Shetty was treated.
A large number of public sector bank employees, as a matter of routine, do not "take" promotions so that they are not transferred out of their hometowns.
The eastern region is famous for this, but it is a common practice everywhere.
There are any number of examples of people joining as clerks and retiring as one, as they have skipped every single interview for promotion.
Some banks have come down hard on this practice and have threatened employees with transfers irrespective of whether they have appeared for promotion interviews or not.
But many continue to still game the system with the help of someone influential in the bank or outside.
Even transfers from one department to the other are stopped in a routine manner in many PSBs for two reasons: One, many do not want to step out of their comfort zones; and two, bank managements themselves tend to keep people holding specialist positions in the same job for years as it is difficult to get replacements.
As the PNB scam shows, rogue employees can easily take advantage of the system and manipulate systems, since there is no corroboration or checks and balances.
Many PSBs have started recruiting specialist candidates, but the system is faulty as the specialists often leave in the absence of a well-planned career growth path and inadequate compensation.
Attracting talent in any case is difficult as the distorted compensation structures in PSBs have grown such that they are inflated at lower levels of the hierarchy due to government and union pressures and are uncompetitive at senior levels -- if senior management cadres are excluded, the average pay per employee in PSBs is actually higher than that for private sector banks.
The other problem with PSBs is the quality of their vigilance mechanism.
In an address at a seminar in 2013, K C Chakrabarty, former deputy governor of the Reserve Bank of India, mentioned in detail what needed to be done to prevent lapses.
The central point made by Chakrabarty was the lack of accountability at the top level.
Apart from a very few high profile cases that involve the punishment of top executives, the focus is usually on the lowest common denominator -- junior employees -- who are at the receiving end whenever a fraud comes to light.
The data, given by him, reveals a lot.
Analysis of large-value frauds threw up some interesting conclusions: Inordinate delay in declaring the accounts as fraud, covering too many officials in the probe and holding junior officers responsible for frauds etc.
The RBI analysis suggested that of 719 officers who were found accountable in 230 large-value fraud accounts in banks over a period of time, 426 officers were up to the rank of senior managers, 196 were chief managers and assistant general managers and 94 were of the rank of deputy general managers, general managers and chief general managers.
Only three officials were from the top management and the board of directors.
Most bankers are often unhappy if they are transferred to the vigilance department.
They feel sidelined and far removed from the mainstream function, and are seen by colleagues as a spoilsport whose sole purpose in life is to impede fast decisions by asking unnecessary questions.
This is unfortunate, and reflects the failure of top managements across banks to drive home the message about a culture of intolerance for misconduct.
But like many other documents, this speech also seems to have been read or heard by many, but practised by very few.