The Modi government's record on governance is better than that of UPA-2, but not better than UPA-1, observes T N Ninan.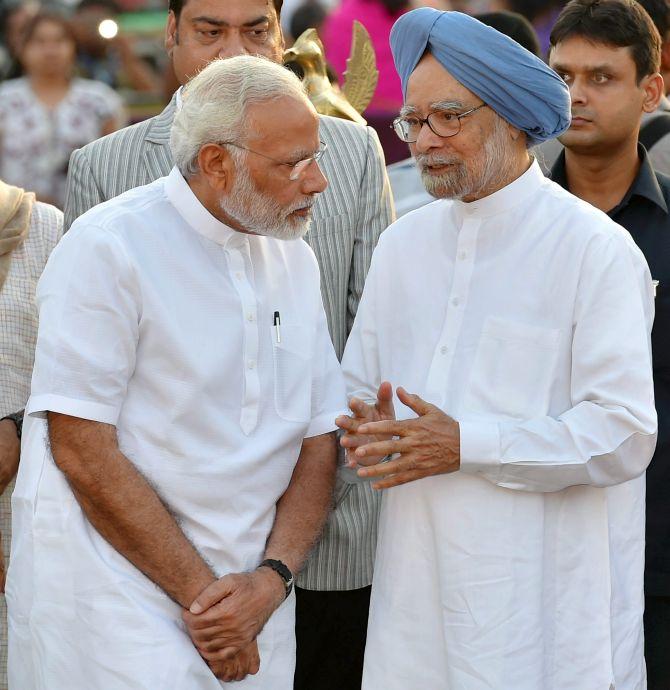 Questions about the Modi government's record have acquired a new edge, following the economic slowdown.
Minimising the importance of the slowdown, at least in his public comments, Mr Modi has sought to emphasise other elements of his record in office -- lack of corruption, more effective implementation of programmes, and the like.
While the steady stream of economic data permits informed debate on economic growth (regardless, opinions continue to be heavily influenced by political leanings), issues relating to governance quality tend to have fuzzy edges and are more difficult to measure.
For instance, are crime statistics a pointer to the fear factor that critics talk of, and is there any way of measuring how much pressure the media is under?
A torch that shines a broad light on some of these issues is provided by Worldwide Governance Indicators, which is available on the World Bank's database although the Bank and other associated institutions like Brookings have the standard disclaimer that they are not accountable for what the indicators say.
There are six indicators, and 214 economies are scored on each of them every year, using combinations of surveys, opinion polls, individual interviews, consultations with experts and such. This is by definition an imperfect method, and it has no shortage of critics.
Still, in the absence of any other torch being available, it might be useful to test the Modi government's performance on the six indicators (data are available up to 2016), and see what this particular torch shows us.
The first indicator is control of corruption, and India's percentile rank (scoring from 0 to 100, a higher score being better) improved sharply from 37.0 in 2013 to 47.1 in 2016.
This latter score is not very different from the Manmohan Singh government's score of 46.8 in 2006 -- before the scandals of the second Singh government erupted.
Still, a clear plus for Mr Modi here.
On government effectiveness, too, Mr Modi scores well as India's rank improved sharply from 45.2 in 2014 to 57.2 in 2016.
Here too, it is worth noting that the country ranking in 2007, under Dr Singh, was 57.3 -- virtually the same as Mr Modi's in 2016.
Once again, the story is of decline in Dr Singh's second term, followed by recovery under Mr Modi.
Ditto on a third issue, regulatory quality.
The Modi government scored as India's rank moved up smartly from 35.1 in 2012 to 41.3 in 2016, but the score was noticeably better in 2006 (45.1).
On political stability and absence of violence, India's over-all rank is surprisingly poor -- possibly because of divergence of scores on the two issues.
At its best, the country rank was 17.5 in 2005. Other than the fact of a really low score, the pattern is the same.
The rank dipped and recovered before hitting 13.8 in 2014. Mr Modi pulled it up to 17.1 in 2015, but then saw the rank dip to 14.3 in 2016 -- lower than in 2005.
Remember that there was an upsurge of protest in Kashmir in 2016, as also a 21 per cent increase in bomb blasts in Maoist-controlled areas, according to the official statistics.
On the internal security front, the Modi government clearly suffered a setback in 2016.
It is on the final two indicators that the pattern changes completely.
On rule of law, the country's rank in 2016 (52.4) was marginally lower than in 2013 (53.1), and significantly lower than in 2006 (58.4).
And on the sixth and final indicator, voice and accountability, it is no surprise that the Modi government does not do very well, with India dipping from a rank of 61.5 in 2013 to 58.6 in 2016.
Overall, the Modi government has three clear pluses, two negatives and one that scores par or as a qualified plus -- all of them when compared to the years immediately before the 2014 election.
But the pattern also is that the present government has scored about the same or poorer than its predecessor did midway through its first term.
IMAGE: Prime Minister Narendra D Modi with former prime minister Dr Manmohan Singh at the Dussehra celebrations at the Parade Ground, New Delhi, September 30, 2017. Photograph: Kamal Kishore/PTI Photo