Hopefully, all's well that ends well, and business should get back to normal soon, says Alok Chandra.
Illustration: Uttam Ghosh/Rediff.com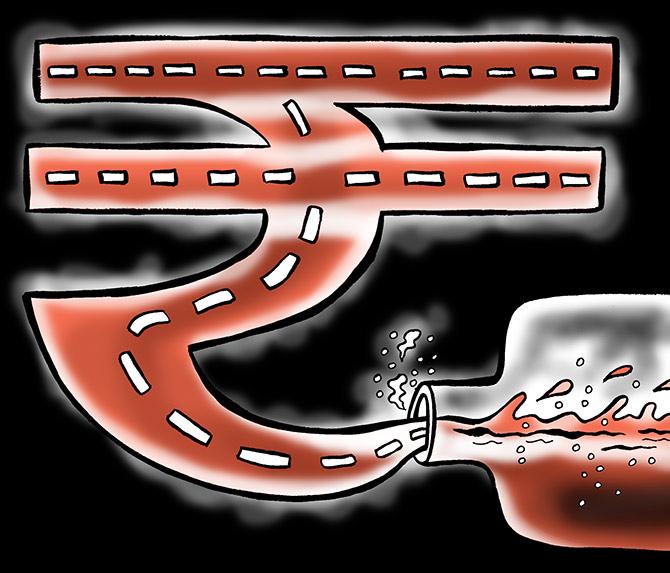 The hospitality industry in India breathed a sigh of relief in July with the Supreme Court ruling that roads inside city limits were not 'high-speed highways', and as such could be denotified, thus paving the way for exemption from the court's earlier ruling to shut down establishments less than 500 metres from all state and central highways.
The intention of the earlier ruling was to prevent people, particularly drivers of heavy goods vehicles, from drinking and driving.
Unfortunately, by not defining 'highways', this led to the stoppage of service of all alcoholic beverages in establishments even in the heart of towns and cities across India -- which, after all, have over the years grown around highways.
Telling respectable establishments to move to comply with the ruling was just bureaucratspeak: Setting up a good restaurant today costs anything up to Rs 10 crore (Rs 100 million), while hotel costs run into hundreds of crores and take years of work, and moving them is just not possible.
As anyone who has travelled west or north from Delhi knows, till recently the highways in neighbouring states were dotted with temporary sheds declaring they were 'English Wine & Beer Shops' -- a transparent attempt to differentiate such establishments from the theka desi sharab (vendors of local spirits) selling rotgut and low-cost spirits.
These were the vends the ruling sought to target, and rightly so.
The fault actually lies with the excise policies of states in north India that hold annual auctions for retail licences of liquor.
Since there is no guarantee that successful bidders will get a licence again the next year, they seek to maximise sales and minimise costs by putting up temporary structures in the most accessible of places (off highways) -- with predictable consequences.
Also, the venal proclivities of state excise authorities are too well known to require recounting.
The ruling provided their cadres a marvellous opportunity to 'yank the chains' of licencees and indulge in rent-seeking behaviour -- in one instance I know personally, a decades-old retail licence was initially said to be 480 metres from a 'highway' passing through the heart of Bengaluru, and proved to be 550 metres when reassessed.
The exercise also provided an opportunity for the famed Indian jugaad (improvisation): changing the entrance to hotels so that the drivable distance met the 500-metre criteria, or setting up maze-like access barriers, with the same effect -- the list is probably endless.
Hopefully, all's well that ends well, and business should get back to normal soon.
However, for both Karnataka and Telangana, what is inexplicable is why the authorities concerned did nothing since April (when the Supreme Court ruling came into effect in the rest of India) to denotify highways passing through the principal cities in these states?
Were they waiting for a 'representation' from the industry, or was it just a case of political indifference and bureaucratic inertia?
Alok Chandra is a Bengaluru-based wine consultant.