Instead of failing young Indians, the government should now focus laser-like on education, skilling, healthcare, and the environment, says Mihir S Sharma.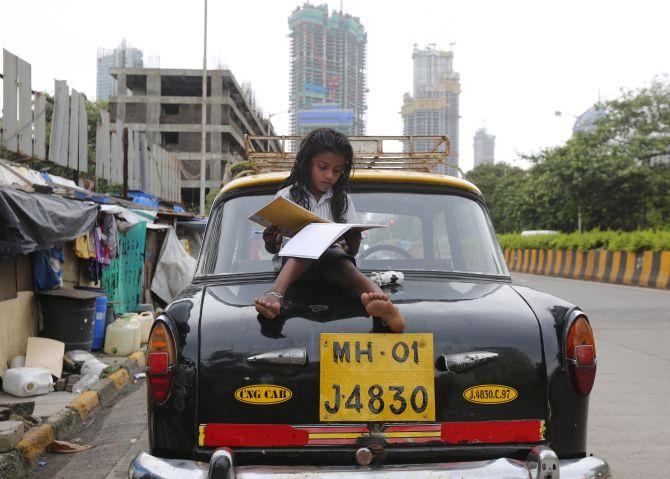 India is failing its young people.
Not just because it is not providing them jobs and opportunities but also because it fails to provide them what they need to make their own fortunes.
We have given them a poisonous environment, a healthcare system that is stacked against them, and an education that is either expensive or ineffectual -- and then told them to go out and be world-beating entrepreneurs or an effective industrial labour force. Are we kidding ourselves?
Every winter, Delhi holds its breath for about three months.
When I first moved to this city, you lived for the winter, for those magical few months when the city was transformed from a Serengeti mudhole or a Saharan sand dune into something approaching liveability.
And now we've decided to ruin Delhi's winter as well, with air that's the worst in the world.
This is particularly bad for young people -- children growing up here particularly risk suffering permanent damage to their lungs, say doctors.
Part of the problem is that externalities like good air simply aren't part of the accounting that economists like to use -- if growth-focused economics ignores bad air, it argued, then GDP growth needs to be replaced as a policy target.
Fixing problems like crop-burning has costs that can be clearly seen, and which would reduce "efficiency" and GDP; the benefits of fixing the problems that cause bad air aren't that easy to account for, and might not show up in GDP that clearly.
This is an argument worth revisiting -- not just because once again Delhi and the rest of the Indo-Gangetic plain has been blanketed by a cloud of dense brown smoke, but also because the other aspects of our approach to the basics of social infrastructure reflect this blindness to anything not captured directly by national income accounts.
To think about this in a non-Indian context for a moment, consider the following "fact", one that startles most non-economists: That the poorest American states have per capita incomes comparable to the United Kingdom, Japan, New Zealand, or France.
But, frankly, would anyone choose to be born into the median family in West Virginia, Mississippi, or Arkansas rather than in one of the four countries I mentioned?
What explains this paradox? A set of factors. For one, Americans work longer hours with lower productivity than the French.
But, in addition -- and this is what's relevant here -- Americans spend a great deal more on healthcare than, say, the British do.
This higher spending shows up as an addition to GDP -- it's a fifth of national income in the US, as compared to a tenth in Britain.
But, of course, you're getting a bad deal on healthcare if you're an American; Britain, in spite of spending less, has a life expectancy that compares with the top few states in the US.
This is an artefact of the largely privately-run American healthcare system. American healthcare doesn't just cost more -- it sells a lot of unnecessary treatment as well, as long as it's expensive.
Americans have two or three times as many MRI scans and mammograms as other OECD countries, and almost a third more Caesarian sections than the latter.
Meanwhile, other OECD countries have far more hospital days and doctors' visits than the US.
The National Health Service in the UK, for its many flaws, provides a reasonable product in terms of outcomes at a fraction of the cost.
If tomorrow the UK were to shift to American-style private sector-led healthcare provision, its GDP would apparently shoot up -- Britons would spend on MRI scans while going to doctors less. But its health outcomes and its standard of living would decline.
As India searches for GDP growth without spending public money, it might be tempted to expand its current healthcare system without reforming it.
The thinking within the government -- which took office on a manifesto that promised universal healthcare -- is that private provision of critical health infrastructure with a complicated subsidised insurance system is the way to go.
That would be a disaster for India's workforce -- but it would look good in terms of macroeconomic numbers, and in terms of GDP growth. (And, of course, private hospitals -- many run or financed by politically connected persons -- would benefit.) The government would save its physical capital at the cost of young Indians' human capital.
A similar approach is being taken to education. Rather than searching for low-cost, universal, and accessible solutions that would deal with India's human capital crisis, India has gone for a mix of poorly performing public schooling and expensive, inefficiently-regulated private schools.
The Right to Education is, in the end, a shortcut. Nothing substitutes for public schools that actually work.
But, of course, here inefficiency once again meets political ends -- and actually helps drive up GDP as Indian parents are gouged by private schools they can ill-afford.
The government has made a big deal, rightly, about fiscal responsibility.
It has also spent and spent on physical infrastructure, something if it worked harder on regulatory and legal frameworks could in fact be paid for by the private sector.
But it has not spent as much mental energy or cash on human infrastructure -- on human capital.
If, indeed, it is to dilute its commitment to the fiscal "glide path" for the deficit to three per cent of gross domestic product, it might be tempted to use that to push GDP higher, which obviously spending on physical infrastructure does.
But that would mean that we continue to fail young Indians. Instead, the government should now focus laser-like on education, skilling, healthcare, and the environment.
Healthy and well-educated young Indians will create the future for themselves that their government seems unable to provide.