From crisis leaders to future Goliaths, India Inc saw them all in 2017, says Shailesh Dobhal.

Illustration: Uttam Ghosh/Rediff.com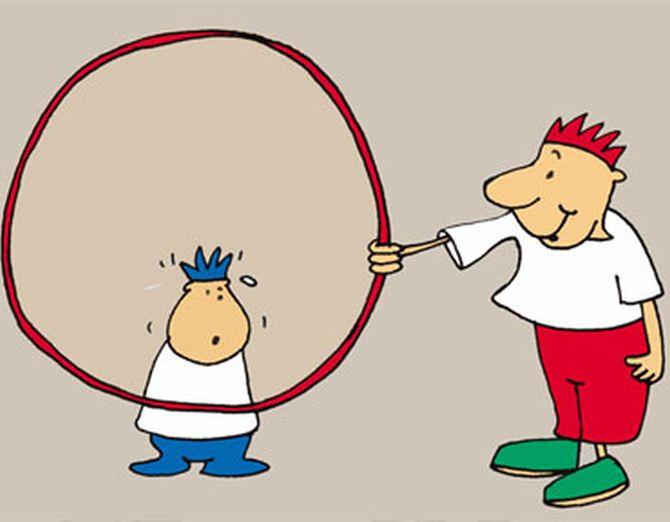 By all accounts, 2017 has been an eventful year at India Inc.
It raised a record Rs70,000 crore in over 122 new public issues.
New heads were appointed at some of its biggest, most visible and celebrated firms.
It jostled and negotiated a once in a lifetime policy change in the Goods and Services Tax and the new bankruptcy law. Big bang mergers became de rigueur, besides much else.
If one were to attempt the risky task for understanding and/or clubbing events in terms of trends, here's my four:
Big gets bigger: It was a year that made future Goliaths, some even cross-industry ones.
Size as strategy became the new mantra across industries and markets, from telecom - think Idea-Vodafone, Bharti Airtel-Tata Teleservices - to the impending sale of national carrier Air India to one of the domestic aviation biggies to make a truly global size airline from India.
While its aggressive push for subscriber numbers, over 135 million at last count, pushed rivals towards consolidation, Jio showed signs of emerging as a telecom-e-commerce-media-retail-payments monolith.
And not to be outdone, the country's "original" retail king - Kishore Biyani-led Future Group - unveiled a plan to become, hold your breath, a trillion-dollar completely integrated consumer business, the biggest in Asia by 2047!
Why, even in the staid, government run and owned public sector, oil producer ONGC entered the last leg of merging oil refiner and retailer HPCL with itself to create a global-sized integrated energy major.
Yes, there is such a thing called losing your company: The government's botched up attempt to take over the struggling realty firm Unitech notwithstanding, 2017 will be remembered as the year new rules of bankruptcy put the fear of God in errant promoters.
A dozen big firms were hauled up at the insolvency court, with promoters thrown out of management with no hope of winning their firms back as new rules barred them for bidding.
They will now be helpless (not without justification) bystanders as someone else walks out with the firm or worse, it is liquidated and assets sold apiece.
Another two dozen "biggies" are waiting for the Reserve Bank of India nod to head that way.
Talk of chickens coming home to roost.
To be fair, there will be some honest ones with genuine business mistakes amongst the over 200 at the insolvency courts, but then the culture of paying for your mistakes is only now becoming reality for Indian companies.
Year of the crisis leaders: Many firms, big and small, struggled due to promoter fights, management churn, external environment or simple mismanagement.
Corner room changes may be regular at India Inc., but what sets 2017 apart are leadership changes at some of its biggest, most celebrated and cherished firms.
From Infosys, Tata Group, National Stock Exchange and Air India to IDBI Bank, a new crisis leader at the helm helped steady the ship and bring the much needed perspective back to the firm's core business.
Artificial intelligence is for real: The United States space agency Nasa may have used artificial intelligence or AI technologies to discover an eight-planet solar system like ours; closer home many Indian companies embraced AI with a vengeance.
And not just software exporters and tech firms, but increasingly banks, retailers, carmakers and e-commerce firms started using AI to mine data, automate repetitive processes and customer interactions to bring more efficiency and standardisation to their operations.
With nearly 10 million new workers joining the labour force every year, and generation of new jobs becoming a key social and political issue, and AI's disruptive influence, it will be a tightrope walk for India Inc. here, even as some analysts say that on a net basis AI may create more jobs.
Though road minister Nitin Gadkari's outburst against self-driving cars invited all-round criticism, even derision, expect the government to get more involved with businesses on AI, with targeted economic and tax policy and all.