The question is whether the Indian economy has the advantage of other vibrant sectors that can step up their performance on the exports front, notes A K Bhattacharya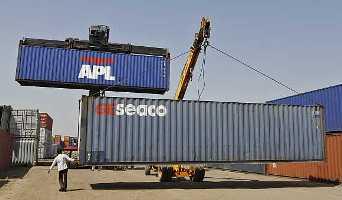 Exports in the first 11 months of 2014-15 were estimated to be $284 billion, a decline over the same period of the previous year.
Failing a dramatic surge during March 2015, exports during the full year that ended on Tuesday will be below the $314 billion clocked in 2013-14.
This will probably be the first macroeconomic indicator to give no comfort to the government led by Narendra Modi.
Whatever may be the actual reason -- driven by methodological changes in computing growth or by real economic revival -- the Indian economy in 2014-15 is expected to grow by 7.4 per cent, up from 6.9 per cent in 2013-14.
Inflation, based both on wholesale and retail prices, has seen a steady decline.
So has the current account deficit, which is now much more benign than what it was a year ago.
The Modi government has taken full credit for all these numbers.
Now that exports for the full year should show either a fall or at best a marginal rise, the Modi government should not hesitate from taking the blame for the poor performance on the exports front.
Remember that in the 10 years of the United Progressive Alliance government, exports fell only in two years -- by 3.5 per cent in 2009-10 in the wake of the global financial crisis, and by 1.82 per cent in 2012-13.
In all other years under the UPA regime, export growth was in double digits (between 14 and 40 per cent) except for 2013-14 when it fell to around five per cent.
Compared with that, the Modi government has started its innings with a drop in exports!
Failure to allow the much-needed depreciation in the Indian rupee is certainly an important factor contributing to India's poor exports performance.
A steady drop in the value of the Indian rupee against the dollar would, therefore, go a long way in boosting the country's exports.
But that alone may not be enough.
A close look at the foreign trade data for the last decade will reveal problematic trends arising out of significant structural changes in the exports sector.
Even as Commerce Minister Nirmala Sitharaman presents her first five-year trade policy with a view to boosting exports, she would do well to understand the implications of such trends and direct her policy to address them.
The big change in India's exports sector in the last 10 years is its composition.
The share of petroleum products in total exports in 2004-05 was only about eight per cent.
In 2014-15, petroleum products will account for over 20 per cent of India's total exports. The change is largely attributed to the commissioning of huge crude oil refining capacities in the country by both private and public sector players.
But the implications of one-fifth of the country's exports coming from petroleum products cannot be underestimated.
For instance, prospects of exports are likely to remain depressed as long as international crude oil prices continue to rule at the current subdued levels.
Petroleum products contributed significantly to India's exports growth when global oil prices were rising.
Now that global crude oil prices have declined, India's exports too will suffer -- unless, of course, other sectors can step in to fill the gap and steer the country's exports growth.
The question is whether the Indian economy has the advantage of other vibrant sectors that can step up their performance on the exports front.
The gems and jewellery sector was the largest contributor to India's exports at over 16 per cent in 2004-05.
That share in 2014-15 will decline to 12-13 per cent.
Textiles including garments accounted for about 10 per cent of India's total exports in 2004-05, but that share will be down in 2014-15, most likely to around six per cent. Drugs and pharmaceuticals, too, lost their share in India's total exports basket in this period -- down from over five per cent to around four per cent.
Of course, the absolute exports value of all these products went up several times in the last 10 years, but the worrying point is that they did not keep pace with the overall growth in exports.
While overall exports in this period went up by almost five times, the growth rates for these sectors were much lower.
What went wrong with all these sectors that not only produce jobs but also precious foreign exchange for the country through exports?
Yes, the disadvantage of a hardening rupee, compared with the currencies of India's competitors in the export markets, must have hobbled them.
But there must also be many other constraints to their growing exports.
If it means business, the government must quickly identify the specific constraints for each of these sectors.
In addition, it must identify other sectors that have the potential to do well on the exports front.
For instance, passenger vehicles, automotive components and other transportation equipment have seen a rise in their share in exports from about three per cent to about nine per cent in the last 10 years.
In other words, their exports have been growing faster than the country's overall merchandise exports.
Opportunities in this area, therefore, are waiting to be tapped.
This is also where the government's much-hyped 'Make in India' programme with the added thrust on improving the ease of doing business can supplement its much-needed exports diversification drive.
The dangers of over-reliance on one or two items for boosting exports are too well-known to recount here.
Almost one-third of India's exports is now accounted for by petroleum products, gems and jewellery.
If prices of gold and crude oil remain depressed for another year, which is what the global forecasts say, India must look towards other sectors to boost its exports.
A K Bhattacharya is the editor of Business Standard.