While law-abiding customers are harassed for KYC and have to comply with endless paperwork even to open and close accounts, DHFL could easily open nearly 260,000 fake home-loan accounts, reveals Debashis Basu.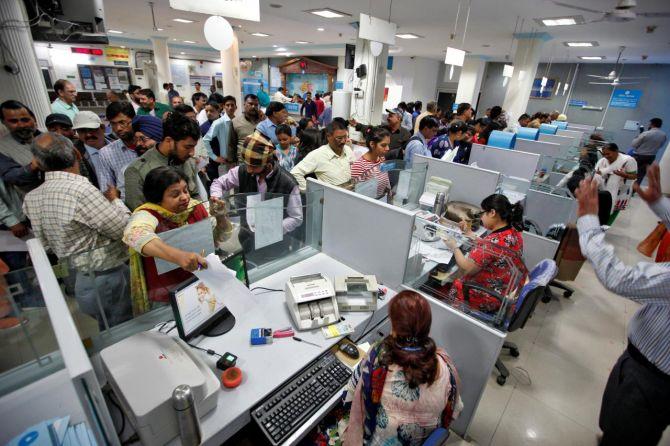 Sometime last year, Arun Jain's (name changed) tax-refund cheque was returned.
On enquiry, he got a rude shock when he found that Axis Bank had abruptly frozen his savings account though he had submitted all the Know Your Customer (KYC) revalidation documents that were requested.
The bank took almost nine months to remove the freeze and in the meantime his refund cheque got invalidated.
It is more than a year and he is still trying to get it revalidated (which is another crazy story).
One evening when Pravin Sheth (name changed) went to purchase fuel, he discovered, with a nasty surprise, that his debit card was blocked.
He had received no intimation from the bank about this.
Sheth studied the RBI guidelines, which clarify that he needed to be informed in writing before any coercive action.
He received no explanation from the bank as to why his account was frozen without intimation.
When he enquired, he was asked to contact the 'home branch', as he was not 'KYC-compliant'.
In our own case, Axis Bank froze one of our accounts, operational since 2009, just four days before salaries were to be paid because one of our investors had not submitted a 'beneficial ownership' declaration.
The investor was neither a signatory nor a director.
But the bank wanted him classified as an authorised signatory, based on its faulty, pre-printed form.
Our repeated e-mails and messages to the bank's customer service department, public relations team, head of retail as well as the managing director and chief executive officer were like banging our heads against a brick wall.
We had an account with ICICI Bank as well, which did not insist on the illogical compliance Axis Bank was demanding.
Disgusted, we closed eight of our accounts including personal ones.
NRIs are among the worst-affected by such draconian and arbitrary actions.
In one case, ICICI Bank started a KYC updating exercise in the middle of the pandemic (August 21, 2020), despite pleas that the accounts holders are doctors at the front line fighting Covid in the UK, which was locked down then.
The bank allowed only four weeks for compliance, though no RBI rule specifically insists on this.
The bank made it impossible to upload any KYC documents online.
The only alternative was to send the documents by the registered e-mail ID of the account holder, but these documents -- the passport, driving licence, marriage certificate, photos, PAN cards -- were rejected on the premise that these were not self-attested (for want of a printer, to print, sign, and upload).
Yet the RBI permits Official Valid Documents to be accepted without attestation.
In any case, the original documents had already been verified in person at an ICICI Bank branch in August 2018 and the attested copies of KYC documents were submitted.
But ICICI Bank said these were submitted for a different reason, thus requiring the submission of a fresh set of attested documents in less than two years!
You could have an account for 30 years and draw a pension, and the bank may have all your identification documents, but you can still get to know one fine day that the bank has frozen your account without intimation.
Many have found that when they issued a cheque or tried to make an online transfer.
These are a small sample of real-life stories we have collected in our effort to draw the attention of the RBI and they don't even include Jandhan accounts, where the problems are much worse.
What's going on?
Why do we have these arbitrary, draconian, discriminatory, anti-consumer and often illegal actions to block our own money? RBI Master Directions require banks update the KYC every two years for only high-risk customers.
It is once every eight and 10 years for medium- and low-risk customers, respectively, and a simple self-declaration is sufficient if there are no changes.
But this option is never provided to routine accounts.
Instead, obviously low-risk customers, government pensioners, senior citizens living on interest income, and salaried employees receiving regular pay cheques have been harassed for KYC updating.
The account holder has no information about her risk category and the frequency of KYC updating.
A banker wrote to us that his bank forces account holders to visit the branch for KYC updating in order to push high-commission insurance products on them.
While law-abiding customers and businesses are harassed for KYC and have to comply with endless paperwork even to open and close accounts, Dewan Housing Finance Ltd (DHFL) could easily open nearly 260,000 fake home-loan accounts to access Pradhan Mantri Aawas Yojana benefits with the misuse of Aadhaar-based account opening norms.
What is the solution? The obvious one is for the RBI is to take away banks' powers to freeze an account for KYC updating except when asked by the revenue authorities or law-enforcement agencies.
This must be accompanied by asking banks to use simple, easy-to-use online and offline methods for KYC updating, including the Central KYC by the Central Registry of Securitisation Asset Reconstruction and Security Interest of India.
Millions of investors using discount brokerage firms already have CKYC and video-based customer identification process (V-CIP).
CKYC is designed to be used across financial transactions including insurance, banking, and provident funds.
A longer-term solution is to allow customers to easily vote with their feet.
For this we need smooth portability of bank accounts.
As we know, all businesses have to work at retaining customers and spend resources on ensuring customer satisfaction or customer delight.
It is only banking and health care that are so tension-filled, arbitrary, and often draconian.
Customers have to worry about being mis-sold damaging financial products, or debited with charges for unasked services or are punished by cutting off access to their own money.
Portability will completely change the behaviour of banks.
Why, they may even hire a chief empathy officer, just as Cleveland Clinic has a chief experience officer. Nah, just joking.
Debashis Basu is the editor of www.moneylife.in