'When the lockdown grounded a billion people, nothing had been planned well: Testing, masks, face shields, protective gear, medical equipment, contact tracing... nothing.'
'Before COVID, if you didn't know that the State had neither the money, nor the intent, nor the capacity to govern wisely and humanely, you were simply blind.'
'After COVID, if we continue to look to the State, look forward to a financial package or ask "What is the government doing" when faced with a calamity, the joke is on us,' says Debashis Basu.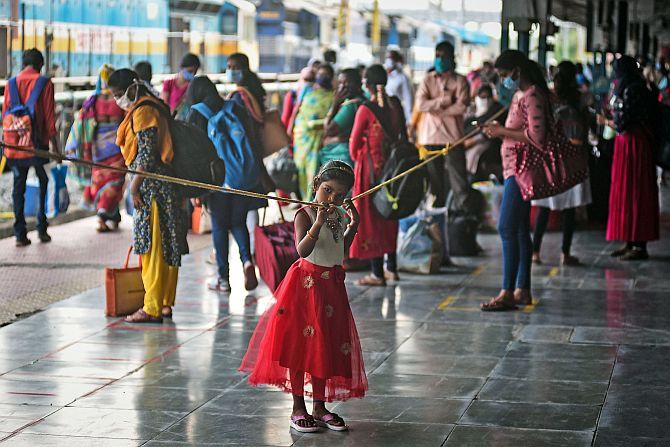 Smart people from the investing world, with years of experience, were waiting for the government to deliver a financial package, which would support businesses -- like the governments of the US and Japan have done.
Their hopes were belied -- once again -- and the markets sank in disappointment.
And yet, the next time there is a similarly gloomy scenario, you can bet that the same people will have the same expectations.
The Indian State has been weak, and remains weak.
But our expectations from it remain strong.
If we misjudge the State's capacity in an area (economy) where it is easy to get data, draw upon well-documented history, and use well-applied economic concepts, what happens when we are in an uncharted area -- like in a pandemic?
Flights have started operating. Soon, the railways will start moving people. Businesses are itching to restart production.
No, the COVID lockdown has not ended.
While the prime minister made it a point to address us thrice since the fateful night of March 24, he hasn't announced that the lockdown is officially over.
Of course, the decision to open up is not his; it has to be taken by each state, under the guidance of the Union ministry of home affairs.
What should we expect? To understand that, think back about what happened in the past months.
When the lockdown grounded a billion people, nothing had been planned well: Testing, masks, face shields, protective gear, medical equipment, contact tracing... nothing.
Doctors, nurses, health workers, and municipal workers were thrown to COVID, without much protection.
Soon, the country discovered that there was a huge segment called migrant labour, millions of people who had been living on daily wages and away from home.
Overnight they were out of job and wanted to go home.
The State had no plans for them. None.
Had it not been for NGOs and individuals, there would have been large-scale starvation.
The State's poor capability and intent were obvious.
To divert us from all this, the prime minister encouraged us to bang thalis, clap hands, and light torches.
If all this offers any indication, what should we expect from the State as we exit from the lockdown? I am afraid we will get hit hard in three ways.
Rising curve: The main idea of imposing the world's severest lockdown was to break the chain of transmission and 'flatten the curve' of rising cases, thereby avoiding tens of thousands of deaths in a country where health care -- both private and public -- is very poor.
Have we achieved this?
The official position of the government is that we have flattened the curve.
V K Paul of the NITI Aayog has claimed that the lockdown has averted 1.4 million to 2.9 million infections, and 37,000 to 71,000 deaths.
By the way, Dr Paul's presentation on April 24 had projected COVID cases to come down to zero by May 16.
The facts on the ground are grim.
Different states count differently, many deaths are not reported as COVID deaths, and politicians in every state have a vested interest in undercounting.
Despite this, on May 23, India reported over 6,600 cases, the highest single-day surge.
Now, just add these two facts together: We are opening up and the curve is rising. What could be the outcome?
Collapsing health care: In dealing with the rising cases of COVID, the local administration in each state has requisitioned even private hospitals.
These hospitals are already bursting at their seams.
There are helplines to inform where empty beds are available, and too few beds are free.
Or, there is poor coordination between hospitals and helplines and when patients are taken to the hospital, they are told there is no free bed.
A Hindustan Times report captures this.
The family of a doctor, a COVID patient, could not find a bed even after five hours of trying, and eventually the doctor passed away.
'First, they said there was one bed in Nair Hospital. When I agreed to admit him there, another attendant informed us there was no bed. They couldn't give us any bed in Mumbai,' said his wife.
The bigger problem is health care for non-COVID patients.
In hospital after hospital, patients and doctors are testing positive.
When this happens, either the hospital shuts down or patients shun it.
Patients who need regular hospital visits for chemotherapy or dialysis are left high and dry.
Those that are open are being accused of hugely overcharging customers.
In response, the Maharashtra government has requisitioned 80 per cent beds in private hospital in Mumbai and capped their charges till August 31.
As the COVID cases rise, the situation will get grimmer.
Licence raj: In an extremely measured and clear-eyed article, Naushad Forbes has warned that in trying to manage COVID, we are sliding back into the licence raj, which would stifle the economy.
'We must sharply limit bureaucratic discretion to just the micro-containment areas,' he has advised.
Between them, the Centre and the states have issued almost 4,800 advisories.
A businessmen told me COVID restrictions were a great opportunity for petty officials to extort money, and at the very least had unleashed a wave of arbitrary behaviour.
This is especially true outside the cities, where district and police officials operate fiefs, interpreting the government notifications as they please.
Before COVID, if you didn't know that the State had neither the money, nor the intent, nor the capacity to govern wisely and humanely, you were simply blind.
After COVID, if we continue to look to the State, look forward to a financial package or ask 'What is the government doing' when faced with a calamity, the joke is on us.
---
Debashis Basu is the editor of www.moneylife.in