The upside risks to inflation, in Raghuram Rajan's view of things, are still very much in play, notwithstanding the sharp moderation seen in August.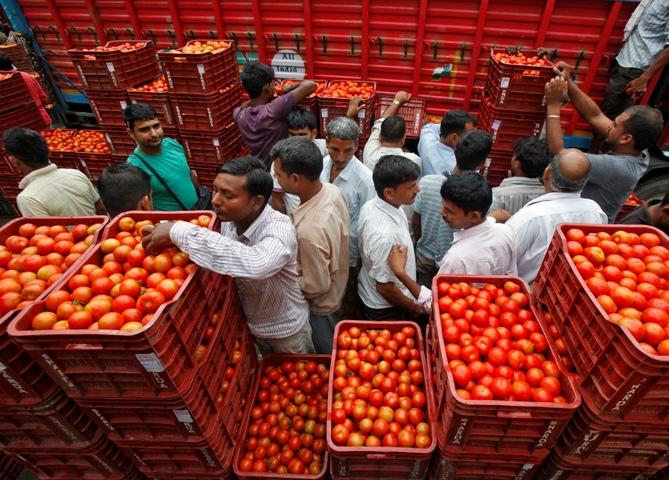 Customers crowd amid stacked baskets of tomatoes at a wholesale vegetable and fruit market in Chandigarh. Photograph: Ajay Verma/Reuters
Following a generally positive news flow on the macroeconomic front, the inflation numbers emerging from the Consumer Price Index and the Wholesale Price Index for August also bring a considerable amount of relief.

CPI inflation has declined by almost a percentage point from July, from close to eight per cent to just above seven per cent.

The August number is about 1.5 percentage points below the rate clocked one year ago.

While the headline numbers bring cheer, the food-inflation situation is still somewhat worrisome.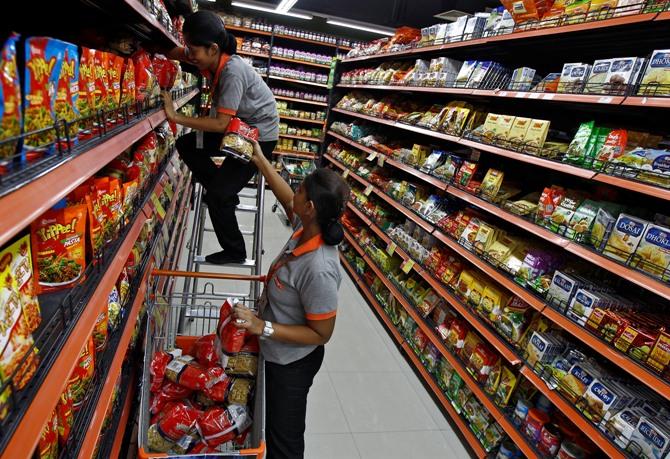 A worker stacks food packets inside a retail outlet at a shopping mall in Kolkata. Photograph: Rupak De Chowdhuri/Reuters
Food prices increased by 9.4 per cent year-on-year in August, significantly lower than the rate seen a year ago, but still a persistent thorn in the macroeconomic side.

The picture emerging from the WPI is perhaps even more comforting.

Headline inflation was 3.7 per cent, almost 1.5 percentage points below the previous month's number and the lowest recorded in almost five years.

Food inflation measured by this index, which was close to 20 per cent last August, was down to 5.2 per cent this year.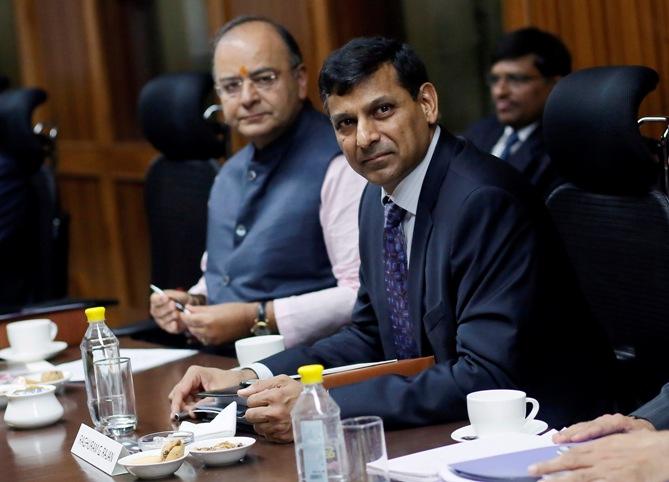 Reserve Bank of India Governor Raghuram Rajan and Finance Minister Arun Jaitley (L) attend the board of directors meeting of the RBI, in New Delhi August 10, 2014. Photograph: Anindito Mukherjee/Reuters
Two factors are primarily responsible for this rather dramatic turn. One, crude oil prices have fallen sharply, with the benchmark Brent price coming down by around 10 per cent from recent peaks.

Contrary to many forecasts, which predicted a hardening of prices resulting from the various conflicts in West Asia, prices have not only come down but seem to be settling in at these new, lower levels.

One possible explanation is that the rollback of liquidity being carried out by the United States Federal Reserve is resulting in a global portfolio re-allocation, in which commodities in general and oil in particular are being divested.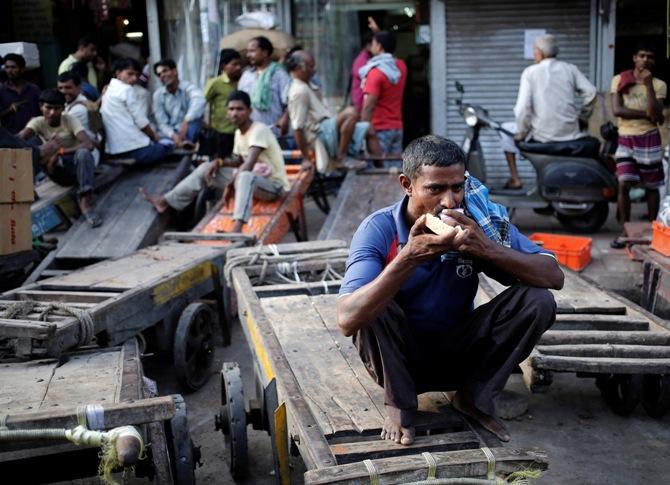 A labourer drinks tea as he sits on a handcart parked at a wholesale grocery market in the old quarters of Delhi. Photograph: Anindito Mukherjee/Reuters
If this is the case, prices are more likely than not to soften over the coming months, which then leads to a relatively optimistic inflation outlook for India and other oil-importing countries.

The second is that the uneven performance of the monsoon does not seem to have appreciably impacted the food-price dynamics, which takes a significant risk factor out of the equation.

Of course, prices may react to more realistic assessments of the production situation as it emerges over the next few weeks, but it is quite significant that the more dire predictions of a resurgence in food inflation appear to have been proved wrong for now.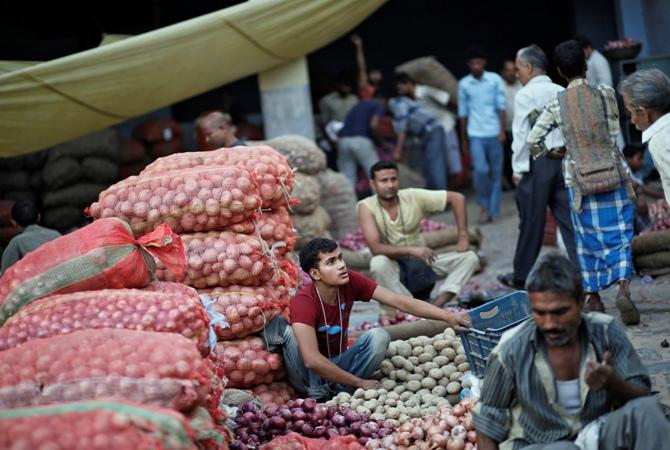 Vendors wait for customers at a wholesale vegetable market in the old quarters of Delhi. Photograph: Anindito Mukherjee/Reuters
Is this very welcome moderation indeed sustainable, thereby paving the way for the Reserve Bank of India to begin a much-awaited lowering of interest rates?

The clamour for this will undoubtedly swell in the next few days as the RBI prepares for its next bi-monthly policy announcement on September 30.

Perhaps as a pre-emptive move, Governor Raghuram Rajan in a widely reported speech on Monday sent a clear signal that it was yet premature to cut rates.

The upside risks to inflation, in his view of things, are still very much in play, notwithstanding the sharp moderation seen in August.

Since the growth numbers do not suggest any intensification of pressures from the demand side, this assessment must be based predominantly on the outlook for oil and food prices.

If the recent patterns in these are indeed going to be short-lived, caution is warranted.

If not, maintaining status quo could be a wasted opportunity.