The Brics line-up has yielded to a shaky China-India story, with new question marks over China even as India remains a "B+" performer, says T N Ninan.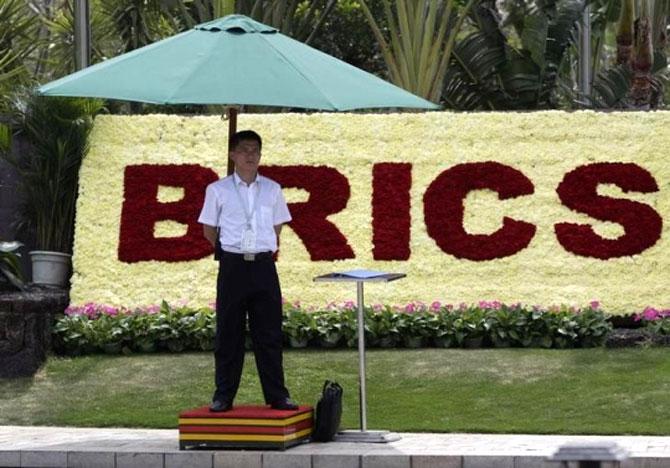 In 2003, Goldman Sachs came out with its report on the four Brics economies (Brazil, Russia, India and China). It forecast that they would drive global growth for the next half century, indeed that their combined GDP would exceed that of the G6 (the six largest economies of the time, led by the US) in less than 40 years.
Key aspects of what Goldman forecast in 2003 have materialized over the first decade since its release. But early into a second decade, the time may have come to bury the Brics classification.
The four Brics economies were very different in key respects (like resource endowment and per capita income); but all of them were relatively large (among top 12 in GDP) and populous (top nine) countries with large geographies (top seven). A key forecast had been that Brics taken together would equal half the GDP of the G6 by 2025. That forecast was virtually reached in double-quick time. By 2014 the combined Brics GDP, at $16.6 trillion, was 49.1 per cent of the G6 total of $33.8 trillion.
In 2003 the ratio had been just 15 per cent. Further, the forecast for India had been that its GDP would become bigger than Italy's (the smallest of the G6) in 2015. That too is about to happen. The International Monetary Fund's last forecast for 2015 put India's GDP at $2.18 trillion, ahead of Italy's $1.82 trillion. In 2003, Italy had been two-and-a-half times India's size.
What of China? The Brics report had forecast that Chinese GDP would match that of the US by 2040, helped along by currency appreciation. There was a time when this seemed far too modest an assessment, and that China would draw level with the US very much sooner.
But with the yuan losing its strength, the economy slowing down and serious structural issues confronting its economy, China is unlikely to be able to challenge American economic might for a while yet.
If China sustains 5 per cent annual growth henceforth, it will take about a decade to get to the current size of the US economy; by then, the US economy would likely have grown a further one-third in size. So it is still feasible that China will match US GDP by 2040, as Goldman had forecast. But given the uncertainties bedeviling China and the rest of the world, such long-term projections come with high risks.
What the 2003 report failed to anticipate was the relative performance of the different Brics economies. China has been unexpectedly stellar in its performance. Brazil and Russia seemed to outdo India till very recently, but have fallen off the map in 2015 because of the commodity cycle swinging sharply down. Russia's GDP (according to IMF) will have shrunk to $1.24 trillion in 2015, down sharply from $2.08 trillion in 2013, while Brazil's GDP will have shrunk to $1.8 trillion from $2.39 trillion in 2013.
With the unique circumstances that caused the commodities boom unlikely to be replicated, neither country can hope to climb the heights again very quickly. India in contrast has stayed on course and is better placed for the future.
The critical point - and the reason why the Brics grouping has lost its meaning - is that two of the four Brics members are not likely to be among the largest contributors to world growth in the foreseeable future.
The other two, China and India, are now the largest and third largest contributors to global economic growth. So the Brics line-up has yielded to a shaky China-India story, with new question marks over China even as India remains a "B+" performer. Which other countries might join these two on their wobbly way up the charts? There are no obvious answers.