For many of us, HMTs are the first watches we wore, a rite of passage to adulthood, says Rahul Jacob.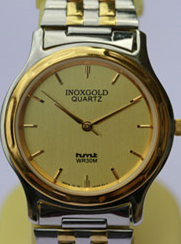 As a colleague and I darted down a dirty alley behind the glamorous shopping colonnades of Connaught Place in New Delhi, I felt like I was playing a childhood game of treasure hunt.
The flies drawn by the garbage dump on one side of the street and a public toilet nearby did nothing to deter us, but we somehow overshot the HMT store.
It was so small, so nondescript, that it was hardly a shop at all. Inside, lying on the dusty showcase, no more than three feet long, were containers with dal, sabzi and roti; a middle-aged employee was in the middle of lunch.
He graciously moved everything over to the computer table flanked by four Godrej almirahs that housed files.
A dot matrix printer, circa 1990, was next to the desk. Once lunch was over, he put his head down on the desk and fell asleep. News in September of HMT's imminent closure had prompted a run on their watches.
On Flipkart, the watches were sold out while on other sites they commanded a hefty premium. The five employees in the shop seemed alternately baffled, bemused and bothered by the rush.
Being public sector employees, they still saw no reason to stir themselves unduly. Only one salesperson actually tended to customers.
The others sat around, trading stories and occasionally passing snide comments about the silliness of the new buyers, which is to say, us.
By the time I got there, the HMT I wanted - the aesthetically plain but classic Janata that I had worn as a teenager after my elder brother had handed it down - had sold out.
The Pilot was gone too. The salesman offered me a wind-up Kohinoor, but this one was an unattractive, even ugly variant. I put it aside to look at a quartz watch.
Two alert young customers snatched it off the display case.
The last mechanical watches for men in the store had been sold before my eyes. The salesman at the counter seemed at least alert to the scarcity premium attached to the watches.
Before handing over a watch, he would yank the price tag off. Then, he would turn to a printed sheet with minuscule type, reach for something that looked like a mini-microscope and peer at the price list for a minute or two.
If the salesmen of HMT were hiking prices because of this mismatch of supply and demand, their multiples were so modest that they harked back to the socialist origins of a watch that was first sold in the 1960s.
On that first visit, I bought a minimalist quartz that looked like a miniature stopwatch. After a 10 per cent discount had been deducted, I was handed a bill for Rs 607.
The "salesmen" were all engineers by training, who had joined the company more than two decades ago. "My intention was to design machine tools, but the company put me in the watch division.
I don't actually like watches very much," one of them told The Wall Street Journal.
I missed out on the Janata but did succeed in buying a lady's analog watch for a close friend. Named Usha, its face and case were so tiny it was hard to believe it was anything more than a bracelet, but my friend loved it, ignoring her Tissot for weeks after as if it were a mismatched bangle.
The watches are a reminder of a bygone era, of the watches our parents wore for decades - and thus, in a small way, of our parents themselves.
The colleague I went with was on a mission to buy the gold-faced Sona simply because his late father had worn one.
For many of us, HMTs are the first watches we wore, a rite of passage to adulthood before the age of iPods.
The mechanical watches are also an engineering marvel; the slimmer cases that hold the intricate mechanisms and the vintage design have a fashionable retro appeal.
Indian government inertia has preserved some designs, as if in aspic, to their benefit.
"Living in India is like living in a pre-industrial society in the sense that craftsmanship is still alive here. Mass-made hasn't taken over," says Sean McLain, a Wall Street Journal reporter who interviewed HMT's employees and has bought half a dozen HMTs since he moved to New Delhi in 2011.
These skills aside, there is very little reason to keep HMT - or for that matter Air India - alive, or at least in government hands. In the first half of fiscal 2014 ending in September, HMT clocked Rs 31 crore in revenues, but lost Rs 54 crore, in large part because of Rs 47 crore in expenses on employee benefits.
That dysfunctional store was akin to a form of time travel to a socialist past I deplored, but inexplicably missed.
The impending demise of HMT has prompted a burst of consumerism so intense that I bought three more watches as gifts over another visit, all the while pleading with the store's employees for a Janata.
One of them took my number down on the last sales brochure in the store. When I asked him to write elsewhere, he said the company would be closed in a few weeks anyway.
I never heard back. It got so bad that I took to asking acquaintances and friends to keep an eye out for a Pilot.