India's economic situation calls for far-reaching reforms of electricity, gas, coal and oil pricing, and restructuring of public-sector monopoly producers/suppliers, rues Shankar Acharya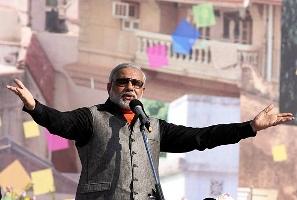 Almost three months have passed since the National Democratic Alliance government, Mark II, was sworn in.

Since then there have been three major programmatic statements by the government: the president's address to the first session of the 16th Lok Sabha in June, the finance minister's budget speech of July and, last week, the prime minister's widely acclaimed Independence Day address to the nation from the ramparts of the Red Fort.

Naturally, all three had significant economic content.

And there have been nearly three months of governmental administrative and legislative action.

What have we learnt about the government's economic policy priorities from all this?

By policy priorities I mean the actual policies, not the standard objectives of high growth in output and employment, low inflation, sustainable external balance, better social indicators of education and health, improved environment, good governance and so on, which are normally the stated objectives of all governments all over the world.

Well, the answer, in a nutshell, is not as much we might have wished.

As I pointed out then ("More of the same?", Business Standard, June 18) the president's address was devoted mainly to a list of the new government's expenditure programme intentions, such as broadband highways to villages and 100 smart new cities, and revealed little about the government's policy programme.

Last month's Budget was a middle-of-the-road, incrementalist one, lacking the kind of paradigm-shifting announcement of new policies (that many had hoped for) to deal with the dismal economic scene inherited from the previous government ("Budget 2014 -- Good beginning or missed opportunity?", Business Standard, July 16).

The prime minister's August 15 address was undoubtedly inspirational and outlined important economic and social objectives, such as making India a global hub for manufacturing, ensuring bank accounts for all poor families, major thrusts in sanitation and cleanliness, and a radical restructuring of the Planning Commission.

However, the policies and road maps to achieve these worthy goals remain to be articulated.

Another way to understand and assess the policy priorities of the National Democratic Alliance government is to focus on the key policy weaknesses of the previous government (which led to India's current economic malaise) and to try and discern the extent to which the NDA government has initiated or announced necessary policy shifts to improve economic outcomes.

Some of the significant ones are listed below.

Fiscal consolidation: Although the July Budget proposed a modest reduction of the central government fiscal deficit in 2014-15 compared to the previous year, this does not appear attainable, given the overly optimistic projections for tax and non-tax revenues.

Nor has there been any significant restructuring of entitlements, subsidies and other expenditure programmes, although an expenditure reforms commission has been now established to recommend measures before the next Budget.

Hence, the negative effects of a large fiscal deficit on inflation and interest rates continue.

Anti-inflation policy: At a year-on-year rate of eight per cent in July 2014, consumer prices inflation remains uncomfortably high, entirely justifying the Reserve Bank of India's reluctance to start reducing policy interest rates.

Although the NDA government has begun some open market sales of foodgrain to moderate prices, the amounts have been modest, given the 70 million tonnes of high-cost public stocks available.

Systematic efforts to reform India's highly distorted system of food procurement, stocking and distribution have yet to be announced.

Exchange-rate policy: Given India's continued high rate of consumer price inflation (relative to trading partners), the real effective exchange rate of the rupee has again been appreciating in recent months (after the sharp depreciations of last summer), pointing to prospects of growing trade and current-account deficits in future, especially if the present restrictive policies on gold imports are normalised.

More active currency intervention by the RBI to prevent undue rupee appreciation is called for.

Policy paralysis: The well-known and widely prevalent 'policy paralysis' and despondency in the last two years of the previous government has given way to a strong sense of confidence and hope based on the single-party majority secured by the Bharatiya Janata Party in the recent national elections and the strong leadership associated with Prime Minister Narendra Modi.

Capital inflows and stock markets have surged and business confidence surveys indicate a revival of 'animal spirits'.

The government has also streamlined decision-making by abolishing the Groups of Ministers, strengthening the Prime Minister's Office, speeding up environmental clearances and pushing for greater accountability across government offices.

However, the impact of all this on the massive backlog of stalled and incomplete projects is as yet unclear.

Employment and manufacturing: The prime minister has strongly and rightly emphasised the critical importance of the manufacturing sector for both reviving economic growth and providing vitally necessary employment opportunities for India's burgeoning youth population (with over 10 million new entrants to the labour force each year).

However, the national polices required to bring about this resuscitation of manufacturing have yet to be announced or put in place in the critical areas of labour laws, the land acquisition law, infrastructure and skilling of the work force.

The Rajasthan government has taken an interesting and potentially important lead in amending labour laws to encourage greater employment.

Whether this will lead to widespread emulation or similar central government legislative initiatives remains to be seen.

On the onerous provisions of the new land acquisition law crafted by the previous government, the NDA government has begun a process of consultations with the states; the outcome is not yet known.

Infrastructure and energy: The depth and breadth of the disarray in policies and performance of key infrastructure and energy sectors in recent years is well-known.

For example, over 20,000 Mw of new power generation stands idle for want of adequate supplies of coal and gas, burdening banks with massive non-performing assets and forcing electricity users to turn to high-cost diesel gensets.

National-highway construction has slowed to a crawl for lack of timely land acquisition, environmental constraints, or breakdown of private-public-partnership agreements.

Railway finances and capital equipment are very weak.

Oil and gas development are plagued by problems of pricing, subsidy-burdened national majors and various contract disputes.

The new government is trying to grapple with these deep-seated problems through more effective governmental coordination and follow-through.

However, the situation also calls for far-reaching reforms of electricity, gas, coal and oil pricing, and restructuring of public-sector monopoly producers/suppliers.

Such new policies are awaited.

Public-sector banks: With 70 per cent of all bank deposits, the PSBs remain dominant in the country's banking system.

However, past policies have led to high ratios of non-performing assets and low levels of capitalisation.

The governance framework for the PSBs calls for urgent reforms.

The PSBs will also need to access capital markets to meet the impending Basel-III norms.

But the finance minister has stated his opposition to facilitating this through amendment of banking laws to allow government ownership to fall below 51 per cent.

To sum up, the NDA government has yet to articulate its policy priorities and initiatives in major areas of the economy needing urgent attention.

Until this is done and hard policy choices made, it is unlikely that India's economic growth will revive to the seven per cent-plus levels experienced in 2003-11.

The expansion of employment opportunities will remain correspondingly sluggish.
Image: Prime Minister Narendra Modi

Shankar Acharya is honorary professor at ICRIER and former chief economic adviser to the Union government. These views are his own