India must create a world-class public service broadcaster, says Business Standard.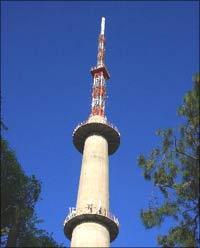 The unending travails of Prasar Bharati Corporation, now made worse by allegations of corruption in high places and a threatened strike by its employees, point once again to the need for new thinking on public broadcasting.
The 38,000 employees of the holding body for Doordarshan and All India Radio are right when they say that the Prasar Bharati Act should go.
That is because the whole notion of having an 'autonomous' corporation which is then beholden to the government for taxpayer money to survive defies logic.
Prasar Bharati should either be a completely independent corporation which has nothing to do with the government, or simply be wound up.
Otherwise, it should be a public service broadcaster that uses taxpayer money on stuff the taxpayer is at least proud to watch or hear, a la BBC and the increasingly interesting CCTV of China.
The UK television market is one of the smallest ones in the developed world. This is because BBC, a public service broadcaster, has got viewers used to very high standards of programming in both news and entertainment.
As a result, private broadcasters haven't managed to grow. The entry costs of such programming are high and not everyone can get it right. BBC, funded by the licence fees that TV owners in the UK pay, makes money by syndicating this programming globally through BBC Worldwide.
This story has all the answers to the dilemma of the Indian government dealing with the striking employees of Prasar Bharati Corporation.
The middle path that the Prasar Bharati Act (1990) chose was wrong to start with. That was evident when a committee consisting of Kiran Karnik, Narayana Murthy and (the late) Shunu Sen was appointed in 2000 to figure a way out of Prasar Bharati's problems.
It made some very sensible recommendations, including staff cuts of about 25 per cent. Most of its suggestions were ignored even as competition in both TV and radio continued to increase.
By all accounts, Prasar Bharati should be able to beat all competitors hands down. In TV, for instance, Doordarshan reaches all of India's 134-million TV homes. It has one of the best networks in the business, gets mandatory sports feeds, mandatory placement on the prime band on cable and it got over Rs 1,700 crore (Rs 17 billion) of taxpayer money as subsidies this year.
It still can't seem to make money. That is because Prasar Bharati is, by any standards, obscenely overstaffed, badly run and has too many bosses without enough authority and responsibility.
Any private company with a balance sheet like Prasar Bharati's would have been shut down or sold out, long ago.
Maybe it is time to stop insisting that Doordarshan and AIR compete with private broadcasters and also fulfil their role of being public service broadcasters.
Maybe it is also time to accept that any government in India is incapable of giving full autonomy or letting go of the one media company it owns and controls.
Instead, why not work at creating a world-class public service broadcaster? That is a real gap in this hypercompetitive market where every competition is forcing a race to the bottom in quality of programming.
Maybe Prasar Bharati could fill the gap and, who knows, even make some money doing it.