Despite our overly loud public adherence to democracy, political parties and their leaders appear to treat its accoutrements as necessary evils to be tolerated in their quest for power, notes Shreekant Sambrani.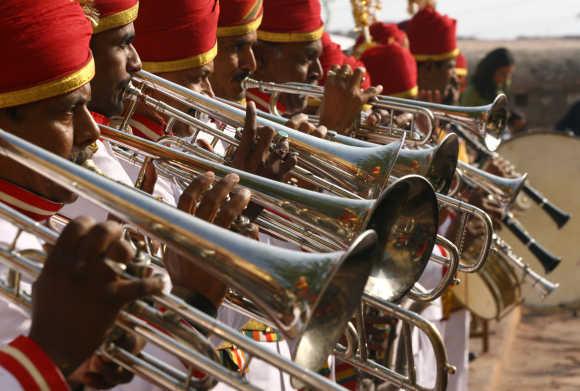 "India seems to be held together by chicken wire and chewing gum," is how I had begun an Independence day column seven years ago.
I tended to agree, though, with my young niece's confidence that her generation would invent stronger chicken wire and stickier gum, in view of the rather remarkable growth India had been posting at that time.
I had noted that India had just crossed the $1 trillion threshold of gross domestic product (GDP) and was poised for further advances.
My friend Baba Kalyani fBharat Forge firmly believed that India would see an inflexion point within the next five years in the secondary sector, with the world increasingly thinking of it as an alternative manufacturing hub to China, especially for relatively high-value products.
But agrarian distress had become intolerable, to the extent of needing a loan waiver earlier in the year.
The growth appeared jobless to Dr Shankar Acharya writing in the paper.
India now boasts of a $2.3 trillion economy.
That indicates a more than 10 per cent cumulative growth rate in dollar terms over the last seven years, very respectable by any standards, including those of China.
This has earned India a place at the global economic high tables.
Yet agrarian distress has not reduced; it appears to have in fact increased. Regardless of the statistical debate on the decline of poverty, destitution haunts rural India, as indicated by the new caste census data.
One year of aggressive "Make in India" campaign has little to show in terms of new facilities either on ground or in planning stages.
Job creation and imparting skill have become even more pressing concerns now.
So even as India displays its economic resilience through sustained growth, its structural weaknesses continue to dog its progress.
Its efforts to tackle them continue to be battered by administrative sloth and pervasive corruption.
Whether these efforts were well-designed or targetted in the first place is a question we do not often ask ourselves. For example, can entitlements to dole and food really address the question of adequacy of livelihood?
Are catch phrases repeated ad nauseam enough to entice investors into an area of administrative and policy uncertainties?
I overheard Nachiket Mor saying on the sidelines of a major national seminar that India was a graveyard of ideas.
Everything has been suggested but nothing worthwhile has been given enough scope to work out.
This is all the more evident in the realm of economic-political activities.
In the last 50 years, we have had just three game-changing ideas: the Green Revolution, economic reforms of 1991 and the IT transformation.
The first two were survival responses to grave crises, while the last was pure serendipity. The germs of all these came from outside the group that should matter the most, the political leadership.
Despite our overly loud public adherence to democracy, political parties and their leaders appear to treat its accoutrements as necessary evils to be tolerated in their quest for power.
Whether they are in government or in opposition, democracy is an inconvenient, and at times, unbearable burden for them.
Most leaders' decision horizon is the next election. But even assured majorities do not lead to out-of-the-box ideas.
Indira Gandhi's absolute control over party and Parliament led to populist excesses culminating in the Emergency.
Rajiv Gandhi's massive victory was interpreted as mandate for modernity, but apart from telecommunication, that government did not break with the past sufficiently, if at all.
The present dispensation came to power appealing to people's aspiration. The prime minister delivered a most rousing Independence Day speech last year, containing the germs of many a novel idea.
That was his finest moment. Hope was kindled that despite lacking a majority in the Rajya Sabha, breakthroughs could be around the corner.
A year later the nation heard the prime minister hold forth even longer, delivering an oration that in effect amounted to a narration of picking low-hanging fruit (cleanliness, toilets, dismantling of old and unnecessary laws), a tree-tops discourse on removing corruption and yes, more slogans.
Renaming the ministry of agriculture as ministry of agriculture and farmer welfare does not redress agrarian distress by itself.
Repeated allusions to 1.25 billion-strong Team India do not offer a clue to handling those pesky 112 members of a certain party in Parliament.
Adding Start-up India and Stand-up India to "Make in India" does not automatically produce jobs or halt slide in exports. Slogans are not substitutes for ideas.
I wrote last year "Mr Modi delivered his address lasting just over an hour, the longest since Pandit Nehru's time, without inducing a yawn." This year, his own health minister could not suppress one.
Political leadership could still deliver despite roadblocks. Look at the beleaguered President Barack Obama. Even when he had more Democrats in Congress than he does now, his path was repeatedly blocked, often by his own party.
But his focus on his flagship agenda, the affordable health care reform, was unwavering. He prevailed by getting an act that has successfully withstood all legal challenges so far.
The greatest progress on civil rights in the United States since Abraham Lincoln was under the Southern Democrat Lyndon Johnson, the past master of wheeling and dealing in Congress.
That is the stuff of leadership with ideas India could well have wished for on this Independence Day.
---
Shreekant Sambrani taught at Indian Institute of Management, Ahmedabad, and helped set up Institute of Rural Management, Anand