The Department of Telecommunications' restriction on this service flies in the face of both policy precedents and market logic.



The Department of Telecommunications (DoT) is locked in a territorial battle with India's leading telecom operators over the presumptive rights for non-3G spectrum holders to offer 3G services. This brewing conflict is a litmus test for the government's avowed goal of creating an Indian broadband economy and its stratagem with multiple imputations for Indian consumers, service providers and the Indian economy at large.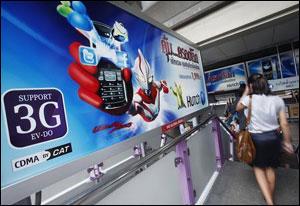 DoT has projected the issue in deceptively simple terms. Since none of the 3G players acquired a pan-India licence owing to runaway auction prices, 3G service providers are not eligible, DoT's argument goes, to offer 3G services in circles other than the ones in which they won spectrum in the 2010 auctions. Axiomatically, service providers who are offering 3G services by way of roaming pacts are implicated for contravening the terms of the agreement, and in lieu of incomes earned, are required to pay significant fines to DoT.
DoT's argument on 3G roaming flies on the face of established policy facts as well as number of prevailing precedents in the Indian telecom industry. But, first, the facts.
One of the hallmarks of the National Telecom Policy (NTP) in 1999 was the promulgation of technology and service neutrality insofar as the choices that service providers could exercise in deploying technologies on the designated spectrum. This principle originated from serious internal debate and was then hailed as a sign of progressive policy of an emancipated India. All spectrums assigned since 2001 have been technology- and service-neutral and governed by the Unified Access Service Licence (UASL) regime.
Further, UASL licensees are permitted intra-circle roaming, which means an operator with spectrum in a circle can offer a connection using someone else's spectrum. 3G auctions in 2010 were a further landmark; they disassociated the licence from spectrum. But the underlying licensing agreement for provision of 3G services remained the same, and it follows logically that the roaming provision that is available to 2G services should be applicable to 3G services in the same vein.
The second aspect to this debate is about precedents. Be it the government or the judiciary, past precedents serve as an important road map that address current conflicts and lend a groundswell of support to the issues that are likely to emanate in the future. Owing to the NTP-1999, technology-neutrality allowed CDMA/GSM players to offer technologies such as EVDO (evolution-data optimised) and EDGE (enhanced data rates for GSM evolution) under the 2G umbrella, but which according to the International Telecommunication Union definition, are actually 3G technologies.
By permitting the deployment of these technologies, DoT rightly endorsed the principle of technology- and service-neutrality, thus making all spectrum indistinguishable and on a par, whether it is 2G or 3G. This is a constructive rhetoric because, doing otherwise, would have created pockets of inefficiencies in the usage of scarce spectrum, translating into suboptimal equilibrium for both consumers and telecom operators. The same issues are at stake on the issue of 3G roaming and the same outcome must be derived under the same rubric.
Simultaneously, there is an opportunity for DoT to seek inspiration from its recent orders, allowing Broadband Wireless Access spectrum holders to offer voice services. This is an instance of resolving market kinks with pro-active policy development. The same rationale works for resolving this 3G roaming issue, too.
DoT is in possession of four slots of 2X5 Mhz in 3G spectrum that can be made available to the players who are offering 3G services through sharing spectrum via intra-circle roaming pacts. Once operators acquire exclusive spectrum in the 2.1 Ghz band to offer 3G services in contiguous geographies, the very raison d'être for entering into roaming pacts will become redundant. Spectrum that is not being employed for commercial use is a fallow asset.
Demand for spectrum exists and operators will be willing to invest in spectrum slots to serve the growing needs of their consumers. On the other hand, if the additional spectrum is not made available in the near future, it will in all likelihood dampen the consumer's expectations and simultaneously cause the telecom industry market structure to degenerate owing to the impairment of business opportunities for 3G operators.
And then, there is a consumer angle to this 3G roaming fissure. A well-developed supply side ecosystem and competitive markets are important dimensions of consumer choice. The fact that India's prepaid market constitutes 90 per cent of the total market is an important testimony to this consumer choice model.
The 2.1 GHz band will make mobile broadband devices and services affordable, since it is globally the most harmonised band with best device synergy. With spectrum issues bedevilling the industry, if the 3G mobile broadband does not take off, it is likely to have a long shadow on the growth of 4G services, too, a double whammy when India's mobile broadband subscriber numbers should be growing at express speeds (pun intended) in the first place.
It also so happens that the government is in need of a huge amount of funds to develop India's infrastructure and address the burgeoning fiscal deficit. Letting go of this opportunity will be an unconscionable waste on the part of the government.
The author is Principal Analyst, Ascentius Consulting