Chief executives, investment bankers, and lawyers privately say that the current government has made it much harder for tycoons to get special dispensations from Delhi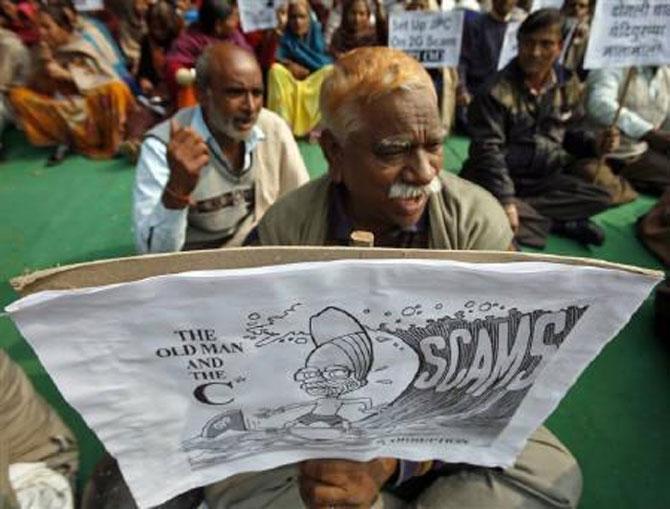 Activists of Communist Party of India Marxist hold a cartoon placard portraying former Indian Prime Minister Manmohan Singh during a protest against the telecom corruption scandal in New Delhi. Photograph: Parivartan Sharma/Reuters.
India is home to Asia's other big anti-graft campaign. Narendra Modi's drive to squash corruption in the nation of 1.2 billion people lacks the drama of Chinese president Xi Jinping's crackdown. Yet as India's tycoons find it harder to win favour from politicians and banks, Modi's intention to stamp out crony capitalism - and the potential benefits of a clean-up - are coming into focus.
When the Indian prime minister won the landslide election in May 2014, investors paid more attention to his promises to revive growth and boost foreign investment. Stamping out sleaze seemed far-fetched. India ranks 85 out of 175 countries in Transparency International's Corruption Perceptions Index. Graft is so entrenched that any political pledge to deal with it deserves a dose of healthy scepticism.
Yet Modi has good reasons to clean house. Crony capitalism was at the heart of a series of scandals that turned voters against India's previous government. The misallocation of telecom licences in 2008 was estimated at one point to have cost the state as much as $40 billion in potential lost revenue. India's state auditor also found numerous irregularities in the award of contracts for the 2010 Commonwealth Games in Delhi.
An espionage scandal at the country's oil ministry in February exposed the scale of the challenge. Ministry staff allegedly leaked classified documents to some of the country's largest companies. No one has been convicted. But the arrest of officials from companies including Mukesh Ambani's Reliance Industries and Essar Oil, backed by the Ruia family, signals a new determination to clean up. Both companies have said they are co-operating with the investigation.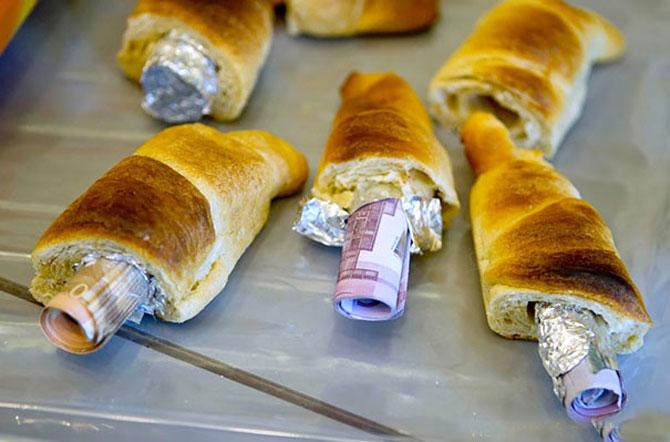 Chief executives, investment bankers, and lawyers privately say that the current government has made it much harder for tycoons to get special dispensations from Delhi. Prem Watsa, chairman and chief executive officer of Canada's Fairfax Financial is one of the few who has publicly asserted that corruption has disappeared at the highest levels.
Graft is secret by its nature, which makes its absence hard to spot. Nevertheless, there are signs that things are changing. Modi's government has held transparent auctions for telecom spectrum and coal mines - a big change from the discretion-based approach of the previous government, which was known for allocating permits to favoured business houses. In May, India approved a tough bill targeting undeclared "black money" stashed abroad.
Tycoons are also feeling the heat as Modi turns the screws on the state lenders that dominate the country's banking system and are wracked with stressed loans. The government is taking a stricter approach to allocating capital, forcing banks to pile pressure on some of the country's most powerful business groups to sell assets, restructure, and pay down overdue debt. Essar Oil's agreement to sell part of a key refinery to Russia's Rosneft is a sign of the changing times.
There is much more work to do but the shift should make it harder for India's big businesses to influence the banks - and by implication taxpayers' money - to their own ends. The government's efforts, in co-ordination with the Reserve Bank of India, represent a long-overdue attempt to fix India's inverted capital structure where large shareholders are often able to restructure loans without repaying banks or relinquishing control.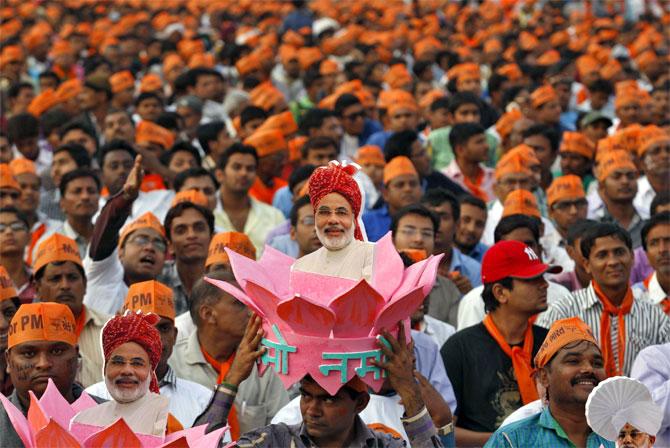 The fight against crony capitalism is unprecedented in recent Indian history. Yet while Modi clearly shares the same intent to stamp out graft as his Chinese counterpart, he lacks the same sharp tools.
Chinese investigators are able to interrogate at will and lock people away with little or no due process. India is a democracy where it is harder to build a prosecution and conviction rates are low. Vested interests oppose new legislation. Any sustained improvement will require the cooperation of both the courts and the country's vast bureaucracy where corruption remains rampant.
Political considerations also matter. Whereas Xi is using the graft crackdown to neutralise opponents, Modi needs to worry about countering the electoral threat posed by Arvind Kejriwal's Aam Aadmi (Common Man) Party, which has tapped into widespread unhappiness about government sleaze.
Yet the main reason to bother is the hope of faster economic growth. A cleaner India should allocate capital and resources more efficiently, and attract foreign investors more easily. Troubled companies would also fail faster. There would be no risk of a repeat of the debacle at Vijay Mallya's Kingfisher Airlines, which continued to access bank loans long after it was in obvious difficulty.
It will take time for Modi's anti-graft campaign to filter down to lower levels but the rhetoric is already forcing India's older breed of tycoons to learn how to operate in a different way. Not all of them will be able to adapt. Ultimately, it might lead to a re-ranking of who's who on India's corporate scene. It's a sign of Modi's progress that Indian business leaders dare to suggest that such a change could be within reach.
Una Galani is a Reuters Breakingviews columnist. The opinions expressed are her own.