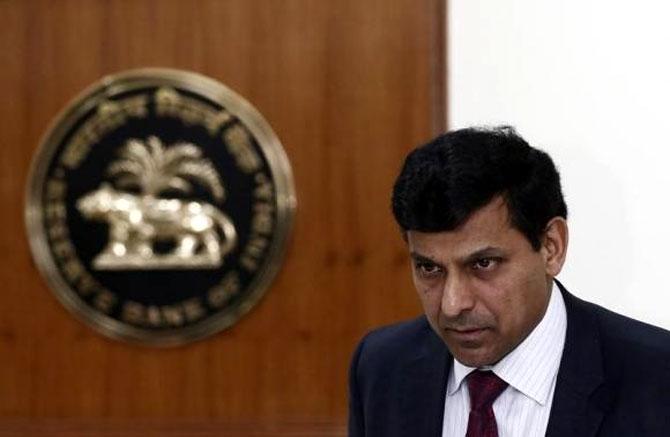 The regulator would do well to practise what it preaches to the regulated

Glassdoor.co.in has posed this question on its site: "Work at Reserve Bank of India? Share your experience."
The website has posted responses from several current and former RBI employees, almost all of whom have preferred to remain anonymous.
But the answers are revealing, even if one discounts some parts as exaggerations.
A 'current RBI employee with 10 years' experience' says 'a great past but not so great future'; while another -- this time a former employee -- says while the RBI is a great institution to work for, the job is ideal for 'lazy types'.
Sample some more: one respondent has described his stint at the central bank as a good learning process, but the HR (human resources) practices are outdated and there is no incentive for performers.
Yet another praises the work culture as being friendly but feels bureaucratic processes get in the way of day-to-day operations.
One employee advises the RBI management to upgrade the performance appraisal system to provide incentives to key performers.
None of the respondents could have read Raghuram Rajan's New Year message to RBI staff, as glassdoor posted these answers much earlier. But the tone of the RBI governor's message shows the concerns aren't entirely misplaced.
Pointing out that the imagery that comes to mind for RBI's critics is of a traditional unimaginative organisation rather than a dynamic intelligent one, Rajan has been fair in his criticism of both the top management and employees.
Consider this: "There is a sense that we do not enforce compliance. Are we allowing regulated entities to get away year after year with poor practices. . .?
"My sense is that we need a continuing conversation about tightening both detection as well as penalties for non-compliance throughout the hierarchy."
Rajan says he is worried that people are losing curiosity and the desire to learn and improve themselves and that in complacency and self-satisfaction lies a slow descent into mediocrity.
He also criticised the 'protectionist' attitudes in the organisation when it comes to lateral hires.
But the most significant part of Rajan's message was that while everyone was deemed excellent in the earlier performance evaluation system, the new one has some shortcomings which the RBI is trying to fix.
This means the reporting officers in the central bank need to let their subordinates know, perhaps even as frequently as every quarter, how their performance has been.
The final performance appraisal should not come as a surprise to the person being evaluated -- they should have picked up cues during the year.
For staff, it means being willing to ask questions and resolve anxieties when they have face-to-face meetings with managers, rather than be silent at that time and then succumb to unfounded rumours.
But for this to succeed, the RBI needs to do three things: one, there should be clear key result areas across hierarchies to figure out required competencies and how to develop them (after all, employees must clearly know what they are being assessed for); and two, at the core of effective performance management is successful communication.
To deliver feedback that will be taken on board it's critical that you speak so that people around you want to listen.
The third area is outsourcing part of the performance appraisal to a specialised agency. Known as assessment centres, they use methods like observing candidates in social/informal events and give assignments to assess competencies to take higher responsibilities in the future.
Generally, employees are given an assignment similar to the job they would be expected to perform if promoted.
The major competencies that are judged in assessment centres are interpersonal skills, intellectual capability, planning and organising capabilities, motivation, career orientation, etc.
The RBI top management can also look at the 2014 report of a panel headed by former RBI executive director G Gopalakrishna.
Meant for public sector banks, the RBI panel recommended setting up a centre of excellence for leadership development and a skills registry which will develop an expert pool internally and allow free movement of talent within the organisation for creation of a larger workforce of trained personnel.
In the report, the committee indicated that the time for 'generalist officers' could be over and suggested that banks plan their talent and leadership requirements at least five years in advance and placement of employees must be well planned rather than discretionary.
It's time the regulator did some introspection and looks at implementing some of these recommendations for its 16,000-plus workforce.
Practising some of which it preaches to the regulated can be a good beginning in an evolved HR exercise.
Image: RBI Governor Raghuram Rajan. Photograph: Adnan Abidi/Reuters