The polytechnic graduate is on the front line of our war to establish a vibrant manufacturing sector in India, says Ajit Balakrishnan.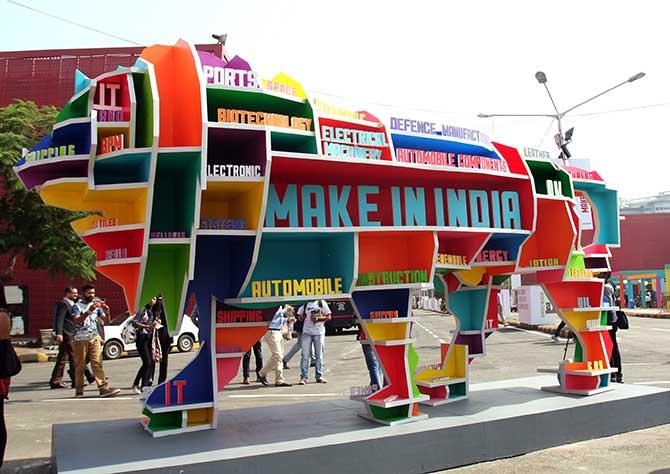 Last weekend I found myself in Shillong staring out of the windows at the rolling Khasi Hills, listening to presentations from directors of technical education and principals of polytechnics of Meghalaya, Mizoram, Arunachal Pradesh, Jharkhand, Bihar, Odisha, Sikkim, West Bengal, Tripura and the Andaman Islands.
The task at hand?
Changes to be made to the curricula of the 375-plus polytechnics in the area to make them more relevant to industry and consequently make the students more employable.
The stakes are high: polytechnics in these states produce 65,000-odd students every year.
Getting the curricula right for an educational institution is, to draw a parallel, like getting the script right if you are a Bollywood producer; many other steps remain, getting the right actors (teachers) and distribution (placement), but if the curricula are not tuned to the market, nothing else works.
I was there as a Union ministry of human resource development nominee on the Board of the National Institute of Technical Teachers' Training and Research in Kolkata, which is charged with improving the quality of polytechnic education in the eastern part of India.
In our Great Indian Dream of Make in India, that is to say, establish more manufacturing units in India which will create jobs plus add to the country's gross domestic product, polytechnics -- more than engineering colleges -- are the pivot point.
It is the polytechnic graduate who will take a manufacturing unit's intentions and translate them for action by spelling out the steps to the worker who actually 'makes' the product, for example a mobile phone; or "sets up" a mobile phone network or "repairs" a mobile phone which needs fixing.
The polytechnic graduate is on the front line of our war to establish a vibrant manufacturing sector in India.
Polytechnic graduates are also needed in the construction of buildings and roads (they are the ones who inspect an architect's drawings and explain to workers step-wise what needs to be done), in the manufacture of chemicals and foodstuffs and so on.
There is one thing specific to polytechnics and that was best explained by one of the speakers.
"If you are a graduate in English it is not expected that right after graduation you will go on to write poetry or write a novel; but if you pursue a diploma, for example, in computer science, it is expected from the first day after graduation that you be able to write lines of computer code".
That is to say, a polytechnic grad is supposed to have not just a sense of the theory but can also do practical things right after graduation.
This, of course, implies that during his course at a polytechnic he has spent time at an industrial outfit where he has learnt hands-on that particular skill.
Which, in turn, implies that Indian polytechnics and Indian industry work co-operatively to provide such learning opportunities.
Another challenge which polytechnics face is that in the long manufacturing job drought, they have been enlisted as training points for those students who could not make it to engineering colleges right after their Plus 2 stage.
So, they go to polytechnics, do the first two years there and then enter engineering colleges through a quota system that has been established for such a purpose.
The tragedy of this system is that the first two years' curriculum in a polytechnic (out of three years) is spent teaching theory, taking away precious time that could have been spent in a workshop or a lab.
Polytechnics in India's Northeast have some challenges of their own.
While we often moan that India's GDP from organised sector manufacturing, the sector of our economy that offers a reasonable pay and working conditions, is a mere 17 per cent (compared, for example, with 30 per cent for China), this number is a minuscule three per cent for the Northeast states.
This means that practically all the polytechnic graduates of these states will need to go job hunting to Gujarat, Maharashtra, Karnataka and Tamil Nadu, where most of India's manufacturing activities are concentrated.
During the lunch break that day, I managed to strike up a conversation with about two dozen boys and girls currently studying at the Shillong Polytechnic where the conference was being held.
The first thought that struck me when I saw them was how young they are!
You get into a polytechnic after Class 10, which means when you are 15 and this lot in front of me were in their second and third years, which meant that they were 16 or 17.
How could these baby-like 17-year-olds go to the main job creation centres like Mumbai or Bengaluru or Gurugram, live on their own and work?
I thought I'd try and open things up and told them to imagine that I am an angel with a slip of paper for each of them on which they could write which city they'd like their first job to be in.
Most chose Shillong as their desired place to work and a few picked Bengaluru.
I was trying to reconcile all this in my head by running my eyes over those calming rolling Khasi Hills when the team from Sikkim stood up to speak.
"We realised last year that our computer science curriculum was outdated, full of old technologies.
"So, we changed it around and have now filled our curriculum with topics like how to build Android apps, how to install and maintain computer networks in offices."
When they finished, I stood up and clapped like I have not done for a long time.
The very next speaker was from the government polytechnic in Port Blair, Andamans, and he described how they have reached out to industrial outfits in Chennai and Bengaluru and placed all their students for internships!
This time I stood up and clapped till my palms were sore!
Image: The Make In India symbol at the Make in India Week, Mumbai, February 2016. Photograph: Sanjay Sawant/Rediff.com
Ajit Balakrishnan, founder and CEO of Rediff.com, is the author of The Wave Rider: A Chronicle of the Information Age. You can reach him at ajitb@rediffmail.com