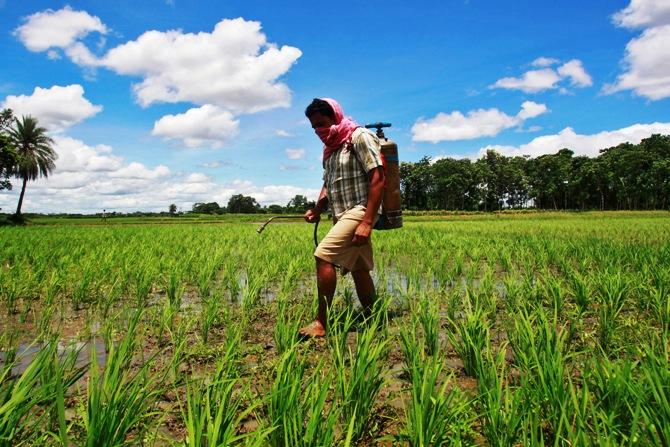 To allow our cities to thrive, we must look after our villages, notes Barun Roy
How long shall we be fooling ourselves? It's fashionable to talk about smart cities.
But what about smart villages? It's not that the entire globe is about to be urbanised overnight.
The UN projects that, by 2050, about 64 per cent of the developing world will be classified as urbanised.
Even so, 36 per cent of the population in the developing countries will still live in rural areas.
India alone draws a gloomy picture.
Vast areas across the Indian hinterland are dotted with villages that lack even the bare necessities, like electricity and safe water.
According to the most recent socioeconomic and caste census data, a third of India's rural households are landless and dependent on manual labour for an income.
About 13 per cent of rural households are still only one-room tenements built with mud walls and fragile roofs.
There is not even basic health insurance in case of serious illnesses.
Rural health centres are not easily reachable, and even if they are, they don't have either the facilities or the medicines to treat anything other than diarrhoea and bacterial infections.
Malnutrition is widespread and one of India's most enduring enigmas.
Skinny young girls
and boys with bloated bellies are common sights in the villages.
Roads in the interiors are also not in good condition.
They are difficult even to walk, not to speak of travelling by carts, and have been in that condition for years.
Reports say that only 19 per cent of the total farmer suicides in 2014 were related to poor farming.
Of 5,650 farmer suicides recorded that year in Maharashtra, Telangana and Madhya Pradesh, 4,446 owned land, while just 701 had leased land.
It was indebtedness and the high cost of farming that drove those poor farmers to take their lives.
In most villages, even manual labour is not available, as able-bodied young men have gone to places such as Delhi, Chennai and Mumbai in search of better jobs and income opportunities.
Unless we create income opportunities in the villages, we will never be able to adequately serve the cities. At the same time there must be good communication and road facilities from the villages to the cities, without which essential supplies like fish, rice and vegetables would not reach the cities.
Prices would shoot up.
City dwellers are already feeling the pinch of rising prices. Countries such as Singapore encourage residents to grow their own daily supplies, but the effort is still experimental.
Not all urban households in India are in a condition to try this out and have to depend on local marketplaces to buy their daily needs.
As Nobel Laureate Amartya Sen and his colleague Jean Dreze point out in their book An Uncertain Glory: India and its Contradictions (first published in 2013), the official poverty line for both villages and cities is actually a destitution line, which does not ensure anything above bare subsistence.
The point is not difficult to make.
For instance, the reference budget associated with urban poverty includes the princely sum of Rs 10 a month for footwear and Rs 40 a month for health care.
As they write, "the former would just about make it possible to get repaired once a month, and the latter might buy something like the equivalent of one aspirin a day.
Similarly, the monthly allowance of Rs 30 for 'rent and conveyance' would not go further than a one-way short-distance bus ticket every few days, with nothing left to travel back, let alone pay for any sort of rent."
While it is true that India is urbanising at a faster rate than many other countries, it will not be fully urbanised overnight.
The simple truth is we must continue to look after our villages well in order to let our cities survive.
Rural income opportunities must be expanded so that able-bodied young men are not easily tempted to go elsewhere.
Reliable basic services must be available at reasonable costs. This is not the case yet.
In the last two years, in several parts of the country, consecutive crop failures due to drought and unreasonable rain brought down agricultural growth rate, leaving little income for farm labourers.
In some places, the Mahatma Gandhi National Rural Employment Guarantee Act payments have actually dropped in the last few years. Even in West Bengal's Nadia district, much applauded for its sanitation programmes, there are anganwadis (pre-primary education centres) without buildings or toilets of their own.
Guardians allege that their children have not learnt even a single word in all the years they have been there, and often they themselves have to go from from door to door to deliver the children's daily quotas of food.
Neglect of villages shows up in many other ways.
Not too long ago, a bus was on its way to the West Midnapore district, on a road that was not in a very good condition. Suddenly at Contai in East Midnapore, it collided with a truck coming from the opposite direction.
Five people were killed on the spot.
A bigger tragedy could have happened, luckily, the bus that was hit skidded and dashed against a tree, and thus avoided being thrown into the roadside ditch.
Such disasters have happened many times before, but drivers of vehicles have not learnt any lesson.
When on the road, they think they are the king and are always in a hurry.
Not that conditions in the cities are much better. Roads are crowded while the number of cars keep growing. Nobody thinks of disciplined driving. Everybody wants to get ahead.
It's a chaotic situation. What makes it worse are motorbikes that cut in and out whenever they get a chance.
Biking to work is not on anybody's mind. To them, ownership of cars is a symbol of prestige.
And the more cars they own the higher is their their level of prestige among friends and relatives.
Image: A farmer sprays pesticide containing monocrotophos on a paddy field at Mohanpur village, about 45 km west of Agartala. Photograph: Jayanta Dey/Reuters
The image is used for representational purpose only

This is the last column Barun Roy sent to Business Standard before his death on December 14, 2015