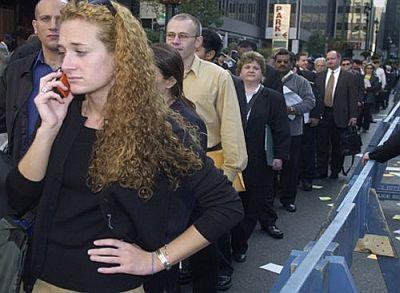 Global growth may be rebounding, but labour markets are not, or only very weakly and unevenly.
Global unemployment is at a record high for the third year in a row and shows no signs of abating in the near future. Weak labour markets are dragging down growth and threatening the recovery.
These findings, part of the International Labour Organisation's Global Employment Trends 2011 report, cast a long shadow over the jobs recovery.
Only in certain developing countries, such as Brazil, Kazakhstan, Sri Lanka, Thailand and Uruguay, have unemployment rates fallen below pre-crisis levels. For most of the world, especially for the developed economies, the jobs crisis is far from over.
In 2011, global unemployment is estimated to remain stubbornly high, with more than 200 million people out of a job and a global unemployment rate of 6.1 per cent.
Young workers are in an especially vulnerable position. The global youth unemployment rate stood at 12.6 per cent in 2010 and in some countries it exceeds 30 or even 40 per cent.
In the developed countries and the European Union, it is estimated at 18.2 per cent, while in North Africa it stands at 23.6 per cent and in West Asia at 25.1 per cent.
The ILO has long been warning that high youth unemployment and underemployment could turn into social unrest and threaten social cohesion. This is now happening in some countries.
Technically, the economic crisis is over, but the jobs crisis is certainly not, especially when we look beyond open unemployment.
Unemployment numbers do not include discouraged workers: those who have lost hope and are no longer searching for a job.
The ILO estimates there are 1.7 million young people in this category in 56 countries with available data.
There is also the quality of jobs and incomes to consider: involuntary and part-time employment continues to grow, with the uncertainties and lower incomes that this entails.
The same goes for long-term unemployment, and the associated destruction of human capital and employability, which threatens to turn a cyclical phenomenon into a structural one.
In developing countries, the positive long-term trend towards reduction of vulnerable employment and working poverty has been interrupted by the crisis.
This is not to say that the policy response to the economic crisis has been wrong.
Without the vigorous fiscal and monetary stimulus measures introduced by governments, there would not be an economic recovery to speak of.
However, we shouldn't let the current economic growth mask the fact that the jobs crisis is not yet over.
With 205 million unemployed worldwide in 2010 - almost 28 million more than in 2007 - and with many millions more stuck in vulnerable employment or working poverty, how real is the rising tide of economic recovery for workers and people?
It is clear that the world is not all on the same boat: some are in yachts, others in dinghies; others do not even have lifebuoys.
Unless we want to see more pictures like those coming out of Tunisia in recent days, employment growth must become a number one priority for governments around the world.
Placing employment promotion at the heart of recovery efforts makes perfect economic sense: it boosts aggregate demand, increases growth potential and strengthens the foundations for a sustainable future. So, what is needed?
First, this was a crisis of aggregate demand and the key question for recovery is how to boost it again.
Where consumption and investment remain weak, the only remaining driver is fiscal and monetary stimulus. But a combination of public austerity and private deleveraging is not a good recipe for job creation.
This is not to say that, particularly where debt-to-GDP ratios and fiscal deficits are "too high", fiscal consolidation should not be a top policy priority.
However, in such cases, a credible fiscal strategy within a medium-term framework seems better than "shock treatment".
In economies where investment is still below pre-crisis levels, policies and incentives are needed to stimulate private investment, innovation, improve competitiveness and boost labour productivity.
As for consumption, a policy of wage increases in line with productivity growth would avoid deflationary pressures while supporting the income of wage earners.
Large export-oriented emerging economies need to rebalance growth by boosting domestic consumption, something which is already happening but could be accelerated by increasing social protection and better aligning wage growth with productivity growth.
Other measures to help stimulate labour demand and accelerate a jobs-rich recovery include: ensuring credit flows, in particular to small and medium enterprises; investments in training; well designed temporary subsidies to hiring; active labour market policies to stimulate job search; entrepreneurship promotion measures; and public investments in infrastructure.
The global community set a very strong precedent at the height of the economic crisis by coming together to tackle the immediate effects of the recession.
We can have a stronger and jobs-rich recovery by putting that same effort and commitment into making employment our number one goal.
The writer is executive director of the Employment Sector, International Labour Organisation