Disaffection and bitterness were all too apparent at a convention of the leaders of these movements at the Constitution Club of India in the capital last week, notes Bharat Bhushan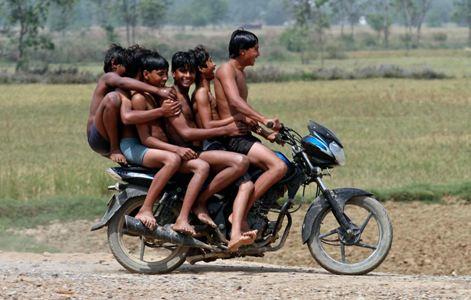 The palpable anger on the ground suggests that Narendra Modi might be in danger of upsetting rural India in the name of creating industrial jobs, rues Bharat Bhushan
Prime Minister Narendra Modi thinks that the propaganda against the land acquisition ordinance is an Opposition conspiracy.
He could not be more wrong.
The peoples' movements against the provisions of the land acquisition law are politically ahead of the Opposition parties both in their imagination and demands. The Opposition parties are trying to catch up with them.
Disaffection and bitterness were all too apparent at a convention of the leaders of these movements at the Constitution Club of India in the capital last week.
Never before has one heard such harsh language being used against the prime minister.
"In this country, only what 'General' Modi says goes.
"He only talks down. What about the 'Mann ki Baat of the farmers,' asked a speaker referring to Modi's monthly radio addresses?
"Another described him as a munim (an accountant) of the corporates.
Some of the things said about him were too sharp to be reported.
A woman leader from Maharashtra who had led the struggle against land acquisition for a special economic zone of the Reliance Group said to thundering applause, "The slogan of Reliance is 'kar lo duniya mutthi mein (grab the world in your fist)'.
"Narendra Modi today may be in their 'mutthi' (fist) but it is not big enough to grab the land of the farmers of Raigad."
She advised all those present, "Stop measuring land against money.
"See it as part of environmentally sustainable livelihoods, which are being destroyed. "Don't try to fight your battles only in Mumbai and Delhi. Fight them where your land is."
The participants proposed a graduated protest, beginning with burning copies of the ordinance and then going on to blocking national highways, even digging them up, and preventing the implementation of the law even if adopted by Parliament.
Modi might still dismiss this as propaganda by 'five-star activists'.
Had he come to the convention, however, he might have had a second think seeing the weather-beaten and wrinkled faces of the participants in their modest crumpled clothes. These are the people who can change the public perception about him and his party.
And their numbers are not small.
There are at least 252 ongoing conflicts over land acquisition in 165 districts, according to researchers from the Society for Promotion of Wasteland Development and the Rights and Resources Initiative.
This number accounts for only those conflicts where people have been killed or injured in protests and where more than one village is involved.
They involve land acquisition for private entities, using that land for speculative purposes and where project benefits have evaded the oustees.
An estimated 53,000 hectares of land acquired by the government for private industry nearly a decade ago is still lying unutilised.
An audit by the Comptroller and Auditor General of land acquired under the SEZ Act of 2005 has confirmed that the land acquired for setting up industry had been diverted to real estate projects; and that such land was mortgaged to get massive bank loans by corporates for other activities.
The SEZs neither created export revenue nor new jobs.
It is unrealistic to assume that people would believe that the results of land acquisition with reduced safeguards would be better.
Why then is Modi persisting with diluting land acquisition laws?
Could it be that coming from Gujarat, he sees land as just another asset that people ought to monetise if the price is right?
This attitude prevents him from seeing that land alienation can lead to a loss of dignity, livelihood and habitat, besides social destabilisation.
The anger against land acquisition is not only among landowners.
The current policy does not take into account the livelihood of those who do not own land but are still dependent on it -- tenants, sharecroppers, labourers and artisans.
It also ignores those whose livelihoods depend on common lands, common water bodies and other common natural resources.
The palpable anger on the ground suggests that Modi may be in danger of upsetting rural and tribal India at one go in the name of creating industrial jobs -- incidentally, agriculture creates more jobs per percentage point of gross domestic production contribution than manufacturing or the services sector.
Diluting or doing away with institutional mechanisms of listening to those threatened by land alienation may have a political cost for Modi as well as his party.
Image: Boys on a motorbike ride back home after they had a bath at the Chachura village canal, in Uttar Pradesh. Photograph: Parivartan Sharma/Reuters
Bharat Bhushan is a journalist based in Delhi