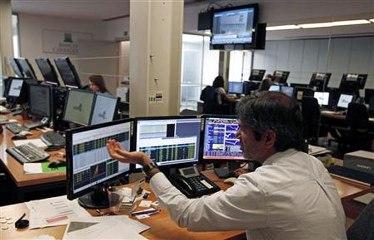 The bull market that started in late 2013, based on a lot of hope that a new regime would energise the economy for the long term, is now over by most measures.
The market indices, which had started their upward trajectory in September 2013, have done a complete U-turn.
That month, India witnessed two very significant appointments.
One was that of Raghuram Rajan, who became the Governor of the Reserve Bank of India.
His presence immediately calmed the nerves of Foreign Institutional Investors who had been on a massive selling spree in both the bond and stock markets between July 2013 and August 2013, leading to a sudden weakening of the rupee.
The second was Narendra Modi being anointed to head the BJP's general election campaign, sparking hopes for a government that would change our lives.
The Sensex was around 18,600 by the end of August when a baby bull market was born.
It suffered a small setback in January as the Aam Aadmi Party captured power in Delhi in January 2014 but as Mr Modi's energetic campaign drew in people from all strata, the Sensex shot past 21,000 and then 23,000 since Mr Modi's victory seemed highly plausible.
On May 16, as the election results stunned the nation, the Sensex shot past 25,000.
This was followed by some downs but it was mostly ups.
The Sensex crossed 30,000 briefly in March.
By February 2016, however, the Sensex was hitting a low of 22,600, a level we last saw in April 2014.
The Indian market, already running on low fuel in late 2013, continued to do so for two more years.
But most investors realised this only later.
For a long time, investors believed that the new regime would work its magic with sweeping reforms that would lead to more jobs, consumption and investments.
But the first eight months and the first two Budgets made no departure from the past.
An insipid first Budget, barely months after a new government took charge was pardonable but a second one was deeply disappointing for the market.
It is telling that the Sensex peaked a few days after the second Budget in 2015, and began its continuous steep descent since then.
Meanwhile, investors were willing to ignore the many distractions such as the 'intolerance' issue.
They only hoped that bureaucratic hurdles would be removed paving the way for more investments by the private sector, the public sector would be made more efficient (if that is possible at all) and government expenditure would be trimmed, which would allow the government to lower consumption taxes -- or at least not increase them.
If these three things had happened, the market would have stayed firm, declining only a bit as a result of global factors.
This would have allowed the government to go ahead with disinvestment of public sector companies.
Unfortunately, the hurdles for business enterprises remain intact -- and worse, the government has become even bigger, so much so that the gains from throwaway oil prices are also not enough to support it; we now have a higher Swachch Bharat cess. As for the public sector the less said the better.
The stock of Bharat Heavy Electricals Limited was around Rs 280 in July last year.
It has collapsed 64 per cent in seven months to around Rs 100.
Rural Electrification Corporation is down over 50 per cent. We are not even talking of public sector banks, which are writing off thousands of crores of bad loans without putting in place a mechanism to ensure a different fate for new loans sanctioned.
In November 2015, while writing in this space, I had made the point that investors need to accept the reality that the Modi government has not yet embarked on changes that can fundamentally transform India.
There was not even enough of emphasis on processes that lead to large scale job-creation which one assumed would be a single-minded focus of a PM who had imaginatively wooed the youth during his election campaign.
In December, I wrote 'a baby bear market said hello to us in May. Since then, it is no longer cuddly.
'It is young and starting to growl.'
The growl, in fact, is loud and clear today.
The five ingredients of lasting bull markets are lower inflation and interest rates, a benign global environment, all of which lead to rising earnings and capital-raising by companies -- which is the last and final sign that they are feeling confident (sometimes overconfident) about the future. Inflation for consumers is not low enough.
Interest rates for businessmen cannot be low since the government needs tens of thousands of crores to borrow and spend.
Earnings are not rising.
The global environment is less benign now. Earnings are stagnant.
The bull market of 2013-15 had none of these five ingredients. It is a bull market to forget.
Debashis Basu is the editor of www.moneylife.in