Ideally, immediate efforts should be made to expand the airport infrastructure before it can constrain passenger growth, causing collateral damages to economic growth in general, says AK Bhattacharya.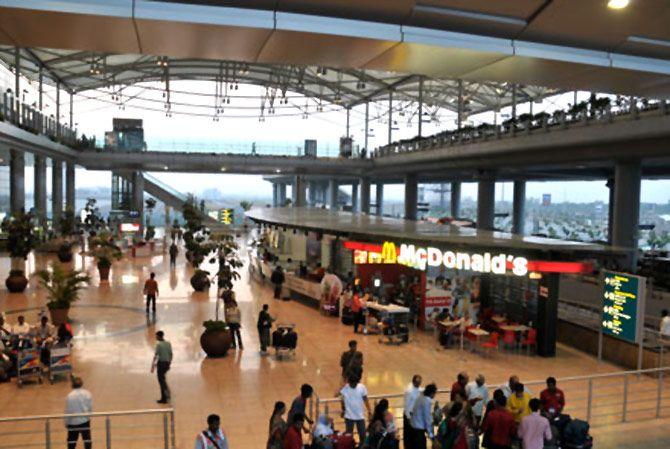 A paradoxical situation prevails in India's civil aviation sector today.
The growth in airline passengers is robust.
In the last 10 years, the volume of passenger traffic has more than trebled.
If forecasts are to be believed, it is slated to grow three times in the next 10 years as well.
But the irony is that while passengers will keep growing, the airport infrastructure has already begun creaking under the strain and will surely be unable to cope with the increasing pressure of passenger volume growth.
A possible outcome of this stark discrepancy between the rising volume of passengers and choking airport infrastructure is that India's airports will look more like its railway stations unable to cope with the passenger load.
An alternative scenario is that the problems afflicting airport infrastructure could slow down the growth in airline passengers in the coming decade.
Neither of the outcomes is desirable.
Ideally, immediate efforts should be made to expand the airport infrastructure before it can constrain passenger growth, causing collateral damages to economic growth in general.
How serious is the airport infrastructure problem?
A study conducted by the Centre for Asia Pacific Aviation (CAPA) on behalf of Tata SIA Airlines Limited has produced some numbers that are quite alarming as far as the country's airport infrastructure is concerned.
In around five years, it says, the capacity of existing airports in almost all the large cities will be fully utilised.
Even if new terminals are added and new runways are built, these will be short-term palliatives.
By 2025, most of India's large cities would require a second airport, and Mumbai may need a third airport by 2030.
For instance, Delhi's current capacity of 45 million passengers a year is likely to be fully utilised in a year or two.
One of its terminals is already handling more passengers than its designed capacity.
The airport can raise its total capacity to 85 million passengers a year by expanding the terminals and bringing some old terminals into use after upgrading them.
But this will be enough only for the next 10 years or so.
Delhi will certainly need a new airport after that. Mumbai faces a similar problem.
Its current capacity of 48 million passengers will be fully utilised after three years. What happens after that?
Given the space constraints in and around the current airport complex, Mumbai will need another airport then.
The new airport in Navi Mumbai will take at least five more years to start operating. Its projected capacity is 60 million passengers.
But even after this capacity creation, Mumbai's airport infrastructure will be inadequate by 2030 and the city will need a third airport, concludes the CAPA study.
Other large cities are no better as far as airport infrastructure is concerned. Bengaluru's capacity is 20 million passengers a year.
In another two to three years, the newly built airport's capacity will be fully utilised.
The good news is that the airport's capacity after expansion can handle up to 40 million passengers a year by 2025 and another 15 million passengers can be handled through appropriate design changes and reconfiguration.
But Bengaluru will see a huge passenger surge in the next 15 years, and a new airport will be required. Hyderabad and Chennai have similar problems.
While Hyderabad's current airport capacity of 12-15 million passengers a year can be raised to 40 million by 2025, Chennai has a bigger capacity challenge as its current capacity of 23 million passengers will be fully utilised in the next two to three years.
Even Kolkata with its capacity of 24 million passengers a year will reach that level of passenger handling in the next five to seven years.
Sadly, the idea of a second airport in all these cities looks alien even though the need for a new facility is going to be felt in just about 10 or 15 years.
New airports or their terminals cannot be built in a year or two. They require advance planning so that they can be ready for use before there is any capacity constraint.
Shortage of capacity may also encourage existing airport operators to charge higher usage fees from airlines.
Already, user charges in most Indian airports are higher than those in many airports in Europe, the US, Singapore and Hong Kong.
For policy makers in the civil aviation ministry, however, these issues do not seem to be a priority area even though such negligence can be costly.
It is not realised by the government that the first impression that any foreign visitor or investor has of India is formed at the airport he or she lands.
An efficient and modern airport is a good way of helping the visitor form a good impression about the country where he or she intends to do business or stay for a few days.
Meeting the growing airport infrastructure requirement will certainly call for some advance planning.
But more than that there will be the need for huge investments to be committed by airport operators or new aviation infrastructure companies.
Six of India's large city airports today have a total passenger handling capacity of 175 million a year.
Their potential capacity can go up to 285 million passengers by 2025. But India's airport traffic will grow much faster than the capacity creation that has been envisaged so far.
According to the CAPA study, India's airport capacity needs to grow by 90 million passengers annually.
Even if this is an overestimation, it is time India's civil aviation authorities got down to the vital task of strengthening the country's airport infrastructure without any further delay.
Image: Hyderabad Rajiv Gandhi Int'l Airport.
Photograph: Courtesy, Hyderabad Rajiv Gandhi Int'l Airport (Image is for representation purpose only)