Without Air India, the government stands to make significant savings. Assuming the practice of subsidised air travel continues, government servants and others will enjoy the option of the dynamic pricing that has become standard for private airlines now.
Air India is India's largest domestic airline in terms of fleet size and number of employees.
It is also the country's oldest airline. Yet, if it were to cease to exist tomorrow, Indian aviation is unlikely to feel the difference.
Among the Big Four airlines, Air India has the lowest market share, so the nine other private sector competitors will have little trouble accommodating approximately 20 million domestic and international passengers that the national carrier and its subsidiaries Air India Express and Alliance Air could carry this fiscal year.
If Air India's competitors stand to gain a tad, it is mostly because domestic capacity expansion in terms of number of aircraft is expected to be at less than five per cent this year, most of it after the third quarter, against a growth in passenger traffic of 15 per cent.
On this basis, the Centre for Asia Pacific Aviation has forecast passenger load factors (the airline term for capacity utilisation) rising six or seven percentage points, a figure that could go up slightly to account for the theoretical departure of Air India and its subsidiaries.
From the consumer's point of view, Air India's departure is likely to cause short-term disruptions.
As with the closure of Kingfisher Airlines, which enjoyed a market share of over 20 per cent in its heyday, fares may rise as airlines move to take up the slack.
Consumer inconvenience will be mostly reserved for those who use Alliance Air's regional routes - Bhubaneswar, Port Blair, Tezpur and so on - to connect to the major hubs. A new aviation policy in October proposes to auction these routes to private airlines, a solution that may not have full merit because many of these routes were picked to fulfil "social obligations" and are unlikely to be ofitable.
The biggest gainer from Air India's closure would be the Indian taxpayer, who has been bankrolling Air India for most of the last decade.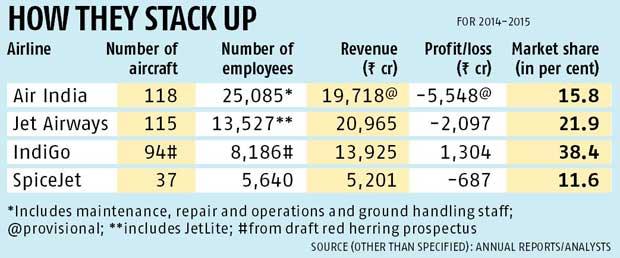 This is mostly to bail out Air India from a Cabinet decision of 2005-06 to buy 111 aircraft, as a result of which the airline's accumulated debt of Rs 38,000 crore or Rs 380 billion, that is almost equal to its accumulated losses of Rs 44,000 crore or Rs 440 billion.
The United Progressive Alliance had pledged to pump in Rs 30,000 crore or Rs 300 billion as part of the airline's turnaround plan. Since 2009, the Centre has put in well over half (Rs 18,400 crore).
It is clear that the National Democratic Alliance is less eager to commit taxpayer money to the airline.
Thus, in the July 2014 interim Budget, Finance Minister Arun Jaitley allocated Rs 6,500 crore or Rs 65 billion as equity infusion, which he later cut to Rs 5,780 crore or Rs 57.80 billion.
In the Budget for 2015-16, Jaitley allocated Rs 2,500 crore or Rs 25 billion, against the airline's request for Rs 4,277 crore.
In July, with Air India's management suggesting that the airline would default on its debt, Jaitley told Parliament the airline would get Rs 800 crore or Rs 8 billion more.
Equity is not the only way the Indian taxpayer bankrolls Air India. A significant portion of its market share comes from a "captive" source in MPs, bureaucrats and anyone (award winners like the economist Amartya Sen, for instance) who travels on a government ticket.
The most bizarre element of this "protectionism" is that the government is billed at the highest possible listed price.
"In effect, the government is putting taxpayer money into Air India's profit and loss account," says an aviation analyst, requesting anonymity.
Without Air India, the government stands to make significant savings. Assuming the practice of subsidised air travel continues, government servants and others will enjoy the option of the dynamic pricing that has become standard for private airlines now (managements of private airlines may be "losers" inasmuch as they will have to suffer MPs and their henchmen demanding free upgrades and other perks).
That leaves the employees and creditors. The latter have options depending on how the closure process is managed but the former almost none.
The issue with Air India's employees -the airline's annual salary bill is roughly Rs 3,000 crore or Rs 30 billion - involves practical difficulties concerning their re-employability.
Experienced pilots and technical staff may find jobs in private airlines, but the rest will find it difficult for reasons of age and pay-scales. The last major induction in the airline was roughly 20 years ago, leaving most employees in "middlessence" age of the mid-40s and upwards.
This apart, the politician's stranglehold on the airline has meant that appointments and promotions are not necessarily merit-based, precluding the kind of work ethic among employees that private airlines demand. Also, owing to the government's quirky hiring policy, its senior management is paid less and junior management more than market rates.
This problem is compounded by the fact that Air India does not have a pension system; retirees are entitled only to free tickets and medical treatment.
"Laying off so many employees will create the kind of turmoil the government can scarcely afford when it has OROP (one rank, one pension) on its hands," says an analyst, requesting anonymity.
In the circumstances, the government could consider one of three options.
The simplest one, according to Amber Dubey, partner and head of aerospace and defence at KPMG, is to convert Air India into a holding company for special purpose vehicle (SPV) in which a strategic partner or consortium can be handed over 74 or 100 per cent shareholding through competitive bids.
Air India's fleet and aeronautical assets could then be leased to this SPV and the lease payments used to repay the liabilities of the holding company and VRS (voluntary retirement scheme) to those staffers who refuse to join the SPV or are found suitable.
"The example of Airports Authority of India (AAI) is a case in point. It leased its assets at the Delhi and Mumbai airports to the private sector.
The revenue share that the AAI earns from these lessees is several multiples of what it earned when it was running the airport on its own," says Dubey.
The second option would be to hand Air India over to the lenders' consortium to run, and the third is a fire sale, both of which are fraught with difficulties.
In a TV interview, Jitender Bhargava, a former Air India executive director who wrote a controversial account of the airline in The Descent of Air India, suggested the government hand Air India over to Air Vistara, the joint venture between the Tata group, the airline's original owners from whom it was nationalised, and Singapore Airlines, together with a "compensation" of Rs 10,000 crore or Rs 100 billion.
That way, he says, "the Tatas will get back their airline and Air India has a fighting chance of survival".
Photograph: PTI