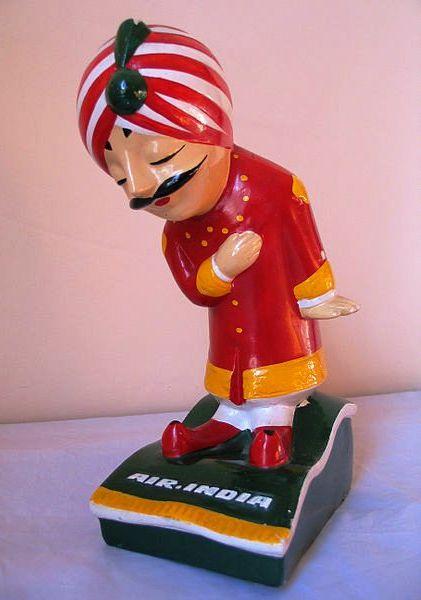 There are ways to rescue Air India, but only if a new owner doesn't adopt the same tactics that got the airline into the mess it finds itself in, says Laveesh Bhandari
I must confess I use Air India as my air carrier of choice.
I rarely say this publicly, as this is statement is typically followed by incredulous "how can you?" from whoever is in the room.
But having recently been relieved of day-to-day management responsibilities, I have all the time in the world, so a few delays don't matter that much.
Also, I do not care whether the stewards are 20 or 60 years old.
Neither does in-flight service matter that much, as I tend to nod off as soon as I buckle in.
What I do like about Air India is that the seats seem wider than those on most private carriers and they offer more legroom.
Because Air India tends to have lower occupancy levels, I am able to sit cross-legged frequently in the seat. The fact that Air India also has gates closer to the main entry requires me to trudge less.
All in all it's a far more peaceful experience for me.
Kingfisher Airlines was another carrier I quite liked, but I was a bit younger then.
It did have stewardesses who spoke nicely, served good food and smiled quite a bit.
The in-flight entertainment system took care of the remainder of my time, and yes, I could also work easily on my laptop.
Two airlines -- one, relatively older and a bit more rooted and desi; the other, newer, with inbuilt artificial niceness and more western character than MacAulay would ever have dreamed of.
One, in the public sector run by politicians and bureaucrats; the other, in the private sector run by the wealthy.
Both these airlines charged passengers far less than they spent.
In a sense they were writing cheques to their passengers who, like me, were only too happy to benefit from this largesse.
It now pans out that in both cases, the Indian people paid for these cheques.
I don't understand why politicians and businessmen like to own and control airlines so much.
Is it the free seats, the upgrades, or the flexible take-off timings? But after having written several articles on the matter, I am nowhere close to the truth.
The more important question is: What allows interested parties to continue writing thousands of crores worth of cheques to the consumers for years on end? Managers and CEOs not working in the interests of the stakeholders; directors not carrying out their responsibilities; bankers all too willing to write blank cheques; a blinded central bank; and even the judiciary seemed too willing to act confused. In other words, there are multiple failures at multiple levels for multiple years.
If one big fraud was responsible for this failure, I would be less concerned.
But the problem is in the multiplicity of such failures.
Inefficiency is institutionalised. Undeserved benefits are appropriated and liberally shared with the powers that be, while responsibility is delegated.
Worse, no one is penalised or even rebuked!
In both these instances, those at the helm succeeded in maintaining status quo despite rapidly increasing debt by claiming that recovery was round the corner.
In each instance they succeeded in getting away with it without attempting to remove the underlying operational inefficiencies.
In the case of Kingfisher, an entrepreneur made successive blunders and the banks parted with funds, presumably under pressure.
It could be argued that competition took care of the problem eventually, albeit at a high cost.
In the case of Air India, even competition could not compete with the government and its banks' deep pockets.
No other airline would have survived these statistics -- upwards of Rs 40,000 crore (Rs 400 billion) in debt, eight years of loss-making operations, and reportedly barely nine out of 370 routes that are not making losses.
What is the way out for Air India? Ideally, the government should disengage from it.
There are several ways to do this: privatisation is one; handing the airline over to a group of managers with a mandate to share profits is another.
Selling assets is a third way out; breaking it into smaller airlines and encouraging competition is a fourth one. But in the India of today, these are not necessarily great solutions either.
What could prevent the potential new owner or operator of Air India to resort to the same tactics?
The privatised Air India could revert to the same behaviour that got it there; continue to give the same benefits as it did in the public sector to politicians, regulators and bureaucrats; and give its brand name and property as collateral.
Neither Sardar Patel's faith in strong institutions, B R Ambedkar's push for egalitarianism, C R Rajagopalachari's free market principles nor Jawaharlal Nehru's mixed socialism shows us the way.
There is precious little that can be recommended for a society where immorality is the ruling paradigm.
Laveesh Bhandari is an economist
Image: Air India Mascot. Photograph: Shakti/Wikimedia Commons