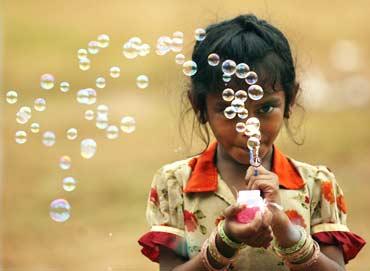 Yes, India can indeed grow exports today -- but reforming red tape, not building infrastructure, is what is needed now, notes Mihir S Sharma

As contradictions in China's growth model were laid bare last week, Indian policymakers had a uniform response: opportunities were opening up for us.
Their optimism grated somewhat -- after all, India has missed many such opportunities in the past. Still, there was more than a little truth in what they were saying.
All that is needed is for the right policies to be in place to benefit from changed circumstances.
The question is: have those policies been identified correctly? And, if so, are we moving swiftly to implement them?

The basic argument is this. First, China's slowing means that commodity markets are no longer overheated.
This may hurt Brazil or South Africa or Indonesia, all of whose economies are tied to commodity prices, this would have the opposite impact on India, a net commodity importer.
Second, China's 'rebalancing' away from investment -- and export-led growth -- an essential development, and one that these latest troubles have underlined can no longer be postponed – is convenient, at a time when India seeks to insert itself into manufacturing supply chains.

There are many who doubt the force of these arguments, however, and their gloomy logic can be quite persuasive.
The first point -- one made as long ago as last year by RBI Governor Raghuram Rajan -- is that the global economy suffers from a paucity of demand. China grew into a powerhouse during the 2000s, when industrial and consumer demand was supercharged worldwide.
Those helpful circumstances cannot be replicated today -- especially not when Europe is still troubled, the political climate in the US is turning protectionist (and its domestic manufacturing is reviving), and the Global South is suffering the income shock associated with lower commodity prices.

The pessimists' second point is that India is not prepared to enter global supply chains.
It is too far from their hub in southern China, say some; nor does India have the infrastructure required at its ports. And perhaps something more fundamental has changed: with increasing mechanisation on factory floors, labour-intensive manufacturing itself is no longer attractive.

However, these arguments should be disregarded. Some are invalid. Others are irrelevant.

Most obviously, there is the question of the impact of weaker global demand. It has almost become a mantra now: how can India grow its exports when the world is weak?
But both theory and history suggest this question makes little sense.

Theory first: India's share of global trade is as little as 2 per cent.
Its ambitious target: 3.5 per cent by 2020. Can this happen during a slowdown in demand? Well, of course it can! Why not? Firstly, we're talking about a share of trade.
The fact that the pie is shrinking is not the point, if your aim is to increase your share of the pie.

More importantly, India has so small a share of global trade that talking in terms of the overall magnitude of global trade flows is nearly meaningless to us.
It is almost like telling a young person: "Don't go to college, it won't increase your salary and share of national income -- after all, GDP growth has slowed by two percentage points."
For export giant China, slowing global growth may be a disaster.
For India, so far behind, slowing growth is not a binding constraint on its own export growth at all.

Second, what lies behind shrinking demand? Presumably, income effects in the rest of the world. The demand curve has shifted 'inward' -- people want to buy less at a given price.
But, as any consumer-facing company can tell you, that means there are profits for newcomers with a different product mix and price point to be made.

So much for the theory.
Has anything like this happened in practice?
Often.
The 1970s, for example, were not known as a period when global demand was soaring.
If anything, it was the opposite.
However, several economies seem to have ignored this inconvenient fact and expanded their exports massively nevertheless.
The growth rate for manufacturing exports in Korea over the decade of the 1970s was 36 per cent per annum.
Electronic exports grew 43 per cent a year.

What matters is not the state of the world economy; what matters is the role you are willing and capable of playing in it. So, yes, an opportunity does exist.

Which brings us to the second part of the question. Can we take advantage of the opportunities?

First, the question about physical port infrastructure.
Again, given current conditions, this is actually not a constraint.
The head of Visakhapatnam port recently pointed out that Indian ports were only using 60-70 per cent of their capacity.
In some big ports, like Kochi and Chennai, only about 40 per cent is likely being used. We are so accustomed to being short of physical infrastructure that we have overlooked the fact that that is not, in fact, the immediate problem.
The problem is the red tape that slows things down at our ports.
To fit into supply chains, you need both imports and exports to be much easier, and paperwork-free.
Naturally, this needs to extend to other permissions -- and Commerce Minister Nirmala Sitharaman promised an expert committee would prepare a law to fix this -- in early April.
It was supposed to report in 30 days. We have heard little since.
I admit it: if this is the level of urgency on display, then we are indeed in trouble. Something must change.

Second, the larger question about supply chains, and mechanisation.
Here the answer is more nebulous.
But it is worth noting that this is just another iteration of a perennial fear that technological advance will cripple trade and growth -- a fear that has hardly ever been justified by events. So ask yourself: Why do mechanisation and tight supply chains work?
Because they are cheaper. What is the way to counteract their effect?
By being cheaper ourselves.
This needs cutting out transaction costs in our economy, yes. But it also needs a rupee that is closer to 75 to the dollar, or more.
The kind of price shock that a sliding rupee can provide is crucial to break into existing trade networks.
The World Bank examined 92 episodes of trade surges, which they defined as 'significant increases in manufacturing export growth that lasted at least seven years'.
Each of them was subsequent to a significant depreciation.
The depreciation overcame policy or infrastructure deficits, and caused domestic resources to automatically re-focus on export sectors, even without pro-active government intervention -- the report described it as a 'grand opening sale'.

This is no time for pessimism. Gloom about exports will make the government, already suspicious of imports and protective of industry, turn even more blatantly to import-substitution under the assumption that India's domestic demand is the only way to get growth going.
This would be a disaster. Without easy imports, growing exports is impossible. Not to mention that history shows the only way to grow a vibrant manufacturing sector is to impose global discipline on it.
Allow international sales to determine which companies live or die, and don't rely on national champions or the public sector.
Northeast Asia followed these rules and succeeded in a manufacturing revolution; Southeast Asia did not, and stumbled.

This is no time for pessimism.
But it is not time for optimism, either. Unless the government gets cracking on reducing red tape, and finding out-of-the-box solutions for the rupee's chronic over-valuation, this opportunity -- like so many before it -- might yet be missed.