Though India is a low-bandwidth geography with relatively low Internet penetration, it has a very large number of sophisticated surfers and skilled computer users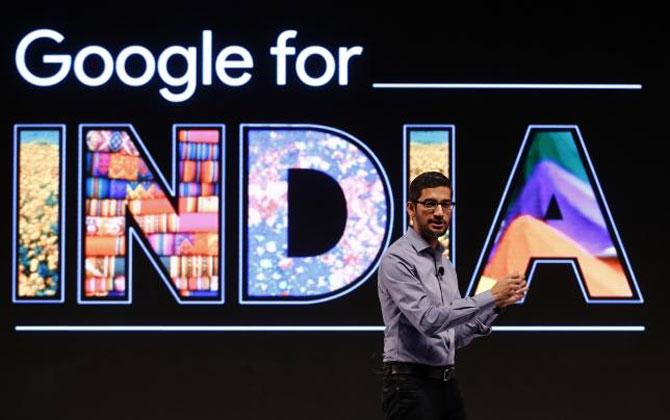 The recent visit of Google's CEO, Sundar Pichai, indicated that the tech giant has decided to set great store by its investments in India. Mr Pichai announced multiple India-specific projects, which could all have a transformational and disruptive influence. "Project Loon", "Tap to translate", "Offline mapping" and "Asus Chromebit" are among the most interesting. These are at the cutting edge of technology.
Other Google projects such as delivering free Wi-Fi at railway stations, more streamlined search, the establishment of a new campus in Hyderabad, and the training of two million Android developers will generate employment, and also have large positive externalities.

There is a common thread. India is a low-bandwidth geography with relatively low Internet penetration. The telecom system, power supply and other infrastructure are significantly less reliable than those in the First World. But India also has a very large number of sophisticated surfers and skilled computer users. It is an overwhelmingly mobile internet population. Pilot projects which cater to these characteristics and constraints could be scaled up massively to deliver similar services across India - and also in other regions with similar characteristics, like much of Africa and some of Eastern Europe.
"Project Loon" considers replacing conventional cell towers and broadband infrastructure with an internet grid of balloons. A balloon can be launched and tethered in places which are geographically inaccessible and hard to connect with terrestrial infrastructure - thus providing high-quality broadband access in remote locations. Making this work will require finding cost-effective solutions to many engineering problems, including avoiding interference with aircraft routes.
India is ideal for trying and scaling up such solutions, especially since Bharat Sanchar Nigam Limited, with its massive rural footprint, is partnering Google. If such a technology can deliver stable, viable Wi-Fi at reasonable cost, it will change the dynamics of surfing and disrupt the business models of conventional telecom service providers.

Similarly, "Tap to translate" - a fast, seamless, auto-translation service on mobile across multiple languages - has obvious applications in India with its multitude of national and official languages. The key here would be to make the process so easy that it could be used by anyone who can either see or hear. Such a technology could make a big difference to the differently-abled, for example.
"Offline mapping", which will deliver mapping and locational services to users who are not on the Internet, is another disruptive technology. India is already the third-largest market for mapping services, according to Google. Offline mapping would be a force multiplier for travellers, local businesses and emergency services as well.
The Asus Chromebit taps into the demand for a simple cheap computer of the type that the failed Aakash project was supposed to service. Its central processing unit is the size of a chocolate bar, it costs about Rs 8,000 and it can be hooked to almost any external monitor and keyboard. It works off cloud storage. If Chromebit is hooked on to an old personal computer, it is a cheap and instant upgrade.
The disruption value of these projects is considerable. Google obviously hopes to use India as a vast sandpit to create and refine the required technologies. This appears to be a sound commercial decision. It could, in time, translate into vast gains for India's digital population.
Photograph: Adnan Abidi/Reuters