In IT, the two-way flow of investments and intellect has been central to the growing linkage, which provides a great opportunity for both nations to improve the quality of life of their citizens, says Raman Roy.
Illustration: Uttam Ghosh/Rediff.com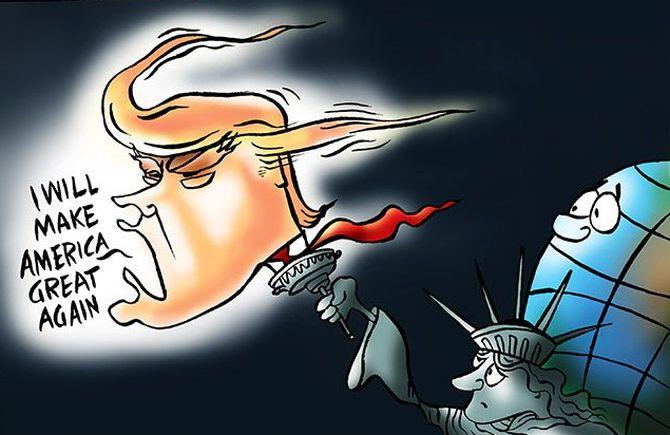 US President Donald Trump has signed the Tax Cuts and Jobs Act into law, initiating the most "sweeping overhaul" of the US tax system in more than three decades.
While, as Indian IT, we appreciate the ethos behind "buy American make American", we can't remain indifferent to the concerns around globalisation ("globalism"?) at times, seemingly threatened to be swept away in the rigmarole.
The Act in its present structure will set corporate taxes at 21 per cent (effective in 2018) instead of the current rate of 35 per cent.
It's being described as the single-biggest drop in the history of corporate tax in the US.
It is being touted to be an early Christmas present from Trump, which is expected to galvanise growth, notwithstanding the economists' worry that this overhaul could trigger a fiscal deficit of anything between $1.5 trillion and $2 trillion over the next decade - inasmuch as the individual tax rates have been cut (though not anywhere comparable to the proposed corporate tax cuts) and the tax provisions will expire by 2025.
Just to put things in perspective, remember that the Indian economy is around $2.3 trillion.
In a nutshell, the Bill cuts corporate tax rates permanently and for individuals temporarily.
The Act would also end the individual mandate, a provision of the Affordable Care Act or "Obamacare" in 2019.
While the mandate would technically remain in place, the penalty would fall to $0.
According to the Congressional Budget Office (CBO), repealing the measure would reduce the federal deficit by around $338 billion from 2018 to 2027, but lead to 13 million more people without insurance, which is likely to push up insurance premiums by 10 per cent. What all this means for the US economy is what Indian IT is concerned about.
Can the spurt in the fiscal deficit, accentuated by the reduction in corporate taxes, be offset by envisaged growth, including the government's reduced liability on health care, to create the right environment for international trade in the next decade?
Moreover, whether Trump's plan will trigger a global tax war is yet another justifiable concern.
Trump wants to bring back jobs to the US; he has been quite insistent in this messaging and as the immigration rules (especially the tightening the H1-B visa cap) would also indicate.
How can we turn this into an opportunity?
In recent times, a common enough adaptive response from most of our large companies has been about hiring locally, investing in skilling American workers, and opening up R&D centres, thus providing a fillip to overall growth, employment, and innovation.
Over the years, we have emphasised the shortage of science, technology, engineering, and maths (STEM) skills in America and international hiring has been our foremost argument.
Perhaps we can look at it differently by suggesting that Indian IT can play an instrumental role by working with academic institutions to create many more STEM professionals through various academic interventions, including investments, across levels.
This will contribute to building a healthy pipeline and perhaps a generation of young Americans who might show a strong proclivity towards Indian IT brands in the US.
Lest it be misconstrued, I am not for once suggesting that we dilute our efforts in advocacy towards a favourable immigration policy.
But, can the two initiatives work alongside towards meeting the same goal? It's not even a radical idea.
Indian IT companies - including the small- and mid-sized - are working with universities there to impart future-ready skills to locals just as all of us are doing the same thing in India.
For the last decade, India-US bilateral relations have been strong and this is an opportunity to build on them.
In IT, the two-way flow of investments and intellect has been central to the growing linkage, which provides a great opportunity for both nations to improve the quality of life of their citizens.
In a complex environment, it is best if efforts are concerted, collaborative, and cohesive, and, most importantly, conducive to the prevailing political mood.
Raman Roy is chairman, Nasscom, and managing director, Quatrro