Given the scale of India's energy needs the numbers of 'Solar Mamas', as they have been called in a documentary film, may not seem very promising, rues Rajni Bakshi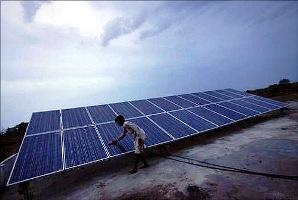 Bunker Roy, founder of the Barefoot College at Tilonia in Rajasthan, was awarded the Clinton Global Citizen Award at a ceremony in New York on September 25.

The prestigious award is not just a personal honour for a leader of India's NGO sector -- it is also a recognition for a community based model of creating power and water infrastructure in rural areas.

Roy shares the Leadership in Civil Society award with Malala Yousafzai, the Pakistani Campaigner for Girls' Rights, and Elias Taban, a former child solider who has become famous for building schools, orphanages, and hospitals in South Sudan.

The awards are given by the Clinton Global Initiative, set up by the former United States President Bill Clinton in 2005.

By an ironic twist much of the work done by Barefoot College on solar power is outside India.

This is a poor reflection on both the government's policy frame and philanthropic spending in India.

However, this honour to Roy and his team may yet draw attention to the vast potential and skills we have within India to solve one of our biggest infrastructure needs -- electricity.

As the Award's citation notes, the Barefoot model of community-owned, managed, and financially sustained household solar light systems has been replicated in more than 54 countries and employed 600 Women Barefoot Solar Engineers.

This has resulted in clean energy access to 450,000 people in nearly 1,650 communities throughout India, Africa, Latin America, the Pacific, and Asia.

Here is how it works.

As assortment of international donors, primarily the United Nations Development Program, provide the hardware which includes the solar panels and related gadgetry.

Barefoot College steps in to help the community to select a group of women who will install and maintain the solar panels.

The selected 'barefoot engineers', also known as 'Solar Mamas', then travel to Tilonia, in Ajmer District, where they spend several months in intensive training before returning to their part of the world and lighting up their community with solar power.

This is a crucial breakthrough because just installing a solar lighting system is meaningless unless there are local people who are able to maintain it.

Given the scale of India's energy needs the numbers of 'Solar Mamas', as they have been called in a documentary film, may not seem very promising. And yet such endeavours are worth celebrating as social, financial and technological innovations which can point the way to larger solutions.

The bad news is that at the macro level the future of solar energy seems to be bleak.

This was the conclusion of a conference recently organize by the Centre for Science and Environment and Gujarat Energy Research and Management Institute.

At present solar power development in India is almost stagnant. India has an installed capacity of about 1.8 giga-watt of solar power while the target of the Jawaharlal Nehru National Solar Mission is 20 GW by 2022.

In order to meet that target solar installations must grow at the rate of 30% per annum.

Kanv Garg of the South Asia Sustainable Energy team at the World Bank has reportedly said that 3,600 MW of solar power would require around US $6.4 billion.

But, CSE's view is that just providing incentives for capital expenditure is not enough.

This may 'lead to deployment of inefficient or unproven technologies that may not contribute much in terms of electricity generation or the life of the project.'

In this context a powerful platform like the Clinton Global Initiative can work both ways. It can potentially draw the world's attention to a plurality of good models of both technology and finance.

Or it could end up popularising a few models which inadvertently disadvantage other equally good models.

The award for the Barefoot College's solar work is particularly timely. Since the new Companies Act has mandated that companies with a net profit of more than Rs 5 crore (Rs 50 million) spend 2 per cent of their profit on social causes, there is likely to be much more interest in appropriate ways of deploying these funds.

Environmental sustainability is included in the draft rules of the CSR provisions of the new law.

Solar energy is a key component of sustainability and should thus be eligible for the thousands of crores of rupees that the private sector will now be required to channel into CSR programmes.

Apart from the Barefoot College approach, potential funders can look at various models such as the social enterprise Selco.

Harish Hande, the founder of Selco won a Magsaysay Award in 2011 for his work on solar energy.

Hande aims to work in the spaces in between pure grant-based work and venture funds that demand at least 8 to 10 per cent returns.

However, finance is just one obstacle.

As the recent conference organized by the Centre for Science and Environment and the Gujarat Energy Research and Management Institute concluded -- there is no substitute for serious policy reforms.

This is the key reason why the bulk of the Barefoot College's solar work is outside India.

The policy frame has not been hospitable and philanthropic funds have been hard to come by. Perhaps the celebration of 'Solar Mamas' on the world stage might now inspire changes which will enable much more of this work to happen in India.

Rajni Bakshi serves on the Board of Directors of Barefoot College.
Image: A man cleans panels installed at a solar plant at Meerwada village of Guna district in the central Indian state of Madhya Pradesh; Photograph: Adnan Abidi/Reuters