As the Prime Minister turns 80, there is no clear barometer of his successes and misses. Manmohan Singh has courted controversy by keeping quiet. But what has his two decades in 7 RCR meant for a nation in the throws of burgeoning domestic growth, a sudden global crisis and complete political turmoil? Senior Business journalist Shaili Chopra says Manmohan Singh has failed us as an economist but surprised us with his political prudence.
---
In golf if you break 100 you should give up your game but in life if you break 80, you should give up your business. On a day our Prime Minister Dr Manmohan Singh turns eighty, I am reminded of this apt saying which reflects on selecting the right time to say good bye. I think that time may have come and Singh probably recognises that too.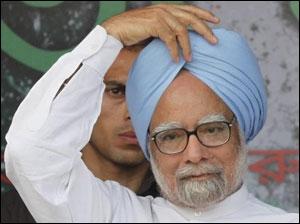 With the credit of being the nation's oldest serving Prime Minister, he needs no more accolades on the age front but praise on both economic and political fronts has somewhat eluded India's 'cleanest' Prime Minister.
The slew of reforms, an effort to belie the articles that called the PM an 'underachiever' or a tragic hero and the renewed push towards upgrading Rahul Gandhi into the party are all somewhat indicative that Manmohan Singh is planning to wind down.
He remains India's third longest serving PM and he is the only one since Nehru to return to power after completing a full five-year term. What he is now making an effort for is to patch the ruptures on his image before he calls it a day.
Known for his dream team economics, the world's obviously been disappointed by his ability to bear both political and fiscal deficits in silence. The PM's recent 'bolder than before' speech on reforms such as FDI in retail, higher diesel prices made an economic case before the country's political parties.
It was also an effort to repair the sentiment and douse concerns of global investors who at one point were looking at India to drive a big consumption story forward. People of India have learnt in the good years of the economy that some jugaad would lift India out of any crisis but now some serious fatigue has set in with last minute attempts to resurrect the nation.
Policy decisions made at the right time can change the course of civilisations but any thing too little too late will always leave a lingering sense of incompleteness and desperation. Such has been the criticism of the government opening the dam of reforms.
Did Manmohan Singh lose a big chance to fix India? For a man who recently reminded us of his success with the 1991 reforms during his address to the nation on Sept 23 could he have not only avoided the burgeoning spends but also put the nation on a growth path that would pay dividends in the future?
In a Charlie Rose interview, the PM had quoted Victor Hugo to describe the reforms of 1991.  "The emergence of India as a major global power is an idea whose time has come." Today I wonder who can Singh quote and what times really lie ahead of us.
So as he turns 80, Manmohan Singh may go down in history as a great survivor of Indian politics and at best a partial performer for our economy. He first proved this during the Indo-US nuclear deal when the Left allies withdrew putting the government at risk. But Sonia Gandhi backed him.
Over the last few years everyone called Singh the puppet PM, he showed instincts of a great political survivor (at times at the cost of his economist personality), who announced reforms just when his image was at an all time low and even got Sonia Gandhi to support it, though she was among the first to ask the question, "who WalMart?"
Shaili is on twitter @shailichopra