Currently, every household with an LPG connection in India, irrespective of its economic or social status, is entitled to 12 subsidised cylinders (of 14.2 kg each) annually.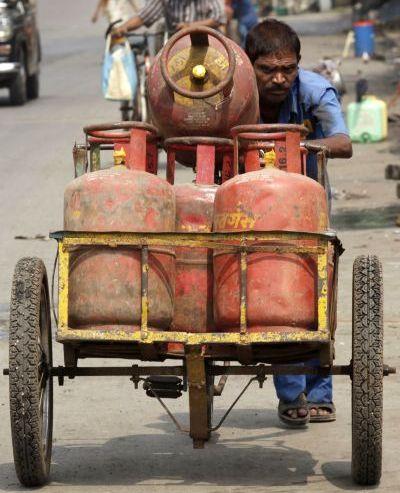 How could India increase access to modern cooking energy for millions of under-served citizens while maintaining fiscal discipline?
There has been considerable growth in domestic consumption of liquefied petroleum gas (LPG).
Connections have increased by nearly 45 million between 2010 and 2013, and now stand at 160 million.
Yet, the latest Census revealed that only 28.5 per cent of households reported LPG as their primary fuel for cooking.
So the demand for cleaner cooking fuel is still largely unmet, while the subsidy burden keeps rising.
The government will have to find a solution, which meets both objectives.
Much of the growth in LPG has been due to massive subsidies associated with its domestic consumption.
Currently, every household with an LPG connection in India, irrespective of its economic or social status, is entitled to 12 subsidised cylinders (of 14.2 kg each) annually.
The subsidy amounts to more than half the cost.
With rising LPG consumption, the fiscal impact and import dependence are both significant: the subsidy bill for FY14 stood at Rs 48,362 crore or Rs 483.62 billion, about four per cent of the non-Plan expenditure of the recent budget, while import dependency for LPG has risen to a staggering 89 per cent.
The ostensible reason for the large subsidy is to insulate the common man from any rise in international oil prices and from domestic inflationary conditions.
Fair enough, but does it work?
Analysts at the Council on Energy, Environment and Water (CEEW) have a simple answer: not very well.
First, access does not seem to be increasing in proportion to subsidy spending.
Despite more than 110 million connections in 2011, only 70 million households indicated LPG as their primary cooking fuel.
Secondly, much of the distribution is restricted to urban areas, which have more than 70 per cent of distributors, as well as LPG connections.
Even the richest rural households get only about half their total cooking energy from LPG. In short, 80 per cent Indian households continue to use traditional fuels for cooking.
Thirdly, as a result, subsidies are misdirected. The richest 30 per cent of Indians benefit from more than half of the LPG subsidy.
The poorest 30 per cent, by contrast, receive a meagre 15 per cent of the total subsidy disbursed.
Fourthly, since the rich benefit far more from LPG subsidies, the poor spend a disproportionately high share of their income on cooking fuel.
The poorest 10 per cent of households spend as much as eight per cent of their monthly expenditure on cooking energy as against a mere two per cent and 3.3 per cent by the highest income groups in urban and rural areas, respectively.
Even in absolute terms, urban households consuming traditional cooking fuels end up spending more than those using LPG.
The conclusion is that LPG subsidies have to be rationalised to make clean cooking fuel affordable for both households as well as the government.
Reducing the limit on subsidised LPG to nine cylinders per annum per connection would create the fiscal space to increase LPG coverage.
CEEW's calculations suggest that a cap of nine cylinders would be sufficient to cater to at least 70 per cent cooking energy needs of up to 90 per cent households.
Doing so could save the government more than Rs 4,600 crore.
Further, we should consider excluding the top 15 per cent of households (by monthly per capita income, MPCE) from the LPG subsidy net.
This would imply households with MPCE spending of more than Rs 3,900 per month in urban areas and Rs 2,000 per month in rural areas.
Even at unsubsidised LPG prices, their cooking expenditure would be well within an affordability limit of six per cent of monthly household expenditure. Households could be identified in different ways, such as income tax, asset ownership (vehicle or specific appliances), or a voluntary asset declaration combined with a "Know Your Customer" type of verification.
Once identified, direct benefits transfer should be combined with programmes to increase LPG availability in rural areas and awareness of its benefits.
Such an approach could yield another Rs 7,500 crore (Rs 75 billion) of savings.
None of this will happen voluntarily.
The government's attempt, since August, to do so has received very poor response.
Instead, targeted direct benefit transfer might help to reduce market distortions at the distributor's end.
If the government feels particularly brave, a differentiated subsidy for middle-income households and below poverty line (BPL) households could be attempted.
In fact, the subsidy for BPL households could be even increased while making net savings for the government.
The Jan Dhan Yojana could further support benefits transfer by covering the entire LPG consumer base.
In pursuit of "good governance", a more rational LPG subsidy programme would be a good start.
It would be more equitable for the purposes of increasing access to cleaner cooking fuels for poorer households.
It would have positive impacts on indoor air quality (the second biggest reason for premature deaths in India) and the health of women.
And it would help the government with its attempts to cut down the fiscal deficit. Savings of at least Rs 12,000 crore ($2 billion) should be a perfect year-end gift for India.
---
Arunabha Ghosh is chief executive and Abhishek Jain is junior research associate at the Council on Energy, Environment and Water.