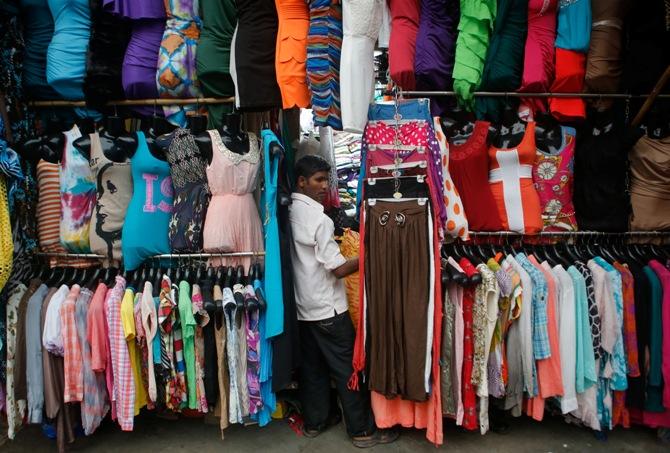 There seems to be no light yet at the end of the tunnel as far as the government's own estimates on domestic investment proposals are concerned, rues AK Bhattacharya, Editor, Business Standard
The task for Narendra Modi's government is to not just roll out the red carpet for foreign investors but also find out why domestic businesses have been reluctant to commit more funds over the past year and a half
The government's policy focus in the last one week has been mostly on foreign direct investment.
A host of measures to relax norms for allowing foreign investment in several new areas and permitting higher investment caps in a few sectors has been announced.
The new measures will certainly go a long way improving foreign investment flows into the country.
Yet, the bigger worry for the government will continue to be domestic investment.
There seems to be no light yet to be seen at the end of the tunnel as far as the government's own estimates on domestic investment proposals are concerned.
The data on proposed investments in the January-August period of 2015 show a figure of Rs 2.36 lakh crore (Rs 2.36 trillion), which is almost a third lower than Rs 3.32 lakh crore (Rs 3.32 trillion) recorded in the same period of 2014. Measure it by any yardstick, the trend is unmistakable and the much sought after investment revival appears to be a mirage so far.
Mind you, these are the government's figures!
A historical context would underline the same point with unambiguous clarity.
In 2010, about a year after the United Progressive Alliance government of Manmohan Singh began its second term, the value of total domestic investment proposals had increased to Rs 17.37 lakh crore (Rs 17.37 trillion), compared to Rs 10.4 lakh crore (Rs 10.4 trillion) a year ago.
That was some sort of a peak. Since 2010, investment proposals have been declining in value every subsequent year -- Rs 15.39 lakh crore (Rs 15.39 trillion) in 2011, Rs 5.68 lakh crore (Rs 5.68 trillion) in 2012, marking the steepest drop in a year in recent times, and Rs 5.3 lakh crore (Rs 5.3 trillion) in 2013.
The Narendra Modi regime was expected to revive investments. But that hope was belied in 2014, when the value of investment proposals fell further to Rs 4 lakh crore (Rs 4 trillion).
And in the first eight months of 2015, that declining trend has been further accentuated.
The disaggregated investment proposals data, however, reveal something more about how different states of India are doing with regard to investment proposals.
Gujarat, Karnataka, Tamil Nadu and West Bengal present a remarkable recovery story.
In the first eight months of 2015, Gujarat has received investment proposals worth Rs 51,108 crore (Rs 511.08 billion), over 28 per cent more than what it got in the whole of 2014.
Gujarat's share in all investments proposals in the country in this period is the highest at over 21 per cent.
Similarly, Karnataka received investment proposals worth Rs 29,813 crore in January-August 2015, compared to a much lower Rs 21,866 crore (Rs 218.66 billion) in the whole of 2014.
Tamil Nadu, too, has seen its investment proposals in the eight months of 2015 rise to Rs 17,573 crore (Rs 175.73 billion), which is higher than Rs 14,598 crore (Rs 145.98 billion) it got in the whole of 2014.
Topping them all, West Bengal has seen the most dramatic recovery -- investment proposals worth Rs 16,741 crore (Rs 167.41 billion) in January-August 2015, which is six times more than Rs 2,774 crore (Rs 27.74 billion) worth of investment proposals that trickled in the whole of 2014.
In sharp contrast, the performance of Chhattisgarh should be a cause for concern.
The mineral-rich state had received investment proposals worth Rs 1.63 lakh crore (Rs 1.63 trillion) in the whole of 2014, accounting for as much as 40 per cent of the total investment proposals received by the country that year.
In the first eight months of 2015, however, Chhattisgarh has seen a sharp drop, with investment proposals worth Rs 24,616 crore (Rs 246.16 billion) that account for only about a 10th of the country's total investment proposals.
Maharashtra has maintained steady growth without such sharp fluctuations -- though investment proposals too declined for the state to Rs 23,630 crore (Rs 236.3 billion) in the January-August period of 2015, compared to Rs 40,701 crore (Rs 407.01 billion) in the whole of 2014.
For the Union government, therefore, the task is not just to roll out the red carpet for foreign investors, but also to evaluate why domestic investment has not picked up in the last year and a half.
Equally important will be to analyse the performance of India's top industrial and mineral-rich states.
The rising investment proposals in Gujarat, West Bengal, Karnataka and Tamil Nadu are positive signs, but the government must consult these states to understand how and why they have succeeded to get more investments.
The lessons these states have learnt will certainly be useful for those that have seen their investments decline.
And the Union government can be an effective catalyst for that sharing of knowledge so that other states can take remedial steps.
That would also further the cause of co-operative federalism, a creed that the Narendra Modi government has committed itself to at the time of its formation 18 months ago.
These numbers are an ideal opportunity to make a beginning in that direction.
Image: A salesman waits for customers at a roadside store selling clothes at a market in Mumbai. Photograph: Danish Siddiqui/Reuters