Most would agree with the court that Aadhaar need not be mandatory to open a bank account or avail of government benefits, though even there, with the more than 900 million already enrolled, this is a matter for debate.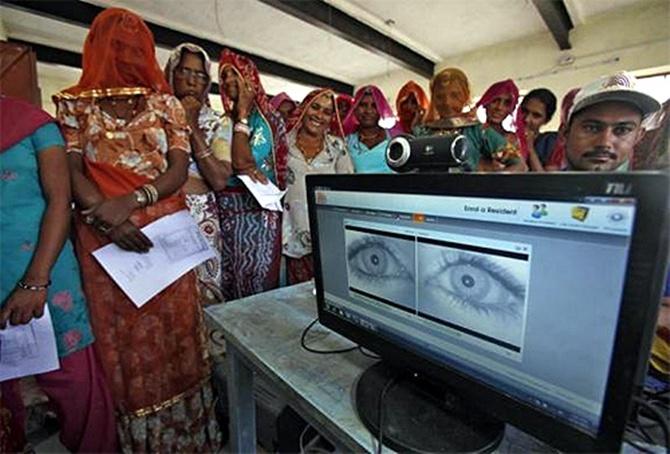 Speaking in Bengaluru a couple of months ago, Sanjay Swamy and Shripati Acharya, both Silicon Valley returnees who worked on the Aadhaar project, were waxing hopeful about how Aadhaar having reached a critical mass, with the majority of the population enrolled, was set for takeoff. In addition to the more than 900 million enrolled, the cost of iris technology has dropped to a fraction of what it was when the project started.
The two angel investors, who have a particular focus on social investing, said it was only a matter of time before more and more start-ups used the Aadhaar backbone to create services.
"It's been structured for people to write applications on top of it from the get go. That's the only way you can unlock its potential," said Mr Acharya.
Mr Swamy was more effusive. "Aadhaar is not about catching the bad guy. It is about helping the good guy," he said, describing the "one and a half years of zero salary (working on the project) as the most enriching" of his career.
To hear this discussion of a brave new world where medical records could be accessed through using an Aadhaar number, where the poor could be sure to get their pensions and next of kin benefits based on biometric identification and where digital lockers with digital university degrees could be created made one optimistic about better prospects for India's poor in the 21st century.
Less than a fortnight later, however, the Supreme Court issued an interim judgment limiting the use of Aadhaar only for the purposes of dealing with people seeking subsidies for fuel and foodgrain through the public food distribution system.
Within weeks, entities ranging from the Election Commission to the ministry of rural development that oversees the rural income guarantee scheme were reportedly telling their officers to tread carefully in this minefield to avoid the risk of being in contempt of court.
The most confusing lines from the judgment are these: "The Unique Identification Number or the Aadhaar card will not be used by the respondents for any purpose other than the PDS Scheme and in particular for the purpose of distribution of foodgrains, etc. and cooking fuel, such as kerosene."
If daily reminders of how far behind India is of most developing countries were not bad enough, one of the more depressing aspects of being a business and economics journalist in India is that understanding, let alone explaining, how different arms of the government come to such puzzling conclusions is so difficult.
What is one to make, for example, of Agriculture Minister Radha Mohan Singh citing studies that support "yogic farming" techniques whereby "every day farmers should give vibrations of peace, love and divinity to seeds"?
This would be comic if the country was not tackling drought in many areas and a persistent crisis in agricultural productivity.
Then there is Arvind Kejriwal who in the midst of a dengue epidemic is on the radio everyday to tell Delhi's citizens that he has instructed hospitals not to turn patients away and, for good measure, that he is fervently praying that none of our family members contract dengue?
Wouldn't it be more useful to repeatedly remind everyone that wearing long-sleeved clothing and using insect repellent is a good way to combat the spread of dengue?
How in a country where every other parent aspires that their children become doctors or engineers - Mr Kejriwal went to IIT Kharagpur - did we become so unscientific?
Most would agree with the court that Aadhaar need not be mandatory to open a bank account or avail of government benefits, though even there, with the more than 900 million already enrolled, this is a matter for debate.
If we are not to use biometrics to plug the leakages that leave so many of our very poor effectively outside the country's inadequate social benefits systems, what is the alternative? Should the government be pressed not to issue permanent account number cards as these too could be misused?
Surely it would be better for the government to urgently put in place a privacy law than argue illogically that there is no right to privacy in India.
Even in an inquisitive country in which everyone from employers to fellow travellers in a railway compartment believe it is their duty to enquire about your marital status and religion, privacy ought to be a fundamental right.
Directing the government to publicise that Aadhaar is not mandatory is fine, along with advertising that when Aadhaar is used for authentication purposes, the system "knows that an authentication was done but not the purpose for which it was done," as Nandan Nilekani, the architect of Aadhaar, explained in The Indian Express a fortnight ago.
In addition, when a "Know Your Customer" is done using Aadhaar, the information stays within the banking system.
Ultimately, citizens and governments would vote with their feet if allowed to do so. Jharkhand is among the first states seeking a modification of the court order to monitor its welfare schemes, according to a report in The Economic Times. More are likely to join.
Last year, while on a visit to Bengaluru, I watched with amazement as the screen lit up with new accounts being opened by casual labourers at kirana stores across the country late into the night.
I was in the offices of Novopay which uses micro ATMs at kirana stores and the Aadhaar backbone to rapidly increase financial inclusion.
It has helped open 60,000 accounts thus far, which its head, Shrikant Nadhamuni, believes will multiply as more partner banks have joined the effort.
Yesterday, I asked Mr Nadhamuni if this drive had been affected by the Supreme Court's interim judgment. His answer was that none of the partner banks had directed Novopay to make any changes to its modus operandi. Had any of the poor who had access to bank accounts expressed concerns about privacy? "None," he replied.
"Their key problem is access to banking and remitting money to their families."