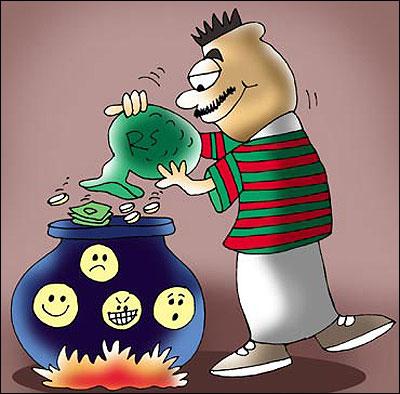 To make changes in such an area, it is critical not just to have the logic of economic reforms behind you but to win the informed consent of fellow ruling party politicians, rues Subir Roy
We have just witnessed the spectacle of the government having to go back as many as three times in the space of barely a month on changes that it had sought to bring in the employees' provident fund scheme in the face of concerted public opposition.
How could this have happened with a government which is ipso facto popular and has its finger on the pulse of the people, having won a major national electoral victory barely two years ago?
EPF is the major vehicle for the long-term savings of organised private sector employees who rely on it to fund such critical large expenses in late career as getting an offspring married, acquiring some kind of a dwelling, have the comfort of knowing there is a fall-back lump sum to pay for treatment of a late-life major illness and to provide a corpus for post-retirement annuity.
Provident fund, to which both the employee and employer contribute, is the hallmark of the better quality jobs which the organsied sector of the economy offers.
Expectedly, members of EPF are backed by well-organised unions, affiliated to important political parties.
They are not landless agricultural labourers or migrant labour employed in construction sites who find it difficult to earn a statutory minimum wage.
To make changes in such an area affecting the politically articulate, it is critical not just to have the logic of economic reforms behind you but to win the informed consent of fellow ruling party politicians whose constituency is the working class and the civil servants, as also the working class itself.
In the event, boffins in the finance ministry, presumably backed by those in the erstwhile Planning Commission (what's the new name for it?), led by a politically lightweight minister whose intrinsic feel of the political pulse is, well, feather light, have sought to bring about changes whose wisdom only they and some business journalists understand.
Naturally these have bombed in their faces.
What is to be done? Begin at the beginning.
Listen to Reserve Bank of India Governor Raghuram Rajan who has said more than once: for an economy to be dynamic, firms must be allowed to fail, but not people.
Put another way, don't follow the southern Europe model of a having a welfare state without labour market flexibility but the Scandinavian model of having an elaborate safety net paid for by high taxes and labour market flexibility.
And a safety net means unemployment insurance or dole, publicly funded health care and pensions.
And if there is half a pension system in the form of EPF, then don't muck around with it unilaterally.
Get the stakeholders together and say -- here, we give you this extra, but please let us take out these inefficiencies.
Linked to EPF is the issue of social security or pension for all.
A new public pension system has been introduced which is as poorly sold as it is unattractive.
Those who have any kind of savings and want to keep them safe, turn to the government's small savings schemes.
The Economic Survey is on firm ground when it argues that 'small savings' is a misnomer as through it is subsidy in the form of high post-tax returns go not so much to 'small earners' but the better off.
This is the rationale behind seeking to lower slightly the interest rate for EPF.
In seeking to structure a safe saving system for all, that is mostly the poor, it is critical to have another factor in mind.
The poor and gullible need to be weaned away from Ponzi schemes by offering them a safe way to save at an attractive rate of return, that is allowing them to earn a clear real rate of return.
Also, to attract long term savings, rates of return have to be relatively higher.
This task gets easier as the inflation rate comes down as it is doing right now.
Once the new small finance banks which were earlier microfinance organsiations come into being, they will be able to shoulder a part of this task by offering depositors clearly higher interest rates than commercial banks as they have till now been borrowing from commercial banks at 12 per cent.
For them to pay 10 per cent to depositors still means saving two per cent on the cost of funds.
A stable society transfers income to the poor; offers publicly funded education up to the secondary plus polytechnic level to aid skill formation; and delivers publicly funded healthcare which does not play with private health insurance which is an invitation to private doctors and hospitals to be unethical (witness the sudden rise in hysterectomies after the introduction of Rashtriya Swasthya Bima Yojana); and of course taxes the rich.
This approximates the European model which has known social stability until the sins of their colonial past (Islamic militancy on the part of migrants from northern Africa) caught up with them.
The breeding ground for the new militancy is the migrant ghettoes which face social exclusion.
You cannot get to a system like this in a day. It has to be incrementally achieved with every step being politically sold to the affected stakeholders. That is what democratic politics is all about.
Illustration by Uttam Ghosh/Rediff.com