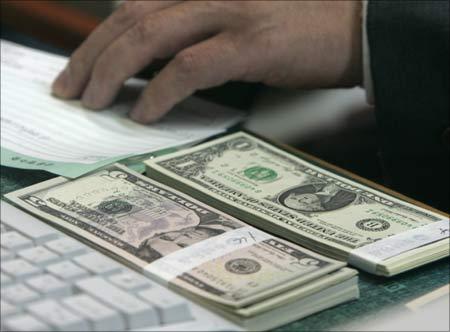 An obvious and easy explanation for India's exports debacle is that petroleum products constitute the single-largest category in the country's exports basket, notes A K Bhattacharya, Editor, Business Standard
India's exports performance continues to be depressing.
In each of the last two years, exports contracted -- by more than one per cent in 2014-15, the first year of the Narendra Modi government, and by a higher margin of 15 per cent in 2015-16.
The trend has not reversed yet as the latest figures for April 2016 show that exports fell by close to seven per cent again.
A closer look at these disturbing numbers, however, reveals interesting trends that the government must carefully assess so that it can draw the right lessons from them and frame appropriate policy responses to revive exports.
Does the gloomy exports scenario have a silver lining?
An analysis of the last two years' exports numbers from this perspective would be instructive.
An obvious and easy explanation for India's exports debacle is that petroleum products constitute the single-largest category in the country's exports basket.
The argument, therefore, is that with the international crude oil prices falling significantly in this period, India's exports would inevitably suffer.
And they did suffer with earnings from petroleum product exports falling by 46 per cent to $30 billion in 2015-16.
Petroleum products accounted for almost 18 per cent of India's total exports in 2014-15 and thanks to the falling crude oil prices, their share dropped to about 12 per cent in 2015-16.
What would be the likely scenario for petroleum product exports in 2016-17?
International crude oil prices have already risen by around 80 per cent in the last four months.
Brent crude oil prices are hovering at around $50 a barrel, compared to $28 a barrel in January this year.
If the trend continues and the international crude oil prices hover around $50-55 a barrel, its impact on India's petroleum product exports would not be insignificant.
But the recovery may not take place on its own.
It would require some careful planning to expand the market for India's petroleum products.
At present, over 41 per cent of India's total petroleum product exports are accounted for by just six countries -- the United Arab Emirates, Singapore, the United States, Saudi Arabia, Japan and the Netherlands.
As petroleum product prices improve in the current year, it would make sense for India's oil marketing companies to explore newer markets and expand the existing ones. Domestic oil refining capacity is comfortable at present and this can be put to good use by earning more dollars at a higher margin.
The story of India's drugs exports has hardly received much attention. But consider this.
In a year, when India's total merchandise exports fell by 15 per cent, its drugs exports went up by about 10 per cent.
And this growth came despite the many battles the Indian drugs industry has been fighting with regulators in some developed markets including the US over the quality and safety of its products.
The significance of this increase lies in the fact that in 2014-15, drugs exports grew by less than four per cent.
It is, therefore, time the government took note of the surge in drugs exports and explored what steps needed to be taken to sustain this growth and make a champion exports sector out of an industry that has huge potential, but seems to be constrained by many regulatory handicaps both at home and abroad.
The textiles sector does not have a similar story, but its resilience has not yet been fully appreciated in the current gloomy situation.
In 2014-15, textiles exports grew by 14 per cent to about $31 billion.
But in the following year, they suffered their worst debacle with a three per cent fall.
Yet, it will be important to recall that overall merchandise exports in 2015-16 fell by 15 per cent.
While the drugs industry is a clear winner, the textiles sector has managed to limit its damages to a small drop in exports. The government cannot sit idle and must take steps to stop the rot.
There are issues with regard to allowing flexible employment to meet seasonal surges in demand from importers and improving the available infrastructure particularly for the readymade garments sector.
A focused approach is needed to extricate the textiles sector from its current woes.
A three per cent drop in exports can be reversed with some policy intervention and infrastructure support.
In the engineering sector, where exports have taken a big hit, motor vehicles have been growing their annual despatches to overseas markets.
The growth has slowed down with exports at $6.7 billion last year, but the fact is that this segment of the engineering sector has held off the forces of deceleration in global trade and continued to grow even though at a slower rate.
This is a sector where higher exports coupled with increasing domestic sales can improve India's status as a manufacturing hub with a huge potential for jobs growth not only in factories but in the tertiary sector.
If the Modi government's Make In India campaign has to succeed and bear fruit for the Indian economy, the automobile sector and its exports will hold the key to achieving such a transformation.
Finally, there is evidence of early signs of green shoots of exports recovery.
A report prepared by the Directorate General of Foreign Trade has noted that commodities like chemicals, cotton yarn, basmati rice, metals, dyes and paint have begun seeing a rise in volume exports.
Their exports value declined in 2015-16, but their volumes have risen by varying margins ranging from four per cent to 47 per cent. If the commodities cycle is seeing an upturn, rising export volumes would suggest that an exports recovery is likely soon in those goods at least.
However, due caution must be exercised so that complacency does not set in and the industry uses the rising commodity prices as an opportunity to monetise the volume gains.
And the government should provide better infrastructure and policy support to help the exports sector realise that goal.
The image is used for representational purpose only. Photograph: Reuters