Corporations are still hard-wired for the old 'brown' economy which aims to generate only shareholder value not stakeholder value, rues Rajni Bakshi.

At a time when politicians seem to be taking the blame for most or all of the world's problems, along comes a credible voice with a different perspective. In a newly released book titled Corporation 2020 banker Pavan Sukhdev argues that big business is in more urgent need of reform.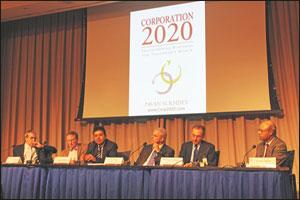 "Politicians are followers, corporations are the leaders" Sukhdev said at a function to release this book in Mumbai recently. The book was released by Ishaat Hussain, a director of Tata Sons, and Hemendra Kothari, chairman of DSP BlackRock.
Political and social activists have been saying this for decades. Since Sukhdev has held senior positions in the mainstream financial world his critical analysis lends a new edge to the global debate on the future of the corporation and the prospects for a shift towards a 'green economy'.
Sukhdev took a sabbatical from a senior position at Deutsche Bank in order to serve as the Study Leader of The Economics of Ecosystems and Biodiversity (TEEB) which was commissioned by the United Nations. He also headed the Green Economy Initiative for the United Nations Environment Program (UNEP). Sanctuary magazine once described Sukhdev as a banker by day and an environmentalist by night.
"Can the corporation deliver tomorrow's economy?" This was the question at the heart of his enquiry, Sukhdev said at the book release function. This led him to first explore just what should be tomorrow's economy.
Clearly there are no ready made answers to this question. But the UNEP's Green Economy Report, released last year, claims that greening of economies should not be seen as a drag on growth but rather as a new engine of growth, a net generator of decent jobs and a vital strategy for the elimination of persistent poverty. According to UNEP's website, this report also "seeks to motivate policy makers to create the enabling conditions for increased investments in a transition to a green economy."
"A green economy is not only possible, it is imperative" says Sukhdev.  It is with this purpose that he has marshaled both ideas and data in his book 'Corporation 2020'.
The good news, according to Sukhdev, is that no economist has challenged the figures in his book. The bad news is that even while there is agreement on the basic data the required changes are not happening. This, Sukhdev explained, is because corporations are still hard-wired for the old 'brown' economy which aims to generate only shareholder value not stakeholder value.
Corporation 2020 is contrasted with the century old model of what Sukhdev calls 'Corporation 1920'. The old model was driven by pursuit of size, active lobbying, unethical advertising and unlimited leverage.
Sukhdev proposes four 'enabling conditions' which would create a new model of business. These are:
Ensuring that investors and consumers have full information on all externalities generated by a business. At present information is limited to shelf price and return on investment.
It is use of natural resources that should be taxed rather than goods.
Advertising must become accountable and provide real information to consumers instead of just a sales pitch.
Corporations must not be allowed to exercise enormous leverage over public policy and use of natural resources. This is particularly true of companies which are considered 'too-big-to-fail' and thus bailed out at the cost of taxpayers.
In his foreword to the book the noted British economist Nicholas Stern writes that this will be possible only if we recognize that competition produces efficiency only if resources are properly valued. However, 'the current system undervalues non-financial forms of capital as well as public capital generally'.
Even more significantly, Stern urges us not to worry about whether Corporation 2020-type policies will hurt growth. On the contrary, writes Stern: "the policies described (in this book) are essential if living standards are to be sustained and the aspirations to overcome poverty are to be realised."
"Corporations may have created the situation we are in today, but they are also the very institutions that are best placed to bring the quantum changes which are required for solutions on a global scale" " writes Jochen Zeitz, CEO of the French multinational PPR (previously known as Pinault-Printemps-Redoute).
Earlier, as CEO and Chairman of PUMA, Zeitz conceived and developed the first ever Environmental Profit and Loss Account statement in order to place the company's environmental impacts across the entire supply chain.
Zeitz, who has also written a foreword for Corporation 2020, adds that: "as businesses, we have a responsibility to move from doing business with collateral damage to doing business with collateral benefits. This movement is critical because nothing can be gained from the current race to the financial top if it is coupled with a race to the environmental and social bottom."
For example, small farms still support 1.3 billion people. So the question to ask, says Sukhdev, is how to make these farms more viable not how to aggregate them all into corporations.
It helps to know that until quite recently corporations were not as powerful as they are today. In 1970 world trade was only about three percent of global GDP. By 2010 world trade, driven mostly by corporations, had become almost 30% of world GDP.
A study done for the United Nations Principles for Responsible Investing (UNPRI) has estimated that corporations across the world generate externalities - social and environmental damages - to the tune of about $2.15 trillion every year.
While Sukhdev brings together alarming data about social and environmental losses his mission is essentially one of spreading hope. A new kind of corporation and thus a new kind of global economy is more possible now, he argues, because many of the technologies and mechanisms for a green economy are in place. "We must build on that, we can't retreat now" says Sukhdev.
This will require effort at multiple levels - inside corporations, within governments where policies are made and by technological innovators and academics who have a detailed grasp of emerging challenges.
But above all, the most important link may be you and me as consumers and citizens. Why, for instance, is the number of gigantic petrol guzzling SUVs on the streets of Mumbai increasing? As Hussain said at the book release function, it is as citizens and responsible consumers that we will all have to ponder just how much of a burden we want to put on the earth's resources. Our choices as consumers could be the most powerful driver of a green economy.
Photograph: Kind courtesy globaltigerinitiative.org