Prime Minister Narendra Modi's vision of making 100 smart cities must be enabled with the latest technology and of course infrastructure.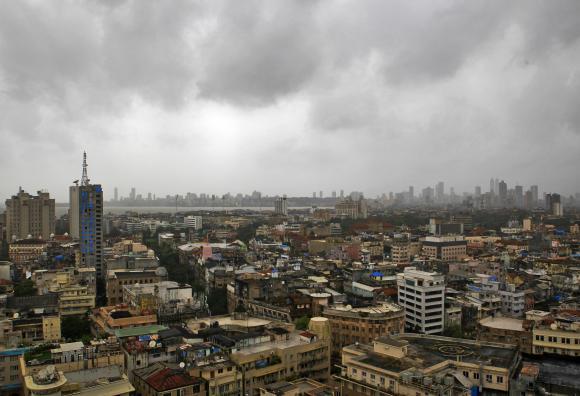 Image: Monsoon clouds loom over Mumbai's skyline. Photograph: Danish Siddiqui/Reuters
The Bharatiya Janata Party manifesto said: "We will initiate building 100 new cities; enabled with the latest in technology and infrastructure."
And Prime Minister Narendra Modi's powerful reiteration of this visionary urbanisation agenda during campaigning, and thereafter, has fired the imagination of the nation.
However, there is considerable scepticism about the way this bold call for tackling urbanisation is getting translated into practice.
The scheme cleared by the Cabinet on April 29 this year is, in summary, in the table (see "Programme for urbanisation").
This kind of programme packaging and resource planning appears to be out of sync with the size and intensity of the vision for four reasons:
One, the funding butter is spread too thinly on the urbanisation toast to be impactful or credible.
Two, the administration framework is increasingly looking like a Jawaharlal Nehru National Urban Renewal Mission version 3.0.
Three, the funding commitment is murky. The Centre's real commitment is being decoded by co-relating two statements tucked away viz. that only 20 cities are going to be shortlisted in the first phase and that each city would get Rs 100 crore or Rs 1 billion every year from the Centre for five years.
In bureaucratese, this possibly means that the Centre is currently committing to only Rs 2,000 crore or Rs 20 billion per year.
Interestingly, the "remaining money has to come from the states, urban bodies and the consortium that they form with corporate entities." Neat!
Four, the scheme does not specify any monitorable outcomes. So, how do we get some excitement and sizzle back in getting smart cities to happen?
Here is a 10-step approach with associated time frames: Step 1. Define what is a smart city (June '15): Here are 10 attributes that define a 'smart city.' (each of them has been amplified in the Infratalk column "What is a 'smart city'?" December 16, 2014.)
They are: (i) information, communication, and technology-enabled governance; (ii) efficient utilities - energy, water, solid waste, effluents; (iii) meaningful PPPs; (iv) safety and security; (v) financial sustainability; (vi) citizen-participative local government; (vii) sufficient social capital; (viii) transit-oriented habitats; (ix) green features and; (x) minimum population criteria. Step 2. Adopt five existing cities (July '15): Focus only on developing five smart cities in the first five-year term of the government. Forget "greenfield", or new projects.
They are too costly, uncertain and would take more than 20 years to see fruition.
Position the chosen five cities to be "demonstration models" of the art of the possible, much like the Delhi Metro was.
Discuss with concerned state governments and announce the list. (This columnist suggests Guwahati, Bhubaneswar, Jaipur, Pune and Bengaluru.)
Step 3. Structure SPVs (special purpose vehicles) with states (August- September '15): Like the Delhi Metro model, it would be useful to have a 50-50 partnership between the Centre and the states, with roles and responsibilities clearly delineated. Step 4. Operationalise the five SPVs (October- December '15): Provide seed capital of Rs 500 crore each for administrative and feasibility expenses for the next two years. A reputable board of directors and CEO need to be appointed.
Thereafter, each SPV should strive to attract the best talent available among specialists in urban transport, planning, economics and finance, and city administration.
Step 5. Prepare detailed blueprints: (January-December '16): Each SPV needs to prepare comprehensive blueprints for the transition to 'smart city' status.
The brief has to include hard infra, services and financing plan (including public-private partnerships) and be in alignment with the definition of a smart city enumerated in step 1.
The best domestic and international consultants need to be engaged.
Step 6. Sort out political economy challenges (January-June '17): The SPV management will now have to deal with the contentious issues of hiking tariff structures for urban services.
It will also need to grapple with 74th Amendment issues of empowering local self- government, related administrative reforms, and insist on these civic bodies being led by committed politicians of stature and ambition.
Step 7. Adopt operational blueprint, including financing plan (July- October '17): The best public finance experts and private sector investment bankers need to be drawn in.
Each SPV should be capitalised at Rs 5,000 crore by public funding, with a mandate to leverage five times to achieve a Rs 25,000-crore investment corpus.
The public funding can be infused at the rate of Rs 1,000 crore or Rs 10 billion per year.
Step 8. Bid out projects (November '17 - March '18): The best of the domestic and international companies should be motivated to participate in the bids, with risk allocation formats and dispute resolution mechanisms firmly in place.
Step 9. Monitor the outcomes (April '18 - March '19): One year of watching implementation roll-in should be sufficient to document the learnings and create the base for expansion of the programme.
Step 10. Use the learnings for creating next set of 20 smart cities (April '19 onwards): With this, we should have 25 'smart cities' rolling by 2025.
Clearly, the decade from 2015-2025 would then have set in motion a massive urban rejuvenation format for India.
---
Vinayak Chatterjee is the chairman of Feedback Infra vinayak.chatterjee@feedbackinfra.com