'A balanced head plus heart approach would be a full opening up of the economy including manufacturing and internal travel in the country but excluding COVID-19 hotspots,' recommends Jaimini Bhagwati.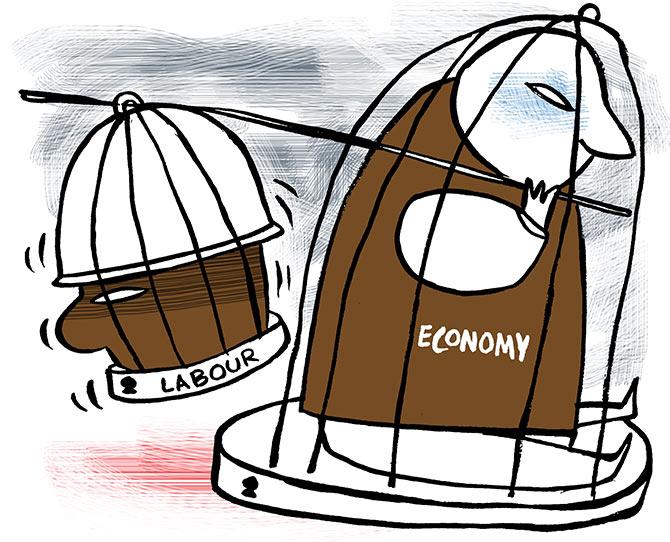 The national lockdown due to the spread of the deadly COVID-19 virus has crushed what was an already faltering Indian economy.
The lockdown relaxations since April 20 are related to 'movement of cargo, farming, fisheries, plantations, animal husbandry, manufacturing in special economic zones, coal, mineral and oil production and self-employed plumbers, carpenters, motor mechanics and electricians'.
This should generate income for some and provide a modicum of relief to corresponding creditors.
Perhaps the COVID-19 virus would have caused more deaths without a draconian national lockdown.
However, could the central government have administered the lockdown medicine in more specifically targeted doses?
Some media commentaries, including the BBC, have suggested that the official numbers of COVID-19 cases in India are hugely understated.
As India is well covered by social media, it would be near impossible to hide large number of deaths.
However, the official numbers of those infected may be low because testing capacity is limited relative to what is needed in India's crowded cities and slums.
As is often quipped, no crisis should be wasted.
Details about infections and deaths should be recorded meticulously for subsequent studies.
If persistent research had been done in the context of the 2002 SARs epidemic, India may have been better able to contain this COVID-19 pandemic.
The ongoing national lockdown has crippled economic activity resulting in sharply reduced earnings for informal sector workers.
It is possible that many in the informal sector may succumb to non-COVID ailments coupled with malnutrition and lack of medical attention when hospitals are perforce focusing on treating COVID-19 patients.
In this context, I am reminded of a refrain from a Hindi movie in which Utpal Dutt plays a senior private sector executive.
Dutt's character haughtily rejects the pay rise demands of striking workers.
The background chorus, which played through the movie was the workers singing 'Hum bhook se marne wale kya maut se darne wale? (We who are dying of hunger, would we be afraid of death?)'
Prior to the announcement of a national lockdown, the government had overlooked its drastic consequences for daily wage and migrant workers.
This is another important lesson for later.
Namely, that the government has to ensure painstaking collation of numbers through frequent sample surveys of the living conditions and earnings of daily-wage and migrant workers said to number around 150 million.
Some have raised the spectre of runaway inflation and a balance of payments crisis if central government spending is increased considerably.
Reflecting declining global demand, Brent crude oil price is down at $20 a barrel.
On April 20, for the first time ever US oil price futures were negative because US oil producers lack storage space.
Given the sharp reduction in overall demand in India and elsewhere, inflationary pressures are distant.
Clearly, the government can increase spending to raise consumption at the lowest income levels without worrying about inflation.
It is the Reserve Bank of India which should be careful when exercising regulatory forbearance vis-à-vis creditors to segregate pre-February 2020 insolvencies from those that emerge as a result of the COVID-induced lockdown.
Although the International Monetary Fund has projected Indian gross domestic product growth at 1.8 per cent for 2020-2021, this number may end up at negative 5 per cent or worse.
In 2020-2021, total domestic tax revenues, net foreign inward investments and remittances will be sharply down.
To enable higher public spending, the RBI would eventually need to purchase central government debt directly.
And if the combined deficit of the central and state governments rises to 14 per cent of GDP, so be it.
The same number for 2019-2020 was almost 9 per cent of GDP.
For purposes of comparison, developed countries have announced additional spending of 10 per cent of GDP or more to dig themselves out of the COVID-19 hole.
Even as the central government and the RBI take measured steps to prevent the economy from descending into a tailspin, the urgent needs of daily-wagers, migrant labour and the rural landless should be taken into account.
This does not need saying.
However, there were confirmed reports of the wealthy being flown back from foreign locations, and middle-class children were ferried from coaching centres in Kota to their homes in Uttar Pradesh.
At the same time, the central government did not find it possible to provide trains for all migrant labour who want to return to their villages with a quarantine period of 14 days on reaching their destination (this column was written before such trains were commissioned to ferry migrants back to their home states).
How exactly will this health crisis change post the national lockdown?
Public authorities are unsure how many more would be infected if the lockdown were to be lifted.
The decision to extend the lockdown was probably influenced by the need of the wealthier segments who appear to have wanted the strict lockdown to continue.
However, the haemorrhaging damage to the economy and consequent fatalities among the poorest in the population should be the rationale for lifting the lockdown.
All things considered, a balanced head plus heart approach would be a full opening up of the economy including manufacturing and internal travel in the country but excluding COVID-19 hotspots.
---
Jaimini Bhagwati is a former Ambassador and World Bank finance professional.