The two decades of our "spectacular economic progress" has side-stepped vast swath of our underprivileged that oscillates between twenty per cent and one-fifth of our population, writes M R Venkatesh.

Calculated by the International Food Policy Research Institute (IFPRI), the Global Hunger Index (GHI) is a comprehensive measure to track hunger globally, regionally and by country. Reducing a complex set of narratives into simple numbers, the GHI focuses on the successes and failures of respective countries in tackling the menace of hunger over a period of time. By creating awareness and understanding of the problem, IFPRI aims to trigger actions to reduce hunger.
Combining equally weighted indicators, this index includes three basic constituents: one, per centage of undernourished in the population, two, prevalence of underweight in children under five years and three, under-five mortality rate. The latest GHI report brings about some dismal figures relating to India.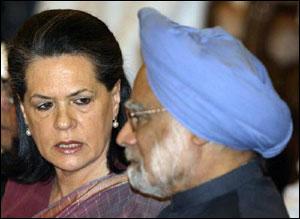 Ranked 65 amongst 79 countries, obviously, India's record in tackling hunger is abysmal. What must shock the reader is that Malawi (Ranked 45), Mali (49), Uganda (42) Benin (38) and Ghana (20) - mostly poor under-developed sub-Saharan African countries are ranked much above us in tackling hunger. Interestingly, two of our neighbhours - Pakistan (57) and Sri Lanka (37) too seem to have a better record on this matter. So does North Korea (52).
Typically sections of our intelligentsia have nothing but disdain for these countries forgetting that they fare better than our country at-least on this count.
Now comes the interesting part. Between early nineties (1992-94) and later part of the last decade (2006-08), Burkina Faso (it is a landlocked country in west Africa around 274,200 square kilometres in size) reduced the proportion of undernourished population from 14 per cent to 8 per cent, Congo from 42 per cent to 13 per cent, Honduras from 19 per cent to 12 per cent, Niger from 37 per cent to 16 per cent, Nigeria from 16 per cent to 6 per cent and Sudan from 39 per cent to 22 per cent. While countries like Congo and Sudan have shown extraordinary progress, others too have made rapid strides in tackling hunger.
But India? Expectedly our "progress" is glacial. If 20 per cent of our population was undernourished then, approximately one-fifth of our population is impoverished now. In short, the two decades of our "spectacular economic progress" has a side-stepped vast swath of our underprivileged that oscillates between twenty per cent and one-fifth of our population!
When it comes to prevalence of underweight in children below five years India has a dismal record where nearly 44 per cent of our children are under stress to this day. In contrast, Ethiopia (35 per cent), Bangladesh (41 per cent), Bhutan (13 per cent), Burundi (35 per cent), Afghanistan (28 per cent) and Liberia (14 per cent) seem to take care of their infants better than us.
Similarly, our record in tackling under-five mortality rate is no better at 6.3 per cent. China (1.8 per cent), Cuba (0.6 per cent), Indonesia (3.5 per cent), Iraq (3.9 per cent) and Lebanon (2.2 per cent) seem to have better record than us on this score.
Other development indices - A failure too!
That is not all. When it comes to other development indices, India is a spectacular failure too. It may be noted that India is ranked 134 out of 185 countries in the Human Development Index. For over a decade or so we have not made any significant improvements on this ranking. In contrast, Samoa (Ranked 99), Surinam (104), Gabon (106), Mongolia (110), Vanuatu (125) and Iraq (132) are ranked much above us.
Again, a closer examination of the average years of schooling India ranks a poor 4.4 years whereas Samoa is 10.3 years, Tonga 10, Fiji, 10.7 and Moldova 9.7. On Maternal Mortality Rate, India ranks low with 230 deaths of mothers recorded per 100,000 live births. In contrast, Sri Lanka with 39 deaths, China 38, Surinam 100, Philippines 94 and Solomon Islands 100 are way above us on this score too.
Are our poor social and human development indices a by-product of our lack of resources? Are we to this day constrained by lack of resources only? Should we, to tackle this problem spend more? This requires some elaboration.
Budget 2012-13 includes a sum of Rs 15,850 crore (Rs 158.5 billion) for Integrated Child Development Services, Rs 750 cores on Integrated Child Protection Scheme and Rs 11,937 crore (Rs 119.37 billion) towards mid day meals scheme in school. Further, we have budgeted Rs 20,542 crore (Rs 205.42 billion) on National Rural Health Mission on top of Rs 10,500 crore (Rs 105 billion) on drinking water and Rs 3,500 on rural sanitation in the current year.
Again look at the outlays on education, food and related social expenditures. We have budgeted [for 2012-13] Rs 25,555 crore (Rs 255.55 billion) on primary education, Rs 3,124 crore (Rs 31.24 billion) on secondary and Rs 6,680 crore (Rs 66.8 billion) on technical education. Over and above this we have budgeted Rs 60,974 crore (Rs 609.74 billion) on fertiliser subsidy and Rs 75,000 crore (Rs 750 billion) on food subsidy. Further, Rs 33,000 crore (Rs 330 billion) was allocated towards the centrally sponsored rural employment guarantee scheme.
Of course, these are further augmented by specific schemes backed by budgetary allocations for scheduled castes, backward classes, tribal and minorities besides the North-Eastern region. On top of this we specifically spend money on rural housing, roads, irrigation, and animal husbandry, skill development besides pension for the aged, widows and the handicapped.
Remember, most of the countries mentioned above, are in a war or have been facing civil strife for an extended period of time. Crucially, they spend a fraction of what India spends. Yet, when it comes to tackling hunger and improving social indices, we somehow contrive to lag behind them.
In effect this is the grand design of UPA Government: keep people poor, argue for state intervention, spend billions and then swindle the allocation.
Mercifully, in 2013 resources are no longer the constraints. Hence, it is no more a question of outlays, but outcomes. Yet, most within the UPA government do not realise that one cannot fix a broken tap by allowing more water to pass through it; can you?
Where has the money disappeared?
That invariably takes us to issue of administrative reforms. The robust growth rates of the past two decades have raised fundamental questions that have been agitating the collective conscience of the nation for sometime now. Is India a poor country simply because it lacks resources? Or is it poor because it is manages its resources poorly?
More specifically how do we eliminate poverty? Will overall economic growth alone address this issue? Or does it require intensive as well as extensive efforts of the government in tackling the same?
In a televised address to the nation in June 2004 the PM Dr. Manmohan Singh rightly pointed out "Growth is not an end in itself. It is a means to generate employment, banish poverty, hunger and homelessness and improve the standard of living of the mass of our people."
Further, he sagaciously added "Equity and efficiency are complimentary, not contradictory." Declaring piously those disparities in our society as unacceptable, Dr Singh conceded that delivery mechanism of the Indian government was not "adequately equipped and attuned to deal with this challenge and meet the aspirations of the people."
He also simultaneously agreed that it was impossible to assume that private initiative could be a viable substitute for government actions. Consequently, he pointed to the need for increased as well as efficient role of government in the provision of social and physical infrastructure and hits the bull's eye when he sought to "reform of government and of institutions."
It is in this connection he pompously concluded "In each of these areas, at every level of governance, the reform of government is today an urgent task before us" and adds "The reform of administration and of public institutions to improve efficiency and the quality of delivery services will be our immediate priority."
Yet, after a decade if one were to dispassionately analyse the performance of UPA under Dr. Singh, his inability to walk this initial talk in reforming administration, improving efficiency in government and enhancing quality of its services, it will invariably be held as the single largest failure of his regime.
Put simply, has the quality of public education, health, transport or India's infrastructure, irrigation or power improved in the past decade or so? If so, was it commensurate with India's spectacular growth in the interregnum? The answer to this question is obvious. And that substantially, if not wholly explains, the dichotomous situation confronting the nation.
Yet the UPA government swears by the common man. Height of hypocrisy, isn't it?
Ideally with a reformed and a responsive bureaucracy, India could have done better. Needless to emphasize it is this failure in carrying out administrative reforms, (and not availability of resources) that has cost us dear in our fight against poverty. Importantly, it has made economic reforms and growth less relevant.
For two decades, we as a nation have been deluding ourselves about economic reforms without even attempting to reform our administration little realising that a nuclear warhead is as important as a missile that carries it. We have a reasonably good warhead but the attendant delivery mechanism is demonstrably non-existent.
That in short is the legacy of Dr. Singh - an unaccountable, incompetent yet highly over paid administration. A lost decade? Worse still - a decade of decay? Mostly the later, I guess.
Photograph: B Mathur/Reuters
---
The author is a Chennai-based Chartered Accountant. He can be contacted at mrv@mrv.net.in