The battle on creating jobs is virtually lost. If the battle for achieving higher growth too is lost, then its political consequences could become difficult to manage, says A K Bhattacharya.
Illustration: Uttam Ghosh/Rediff.com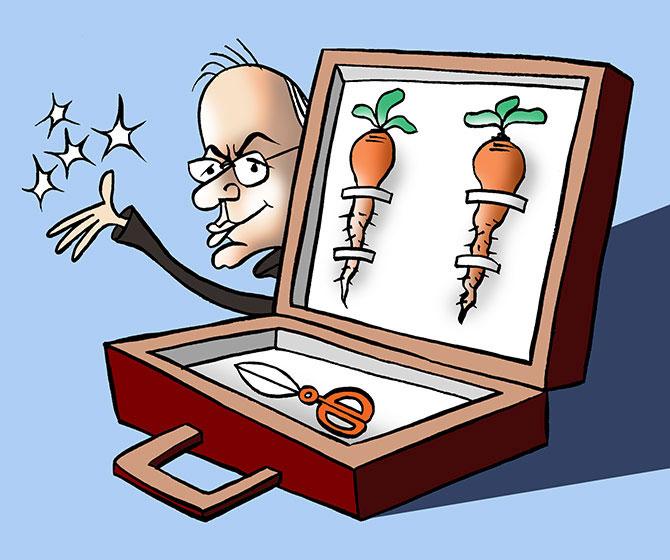 Finance Minister Arun Jaitley will present his fifth Union Budget in a few weeks from now.
The fifth Budget of any finance minister is usually important from an electoral point of view, keenly watched for what it doles out for voters.
However, the importance of Mr Jaitley's fifth Budget will stem from two other specific factors. These are economic growth and fiscal consolidation.
It will be instructive to examine these factors before dwelling on the Budget's electoral implications.
Economic growth measured by changes in gross value added in basic prices has been a worry point for the finance minister.
The key question that will arise after Mr Jaitley presents his fifth Budget in February would be whether the five-year term of this government is likely to deliver a growth rate that is better than the previous regimes.
The Vajpayee government's five years saw an average annual growth rate of 5.88 per cent.
The Manmohan Singh government's first five years saw a sharp jump in the average annual growth rate to 8.44 per cent. But it fell to 7.14 per cent in its second five-year term.
The Narendra Modi government has clocked an annual average growth rate of 7.23 per cent in the first three years of its tenure.
The International Monetary Fund has forecast a growth rate of 6.7 per cent for 2017-18 and 7.4 per cent for 2018-19.
These rates may change later, but if you add them to get a five-year average, the annual growth number comes to only 7.16 per cent.
Remember that the Singh government's second term produced a growth rate of 7.14 per cent.
So, the pressure on Mr Jaitley's fifth Budget will be to present a better scenario on the economic growth front.
The second quarter numbers released in November sprang a positive surprise and the Budget can now rely on a healthy recovery in the third and fourth quarters of the current year after overcoming the impact of disruption caused by demonetisation and the Goods and Services Tax (GST).
The first advance estimates of the full year's growth numbers will be available in January and the Budget will also project its assumptions of growth for the economy in 2018-19.
Thus, the first verdict on whether the Modi government in its five years will grow the economy significantly faster than what the Singh government achieved will be out with Mr Jaitley's fifth Budget.
This will have significant political import since the Modi government did come to power with the promise of higher growth and more jobs.
The battle on creating jobs is virtually lost. If the battle for achieving higher growth too is lost, then its political consequences could become difficult to manage.
Fiscal consolidation has been among the significant achievements of Mr Jaitley, apart from initiating other reformist moves like creating an independent monetary policy framework with inflation targeting, enforcing the insolvency code to resolve the economy's twin balance sheet problem, and rolling out the GST, which though imperfect in the beginning has been tweaked periodically to remove its many glitches.
If the Singh government reduced the fiscal deficit from 5.8 per cent of gross domestic product (GDP) in 2011-12 to 4.4 per cent in 2013-14, the last year of its tenure, Mr Jaitley maintained this consolidation pace for three successive years to bring that down to 3.5 per cent of GDP in 2016-17.
The fiscal deficit target of 3.2 per cent of GDP, set by Mr Jaitley for the current year, looks difficult as the economy faces the twin impact of demonetisation and GST.
Both tax and non-tax revenues could fall short of the targets and the pressure to spend more on account of infrastructure investment and bank recapitalisation could cause a slippage in meeting the deficit target for 2017-18.
The challenge of fiscal consolidation in 2018-19 will be even more formidable as the pressure to increase expenditure will only rise.
Will Mr Jaitley's fifth Budget defer the goal of reducing the fiscal deficit to 3 per cent of GDP by 2018-19?
Will he ignore Moody's warning that deterioration in the government's fiscal metrics could merit a downgrade? Mr Jaitley's fifth Budget will provide an answer to all these questions.
Finally, there is a huge expectation that the finance minister will use his fifth Budget to shower goodies on people, providing fiscal relief to tax payers, and announcing a slew of populist schemes entailing huge expenditure. This has been the trend so far.
But Mr Jaitley may avoid doing all that in his fifth Budget. This is because the general elections are scheduled to be held only in May 2019.
The effects of such goodies last for only a few months. Such announcements in February 2018, therefore, may fail to make any impact on general elections to be held about 15 months later.
If Mr Jaitley does announce such measures, the signal could be far more significant: Is the government planning to advance the schedule of general elections to hold them some time in mid-2018?
But presenting a fiscally prudent Budget and ignoring the electoral compulsions do not necessarily mean that Mr Jaitley will lose the opportunity to announce tax reliefs or expenditure outlays for popular schemes later next year or in early 2019.
One of his predecessors, Jaswant Singh, announced a slew of tax cuts and schemes less than a month before he presented an interim Budget for 2004-05 in view of the ensuing general elections in April-May 2004.
Mr Jaitley could do the same in 2019!