The RBI, which has no interest or mechanism to get feedback from bank customers, is unaware of this.
If made aware, it remains silent, proving that it has no problem in allowing lenders to short-change its customers, notes Debashis Basu.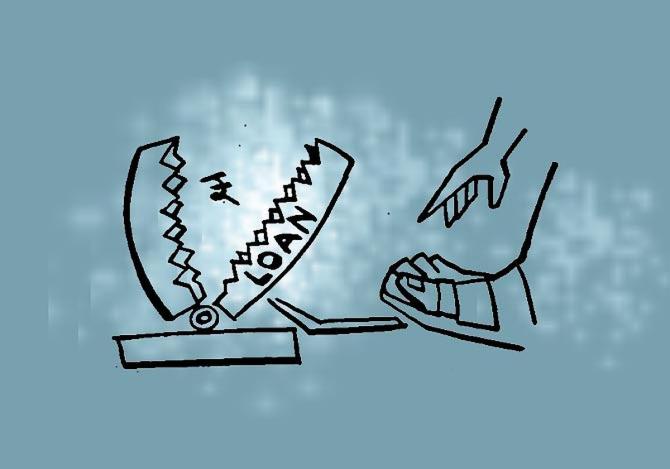 A friend has had a ringside view of the financial sector for decades, having worked in a bank, stock markets, rating agencies, and mutual funds. He firmly believes that financial regulators are there to help the industry, usually at the expense of financial consumers.
I understand and agree that regulators have absolutely no empathy for consumers. But I have been sceptical of his view that regulators are there only to help the industry grow at the expense of consumers.
But the long-running saga of lenders and finance companies continuing to fleece floating-rate borrowers makes me believe that my friend is indeed right.
I have been pointing out in great detail that lenders immediately increase floating rates when interest rates go up but do not drop rates when they decline. This loot has been going on for almost two decades.
Shrinivas Marathe, a retired banker, has quantified how much overcharging is going on, even though lenders consistently stonewalled Marathe when he tried to get the data through right to information applications.
Two years ago, he had estimated the loss inflicted on borrowers by the banking system at over Rs 43,000 crore, simply by denying the benefits of lower rates. He worked on the assumption that interest reduction was not passed on to borrowers in the case of 80 per cent of the floating loans.
The fleecing of borrowers is so widespread and egregious that Moneylife Foundation filed a PIL (public interest litigation) petition, leading to an order by the Supreme Court asking the Reserve Bank of India, to respond in six weeks.
The RBI ignored the court order but then a few months later, in late 2018, mandated that lenders should link floating-rate loans to an external benchmark, which was one of our prayers in the petition. This way, rates would drop transparently when the benchmark interest declines.
Lenders started implanting the new policy only nine months after the RBI decision.
Unfortunately, not much has changed on the ground. Here is a sample of customer complaints on social media in the last week alone (edited for typos and grammar):
Even public sector lenders have not reduced interest for my floating-rate housing loan. Once the RBI reduced the repo rate, they immediately reduced the fixed-deposit interest rate but did not reduce interest rates for floating-rate home loan. I had a very bad experience with Union Bank of India.
At present the home-loan interest rates of almost all lenders are around 7 per cent but Central Bank of India is charging 8.2 per cent on my floating home loan since July 2019. I want to know why.
I have a home loan with SBI with a floating-interest rate. However, the benefits of the reduced interest rates are hardly passed on. I have been requesting the loan agent of SBI RACPC Faridabad. However, they don't care.
When I contacted the bank executive who facilitated my loan, he asked me to visit their branch somewhere in Goregaon (a Mumbai suburb). When everything is at a click of the button, why am I being asked to visit an office? Also, at the time of marketing products, all the facilities are delivered at the doorstep.
They keep charging me a higher interest rate on my home loan when the market rates declined a while ago, and, when asked, nobody has an answer. They keep saying they will check and come back and there's no coming back ever.
Despite various requests, interest rates are not changed/modified/corrected to present a floating rate. The bank is still charging 10.4 per cent. Feel cheated.
We have taken a floating-rate loan from IndusInd Bank and the loan is with floating-interest rates. But the bank is not willing to reduce the interest rates despite my writing to them repeatedly.
It's been over three months since the rates have been reduced. However, even after several requests the same have not been reduced in my loan account.
Every time the rate of interest changes, we need to fill in an application by going to the bank. What is the use of a floating loan then?
It has been more than a week ... application filed to reduce my floating-interest rate ... no response from bank ... again going to the bank to follow up. This situation really painful ... the response from the branch manager is not customer-friendly ... wondering why I took a loan from Syndicate Bank.
So, nothing has changed for the borrowers. And this sample of complaints is only from individuals. Businesses taking floating-rate loans continue to suffer silently.
In effect, lenders have found a way to continue to fleece customers, and the RBI, which has no interest or mechanism to get feedback from bank customers, is unaware of this.
If made aware, it remains silent, proving that it has no problem in allowing lenders to short-change its customers. After all, this loot of not passing on interest-rate reduction has been going on for more than two decades under five different regimes: Prime lending rate (1994), benchmark prime lending rate (April 2003), base rate (2010), marginal cost of funds-based lending rate (2016), and finally external benchmark rate (2019).
If the RBI is interested, the solution is startlingly simple.
One, put the onus of reducing rates on lenders.
And two, as a corollary, use technology to make rate reduction the default option and insist on negative consent.
That is, only those customers who explicitly say no to rate reduction will not get the benefit of reduced rates.
Unfortunately, all the advancement in 'fintech' is for marketing, customer on-boarding, and the operational efficiency of lenders.
Very little is to benefit consumers.
Debashis Basu is the editor of www.moneylife.in.