Gaurav Ghei has more than a few times come within a whisker of winning the Indian Open. He even has half a dozen top-10 finishes, including two in last two years, to show for it. But he has never won it.
Next week, when he tees off at the Hero Honda Indian Open at the Delhi Golf Club, he hopes to set that record right.
To Ghei, winner of three titles on Asian Tour, him, the Indian Open is most important and prestigious tournament in India.
"There is a different ring to a National Open. Almost all players want to win their National Open as often as possible, so it is no different with Indian Open," he says.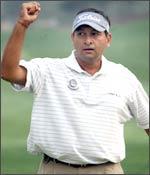 He goes on to say, "When a golfer tees it is only winning that occupies his mind. More than money, a golfer would like to have more wins and in important events. Indian Open is one important like that."
And it carries half a million dollars as the prize purse to boot.
Ghei, who celebrated his 39th birthday last week, has had a fine year with a win in Pine Valley Beijing Open and is currently lying sixth in the UBS Asian Tour Order of Merit.
"Winning the Beijing Open was really big. I didn't realise it till it happened. The Beijing Open in virtually all sports is very prestigious, be it Beijing Open TT, Beijing Open badminton or whatever and I felt very proud," he added.
That win came this year and last year he won the Mercuries Taiwan Masters.
"Two wins in less than a year came after a gap of 11 years. I always believed that I could win, but lot of factors came in between. I was not playing well, some injuries and generally not being able to go out as often meant no titles. But when Taiwan and Beijing Open happened, it was a great feeling," said Ghei.
Ghei's fist win in Asia was the Gadgil Western Masters back in 1995, when he executed what is still called "a the best shot in Indian golf". He chipped in from more than 60 yards for an eagle on the 72nd hole for a win.
"That is something that I will always cherish. My first win with a dream shot," he recalls.
Interestingly, Ghei was tied for fourth the same year at Indian Open.
"I was fourth when Jim Rutledge won. Since then I have come close to winning the Indian Open many times, but just fallen short. I was fifth once in Kolkata and then I missed getting into the play-off by one shot in 2000, when Jyoti Randhawa beat Sammy Daniels, and then I was second to Thaworn Wiratchant in 2005. Last year also I was seventh, so there's been a few top-10s there," he says, about his tryst with India's longest running sporting event.
Ghei virtually grew up at the Delhi Golf Club and calls it his 'second home'.
"Actually I spend more time here when I am in Delhi than anywhere else," he says with a laugh.
So how has the course been prepared this year?
"The DGC is always a challenge and I love it. I have played a bit after the changes this year. Three tees have been pushed back, lengthening the course. But what is more striking is the rough, which is higher than ever before. It is going to be a big challenge," he says.
"The score could be much higher than last year, when Jyoti, Chowrasia and Vijay tied at 18-under. I think it could 12 or 13-under. But then who knows, with players like Jeev and Jyoti, they can shoot some real low numbers."
As for his own chances, he felt, "I have been playing well. I have had a win this year (Pine Valley Beijing Open) and a few other top-10s. I spent sometime with Claude Harmon at the start of the year and then again during the summer break in July. I am happy with my swing, but the putting needs to be consistent. I also feel I have played more than my usual schedule so far. Then have been about 12 events in Asia, one each in Europe and Japan, four in India and two stints with Claude. That's a lot for me."
On the rest of the season, Ghei looks forward to the big events later this season.
"After the Hero Honda Indian Open, I play BILT Open in India and then I play in Singapore Open, HSBC and the World Cup,"   he added.
Ghei was very excited about the World Cup at Mission Hills, "I skipped the European Q-School, because there would be no time to get back to China in time. And I love playing the World Cup. I have been to it twice before and with Jyoti there, it will be great."
His favourites for Indian Open?
"Jeev and Jyoti will certainly start in that category. It is Jeev's first appearance after a long time and he has had a great 2006, so fans will be keen to see him. Jyoti is without doubt the most consistent Indian golfer in recent years and then there's foreign players like Thaworn and China's Liang," he said.
Ghei's plans and hopes apart, his main task at hand is the Hero Honda Indian Open.
"Right now my focus is the Hero Honda Indian Open. I love the Indian Open, I enjoy playing the Delhi Golf Club course and I am in good form. So I am keen to do well and nothing can be sweeter than winning the National Open."