Russia's Vera Zvonareva made a successful defence of her Pattaya Open title after a tense and testing 6-4, 6-4 win over local favourite Tamarine Tanasugarn on Sunday.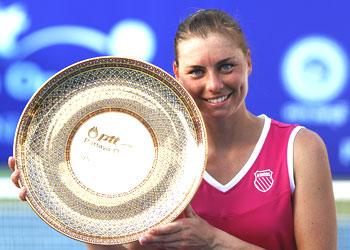 Zvonareva had a fierce battle with the tenacious Thai, who was inspired by the partisan home crowd and challenged the Russian throughout a physical one hour, 51-minute match.
"In the end I'm glad I can beat her," Zvonareva said. "It was a tough match, a tough tournament to defend."
The World No 14 got off to an impressive start and raced to a 3-0 lead but Tamarine clambered back into the match and piled the pressure on her opponent as the intense heat took its toll in the second set.
The Russian varied her returns to try to keep Tamarine on the defensive, but the American-born Thai pushed Zvonareva all the way in marathon games of backcourt slugging.
Zvonareva regained her composure after being frustrated by a series of contested line calls, fending off a late fightback to become the only player to retain the title at the 19-year-old tournament.
It was the second successful defence for the Russian, whose consecutive wins in Memphis in 2004 and 2005 were among her 10 titles since turning professional in 2000.
"This match we both enjoyed, it was very close," Zvonareva said. "There were a couple of calls I think were faulty. I tried to stick to my game, every game, in every point so every one of them is important."
Tamarine expressed regret for being a losing finalist on home soil for the third time in 14 years. She praised Zvonareva for a polished performance.
"Credit to her, her game is brilliant, she didn't let me play mine and she didn't miss on hers," Tamarine said.
"I had to run around and take chances to attack and get her on each and every point. It was quite close, especially on the second set, but I admit, she never opened the door."