Leave aside the Shinji Onos and Naohiro Takaharas of Japan and forget the Asian champions 7-0 drubbing of India at Saitama. Take note of nothing else when 'White Pele' Zico is around.
That's precisely what the soccer crazy Kolkatans are doing right now -- chasing the soccer legend, who is in the city as the coach of the Japanese team, wherever he goes.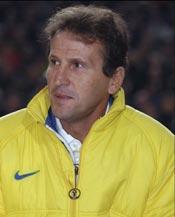 And the celebrities in the Kolkata football circle including the Brazilian footballers playing in local clubs, coaches of the city's glamour outfits besides Indian team officials are all looking forward to the "once in a lifetime" dinner with Zico tonight.
"I just can't wait to talk to him. He has been our idol, a hero for all Brazilian boys who want to take soccer as a profession," said Douglas da Silva, the mercurial East Bengal medio.
Douglas along with Mohun Bagan's Brazilian defender Eduwardo Coelho and their coaches Subhas Bhowmick and Subrata Bhattacharjee have been invited by the Indian Football Association for the dinner at the hotel, where Zico has put up with his boys.
East Zone national selector Prasun Banerjee is losing no opportunity to share his experience of being the only Indian to have played against the Japan coach. Banerjee, the most-capped player for the country and a famed midfielder in the 70s and 80s, had the rare chance on his selection as a member of the Asian All Star team.
| | |
| --- | --- |
| | Also Read |
| | |
In a bid to make the fullest possible use of Zico's brief stay, a move was afoot to get 'valuable tips' from him on ways to strengthen the youth development programme undertaken by the All India Football Federation.
"I, being a part of the Indian team, can expect to get a chance to talk to him. I will ask for some coaching tips from him," India's assistant coach Aloke Mukherjee said.
As for the ordinary soccer fans, who have always been mesmerised by the silken skills of the ball wizards of the Latin American nation, it is a long wait -- be it at the airport last night or outside the five star hotel since this morning -- before they get a full view of the hero of  the1982 and 1986 World Cup at the Salt lake stadium on Wednesday.