Meeting the Pope is more important than Italy's friendly against Argentina on Wednesday, coach Cesare Prandelli told reporters as he disagreed with striker Mario Balotelli.
The teams are due to visit the Pope on Tuesday and while Balotelli was reported to have said that he was looking forward to the meeting he considered the match to be the priority.
"We play football matches every day, every week, on the other hand, you only visit the Pope once in a lifetime, it's a new emotion," Prandelli told reporters.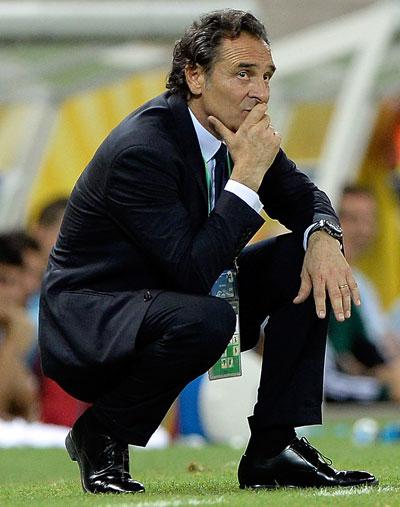 "If Balotelli has said that the match against Argentina is more important than an audience with Pope Francesco, then I don't agree with Mario."
Prandelli said that the Pope, who is Argentine, will give the match a special meaning as the two old rivals meet for the first time in 12 years.
"The two teams are staying in the same hotel, and the spirit should be that this match is a celebration for everyone," he added.
Balotelli, who missed the Confederations Cup in June with an injury, celebrated his 23rd birthday on Monday.
"His biggest present would be to find the conviction on the field so that he can be a genuinely decisive player," said Prandelli.
Balotelli could form a partnership with Pablo Osvaldo on Wednesday after the Argentine-born AS Roma player, another fiery character, was released from the doghouse by Prandelli.
"I see Balotelli and Osvaldo as having enormous potential," said Prandelli, who dropped AS Roma forward Osvaldo from the Confederations Cup for his behaviour during the Italian Cup final against Lazio.
Osvaldo, whose future at Roma is still uncertain, publicly showed his disapproval for interim coach Aurelio Andreazzoli after being left out of the starting line-up in the match against Lazio.
Image: Cesare Prandelli head coach of Italy reacts
Photo: Claudio Villa/Getty Images