World number one Rafael Nadal will face compatriot David Ferrer at next week's ATP World Tour Finals in London, with last year's champion Novak Djokovic and runner-up Roger Federer drawn in the second group on Saturday.
Nadal, featuring for the sixth time but seeking a maiden title at the season-ending event, will also play against fifth-seeded Czech Tomas Berdych and seventh seed Stanislas Wawrinka of Switzerland in Group A.
Ferrer beat Nadal for the fifth time in 25 encounters in the Paris Masters semi-finals on Saturday to set up a final against Djokovic, and now has a 4-3 win-loss record over his compatriot on hard courts.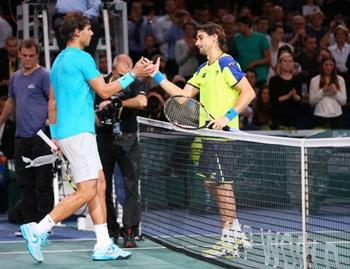 But the third seed was angry at having to play his first match against his strongest opponent Nadal as a result of the rules being changed while the eight players who have qualified were participating in the Paris Masters quarter-finals.
"Normally, the top seed plays with the (seventh or eighth), and this time they change. I don't know why... the ATP should have asked the players. They didn't ask the players," Ferrer told reporters in Paris.
Nadal and Ferrer will clash on Tuesday before Federer takes on world number two Djokovic in the evening session.
Title holder Djokovic, who beat Federer last year at London's O2 Arena to claim his second World Tour Finals crown, was drawn in Group B along with fourth-seeded Argentine Juan Martin Del Potro and Frenchman Richard Gasquet.
Six-times champion Federer, seeded sixth, will feature for the 12th consecutive year at the event with the only big name missing being Britain's Andy Murray, who is recovering from back surgery.
"It's unusual, no doubt about it, to go back-to-back matches against Novak, for instance," Federer told a news conference after Djokovic beat the Swiss 4-6, 6-3, 6-2 in Paris.
"I'm always excited about those challenges. I've had a good couple of weeks (and) most important is to recover as much as I can, so maybe the extra day I will get over Novak now, who knows, could be an advantage. But I doubt it."
Djokovic, who plays Ferrer in the Paris final on Sunday, declined to comment on the draw for the London event.
Berdych will take on Wawrinka in the curtain raiser on Monday before Del Potro face Gasquet in the night session.
The winner of each group will face the runner-up from the other section in the semi-finals.
Image: David Ferrer is congratulated by Rafael Nadal after their match during Day 6ix of the BNP Paribas Masters at Palais Omnisports de Bercy
Photograph: Julian Finney/Getty Images