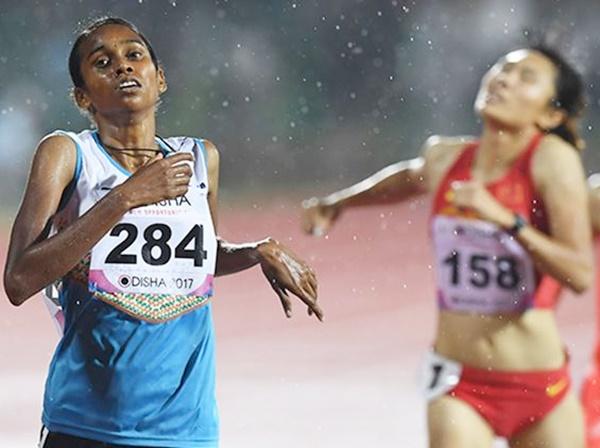 IMAGE: PU Chitra. Photograph: PTI
Former national champion PT Usha on Wednesday clarified that Kerala athlete P U Chitra was not included in the team for the World championships as she did not meet the qualifying mark set by International Association of Athletics Federations (IAAF).
Addressing a press meet in Kozhikode, Usha said, "Chitra was excluded from the national team as she could not meet the qualifying mark set by IAAF".
Chitra's ouster raised a hue and cry as she was expected to be included in the squad for the World Athletic championships to be held in London from August 4 to 13 since she had won a gold in the recent Asian Championships.
Kerala Chief Minister Pinarayi Vijayan had backed Chitra and said in a Facebook post that excluding the athlete, "pride not only of Kerala but also the country, from the team for World Athletics Championship is condemnable."
Usha also denied reports that she had not taken up Chitra's case in the selection committee meeting.
"The team was picked by the Athletics Federation of India (AFI). I was not a part of the selection committee and I attended the meeting only as an observer. Even though Chitra had won the 1,500m gold in the recent Asian Athletics Championships, the AFI has the discretion to decide whether to include her or not in the squad".
Usha said she was saddened that Chitra could not compete in the mega event but one has to be realistic.
Athletes have two routes to the World Athletics Championship. One is by making the qualification mark set by IAAF and the second one is by winning gold in the continental championships.
In the case of Chitra, she did not meet the qualification standard.
However, she won gold in Asian championship held at Bhubaneswar.
"According to IAAF regulations, the athletics federation of any country can make changes in the second criteria – of sending those who won gold in continental championships to the world meet," Usha said.
"The AFI has decided to send athletes only if their performance is near the qualification mark of the event. Chitra's performance is nowhere near the qualification mark," she added.