Pankaj Advani on Wednesday created history by becoming the first Indian cueist ever to reach the pre-quarterfinals of the BetVictor Welsh Open Pro Snooker Series, defeating former world champion, England's Shaun Murphy, 4-3 at Newport, Wales.
active player to compete at the highest level in both billiards and snooker concurrently in the same season, reigned supreme at the green baize to enter the Round of 16, where he would be facing either 2006 world champion Graeme Dott of Scotland or Ireland's Fergal O'Brien.
"I'm ecstatic about this win. Defeating a player of Murphy's caliber, that too in a main event, requires one to play out of his skin. I guess that's what happened!" Advani said.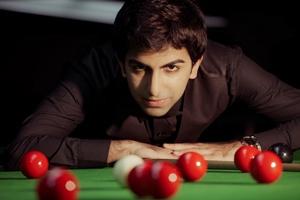 "The atmosphere was electrifying. Competing at such a high level and with family and friends all over the world watching live makes you realise you're part of something massive. A grand occasion requires a grand approach," added Advani, who became the youngest Indian ever to win eight World titles in any sport, following his World Billiards title triumph in October last year in Leeds.
In the match between Advani and 2005 world professional snooker champion Murphy, the 27-year-old Bangalorean started with a bang in Frame 1, putting his opponent under pressure immediately with some exceptional potting to win it 75-15.
Murphy bounced back though in the second with a break of 71 to pocket the frame 100-10. Advani replied with the highest break of the match, a 121 clearance, to take back his lead in the third frame and then widened the gap with a 51 break to secure the fourth.
The match was all class with breaks and quality safety play. From here on, Murphy took the attack to his Indian opponent by winning the next two frames to enforce the decider.
What looked like a one-sided affair in favour of Advani turned out to be a cracker. The Englishman gathered enough momentum to tip the odds in his favour entering into the seventh frame but it was Advani who used his billiards prowess to make Murphy commit mistakes and concede points through fouls.
Advani then hit the final nail in the coffin with a well-crafted 36 break before Murphy surrendered the match at 64-15.
The commentary team was all praise for Advani's display of world class snooker being a billiards expert. This is Advani's first professional season.
Advani had defeated former world champion Peter Ebdon 4-3 to enter the draw of 32 in the Welsh Open.
Earlier this season, he defeated some of the big names in the Pro circuit like Steve Davis, Jimmy White, Nigel Bond, Alan McManus, Michael Holt, Mark King, Ryan Day and John Higgins to stamp his authority on the professional snooker world.
In the past, two-time Asian champion Yasin merchant had qualified for the Round of 32 in the Welsh Open during his stint on the professional circuit.
Scores: 75 (39)-15, 10-100 (71), 121 (121)-9, 72 (51)-13, 36-103(89), 28-72, 64-15.