David Villa reposed the faith coach Luis Aragones had in him by scoring twice on his World Cup debut as Spain destroyed a 10-man Ukraine 4-0 in a Group H match in Leipzig on Wednesday.
On the eve of the match, the 24-year-old was unsure of his place in the team because of the presence of big names like captain Raul, Fernando Torres and Luis Garcia in the attacking line-up.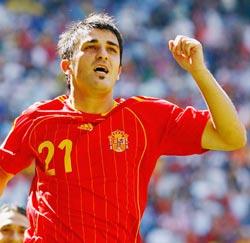 "I've never seen myself as having either a fixed place in the starting line-up or one on the bench. If I have to start on the bench then it will be because the coach believes it will be for the good of the side," he told a news conference.
But given the chance, he seized it with both feet, so to speak.
He scored his first goal in the 17th minute from a free-kick that took a deflection off Andriy Rusol and beat Ukraine goalkeeper Oleksander Shovkovsky hands down.
A penalty kick at the start of the second half gave him his second goal and put Spain on course to a comfortable victory.
Born on December 3, 1981 in Langreo, Villa started his footballing career with UP Langreo in 1991. But the biggest move of his career came when he was signed by Real Zaragoza in 2003.
One of Spain's few out-and-out strikers, he's been one of the Primera Liga's top goal scorers in the last two campaigns and it was little surprise when Valencia stumped up 12 million euros to buy him out of his contract at Real Zaragoza last year.
Villa had a brilliant season for Valencia, scoring 25 goals and finishing second behind Barcelona's Samuel Eto'o in the Spanish Primera Liga. That ensured his place in the team for the World Cup finals.
The Valencia hitman, who prefers playing as center-forward, got his World Cup debut when Aragones preferred to keep captain Raul on the bench and start with Villa, Fernando Torres and Luis Garcia. His goals gave Spain their best start to a World Cup and only their fourth win in 12 opening games since their best finals when they finished among the top four in 1950.
In the process, Spain also took their unbeaten run to 23 matches since Aragones became coach after Euro 2004.
With so much talent at its disposal, Spain have been the biggest underachievers in World Cup history. If Villa can reproduce his domestic form in Germany, Spanish fans could well be singing 'Viva Villa, Viva Espania' at the end of the tournament on July 9.